Kum Sang Dao (คุ้มแสงดาวหมูย่าง) – Delicious Northern Thai BBQ in Chiang Mai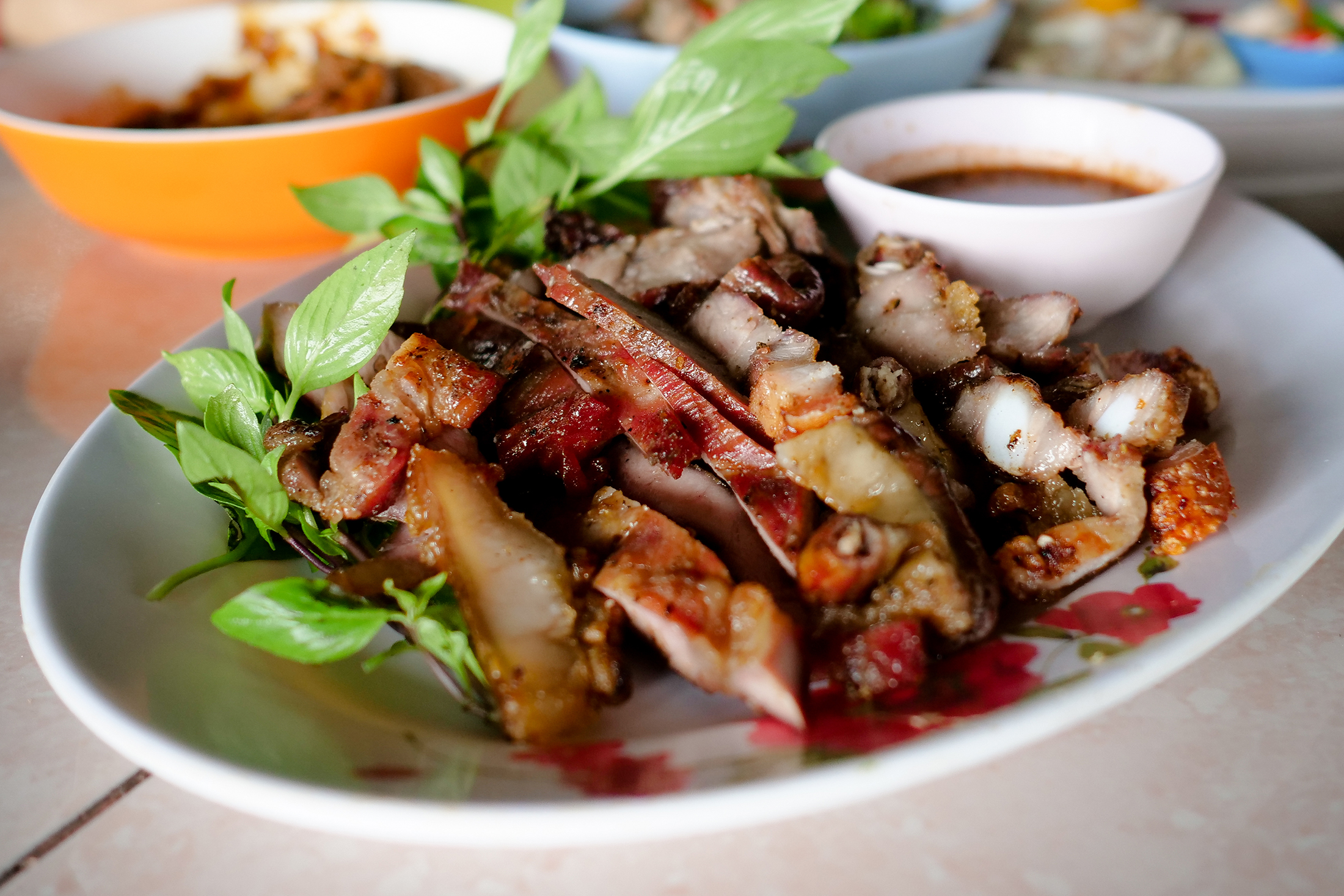 Kum Sang Dao Moo Yang Restaurant (คุ้มแสงดาวหมูย่าง) is a perfect place to go to experience a feast of great local Northern Thai food.
The laid back atmosphere here makes it ideal for a day with your family and friends, or one of those days where its ok not to go back to work after your lunch break.
In this article, I'll give you all the details on this amazing Northern Thai food restaurant, and photos of some mind-blowing BBQ.
"Fortress of Starlight Grilled Pork"
Laap Ton Yang Restaurant (ร้านลาบต้นยาง) serves incredible northern Thai laap, but when you're ready for grilled bbq Thai meat, Kum Sang Dao Moo Yang (คุ้มแสงดาวหมูย่าง) is a restaurant you don't want to miss when you're in Chiang Mai.
The name of this restaurant translates roughly to "Fortress of Starlight Grilled Pork."
I couldn't be happier hearing this, and in my opinion the 'starlight' probably refers to the twinkling eyes of every lover of barbecue meat.
The smells come from the grill in waves, and I was blinking hard to make sure I wasn't dreaming. I saw every part of a pig that I knew (and a few I didn't know!) lying there in wait. All of it sizzling together in a meaty chorus of joy.
Self-control in a front of such a massive grill is challenging. I remember breaking into a goofy grin while struggling with my camera focus, honestly wanting to just give the grill-master my order of "one please."
'One' of course referring to the entire selection of grilling barbecue.
The One Grill has it all.
This is the place to go with a group, because there's just no way I could come here alone, do what I want, and still feel responsible when the meal is done.
I'm guessing you too may have felt like this before. If so, then we understand fundamental parts of each other already.
One meat order here leads to another and, before you know it, its dinnertime and its safe to start ordering all over again. This type of atmosphere is just made for a day where its ok to not go back to work after lunch.
Take a Moment to Get Acquainted
Kum Sang Dao (คุ้มแสงดาว) offers many more things beyond the selection of barbecue meats… but I advise you to get acquainted with the meats first before doing anything else.
They have a large menu of pre-made curries (ราดแกง raad gaeng), and food made-to-order (อาหารตามสั่ง ahaan daam sang), if you are so inclined.
Today though, we were more in the mood for anything and everything with a name including 'pork.'
When ordering from the grill, each part of the pig can be a full-plate order, or you can sample parts of each piece to experience things just how you want.
Here I will recommend starting with an order of the mixed grill sampler. Its a great way to taste the different parts of pork they're using that day, and it will also give you more time to look through their extensive menu.
Mixed Grill Platter (ย่างรวมมิตร)
The BBQ addict can get their fix immediately with this one, a full assortment of all things porky.
Crispy bits of belly and chewy slices of ear, my favorite has to be the chopped intestines. After a quick bath in dried chili flakes and dark soy sauce, each bite from the mixed grill platter (ย่างรวมมิตร yang ruam mit) was phenomenal.
Going further, I found snout, a knuckle, and even a few treats of pork breast.
Of course there are also the 'normal' cuts like shoulder or sirloin, and at just 150 Baht a plate you're in a comforting situation indeed.  But again, just remember my advice to invite a friend when you visit Kum Sang Dao (คุ้มแสงดาว) – it may be dangerous to find yourself here alone.
Sour Pork w/Egg (จิ้นส้มหมกใส่ไข่)
You can tell the chef is a pro here by seeing his grill management skills.
He is working over the blazing heat watching the meat while also folding bonus packets of sour pork (จิ้นส้ม jin som). He opens a sun-dried banana leaf pork pouch, cracks an egg directly on top, and quickly closes it again before throwing it on the blazing grill.
Each packet contains a few bites of slimy, garlicy goodness, and the rich egg yolk is a wonderfully creamy addition.
Unique here too is how this recipe doesn't have the large amount of collagen or pork skin more common in Northeastern Thailand Isaan's sour pork recipes (แหนม naem). Kum Sang Dao's (คุ้มแสงดาว) version is almost entirely smooth, tender pork meat.
A cool bonus part is how plastic-friendly this food is – every banana leaf-packed mok is naturally biodegradable!
Language Note: "Som" means 'sour,' and "Jin" just means 'meat' (comes from "Sin," in Laos language). "Mok" means 'wrap', and its usually done using a banana leaf, but can be many other leaves as well. Don't you just love the loosely defined names? It really gives a chef freedom!
Northern Beef Stew (ฮุ้มจิ้น (อบเนื้อ))
There were also about a dozen massive serving pots full of Northern-style curries, including several that I had never seen before.
The first to come out was a bowl of beef stew (ฮุ้มจิ้น hoom-jin), a northern Thai-style curry made with dry-roasted chunks of beef.
The curry sauce is made first, ingredients slow-cooking together for a few hours before the meat is added. A final garnish of cilantro and a few shreds of green onion go in just before its served.
The smoky flavors present in the beef are superb. I like the chewy texture too, almost approaching a jerky-consistency, which is very different than the fall-apart tenderness that comes with meat that stews for hours.
I also appreciate the high chili content of this dish, it is really spicy, something not so common in most of Northern Thailand's cuisine.
Jackfruit Curry (แกงขนุน)
Several of my all-time favorite Asian cuisines make ingenious use of unripe fruit.  From deliciously tart Mango Chutneys in India to mind-melting Indonesian Snakefruit Soups, natural flavors found in raw fruit can just transport a dish to incredibly colorful heights.
Thailand's use of Green Papaya is probably the best known fruit ingredient, but very closely following is their use of unripe or baby jackfruit. This version of jackfruit curry (แกงขนุน gaeng kanoon) was just ever so slightly chalky, and you may get a healthy hint of the young sap still sticking between the fibers in each chunk.
In my opinion, this one of the most enjoyable mouth-feels possible, and I immediately order any curry I see that includes this awesome local ingredient.
Mushroom Chili Dip Paste (นำ้พริกเห็ด)
There are also a variety of chili dip pastes (นำ้พริก nam prik) available to go with either raw or steamed veggies and rice.
This chili dip paste we got today is full of locally foraged mushrooms (its a seasonal dish) that have been first roasted, and pounded with a pestle.
In any recipe of these ever-present and wonderfully simple nam prik dishes, the two ingredients you'll always start with are chilies and garlic.  The type of chili varies by region, as will the level of spiciness and also flavor.
Besides the fact that they will always be firey-hot, for me what makes a new nam prik chili paste always worth ordering is how the dish can incorporate pretty much any ingredient seen growing around.
Truly how all food variety is born, and nam prik is one of the oldest types of food in all of Thai cuisine.
Eating Thai Style
Eating Thai-style here starts by ordering at least one plate from each style – Grill, Dip, Soup, and Curry – and having it all with sticky rice, and a plate of steamed vegetables.
(Get a plate of the mixed grill sampler, a bowl of nam prik of your choice with accompanying fresh chopped vegetables (spice levels of nam prik vary), a soup like Northern-Thai style tom yam soup, full of tender chicken parts and local herbs, and at least one curry, whichever one looks good to you, which you choose from all the metal pots lined up next to the grill).
This is an extremely laid back restaurant, and so for both the grill items and the curries, its easiest to just walk up and point at what you want.
Finally, Northern Thai usually will eat a meal like this with sticky rice (ข้าวเหนียว khao neaw), which is always served piping hot in little woven containers called "kra-thip."
Besides the foods in the photos we had another grilled item, and a few dishes from their pre-made curry (raad gaeng) selection as well. The grilled catfish (ปลาดุกย่าง plaa dook yang) is great, and comes with its own spicy chili dipping sauce. We also tried their cabbage soup (จอผักกาด jaw pak kaad), which was full of some ultra-tender bites of pork rib meat.
Ying's Top Pick
Ying has a great habit of comparing the classic dish of Northern Thai Pork Belly Curry (แกงฮังเลหมู gaeng hung lay moo) at every Northern restaurant we ever visit. She says this Kum Saeng Dao (คุ้มแสงดาว) serves one of the best she has had yet.
Gaeng hung lay has a very unique flavor, more similar to a food from India or Myanmar than to any of the other spicy/herbaceous/sour flavors common in most other Thai curries. It is full of warm spices like cinnamon, cardamom, and includes tons of fresh ginger, and the recipe even has its own masala dry spice mix that comes in a small packet, used only when cooking Hung-Lay.
Kum Sang Dao (คุ้มแสงดาว) makes a version of gaeng hung lay with some of the juiciest chunks of pork belly I've had in awhile, it was gone so fast I couldn't snap a photo!
Fun for Kids, Vegans and Vegetarians
A kid-friendly dish (without chilies, blood, organs, or bones) we got for Micah was a bowl of free-range chicken soup (ต้มไก่บ้าน dohm gai baan).  A great order for adults as well though, strategic here as delicious fire management.
Finally, as an option for vegan and vegetarian food in Chiang Mai, this restaurant has an entirely separate menu of food made-to-order (อาหารตามสั่ง ahaan daam sang).
Green papaya salad (ส้มตำ som tam) is pounded northern-style here, but they're also making tons of other tam here as well ('tam' is just pounded fruits made into salad). Ask if one salad made with the sweet and sour santol fruit is in season (ตำกระท้อน tam gra-tawn), or if not, then try a crunchy and cooling cucumber and long bean salad (ตำแตงใส่ถั่วฝักยาว tam taeng sai tua fak yaow).
Note: Even ordering these dishes that sound/look vegetarian, you will still need to be sure to mention that you don't want meat! "Mai Sai Goong Hang," (ไม่ใส่กุ้งแห้ง) prevents an addition of dry shrimp, or simply "rao-kin-jae," ('I follow a vegan diet') (เรากินเจ) will notify the chef of your wishes.
There are very few dishes in Thailand that don't have at least trace amounts of meat, but if you ask, they will always be happy to cook to your taste.
Another Note: If, by any chance, you are simply a strong supporter of EatingThaiFood, live a vegan lifestyle, and want nothing to do with a meat-heavy restaurant like this one – then here I will say a big thank you for reading. I can personally recommend you to visit GoodSouls Kitchen for some great vegan food in Chiang Mai that is 100% vegan (article coming soon).
Drinks Menu:
Kum Sang Dao (คุ้มแสงดาว) not only has a huge food menu, but also a list of specialty drinks as well (the table at the end, nearest the small and well-shaded parking lot).
Local medicinal herbs like healthy grass jelly (เฉาก๊วย chao gooay) are made into awesome drinks, very cooling in the warm Thai mid-day air.
Be ready though, because I also saw many more beverages being made with both artificial add-ins and extremely sugary extras.  Just be sure to go over to the drink stand yourself when you order to avoid any surprises.
Getting There:
In Thai:
ร้านคุ้มแสงดาว ตำบล ดอนแก้ว อำเภอ แม่ริม เชียงใหม่ 50180
โทร 053 863 114
เปิด 1000-2000.
Restaurant Name: Kum Sang Dao
Address: Mae Rim District, Chiang Mai (Google Maps)
Hours: Open Daily from 10AM – 8PM.
Prices: Our meal came to just 390 baht (less than 12$ US)
Curries/Non-grill items range from 30-50 Baht each.
Plates/Mixed Plates from the grill are around 150 Baht each.