100% Beef (and some Pig Breasts) in Udon Thani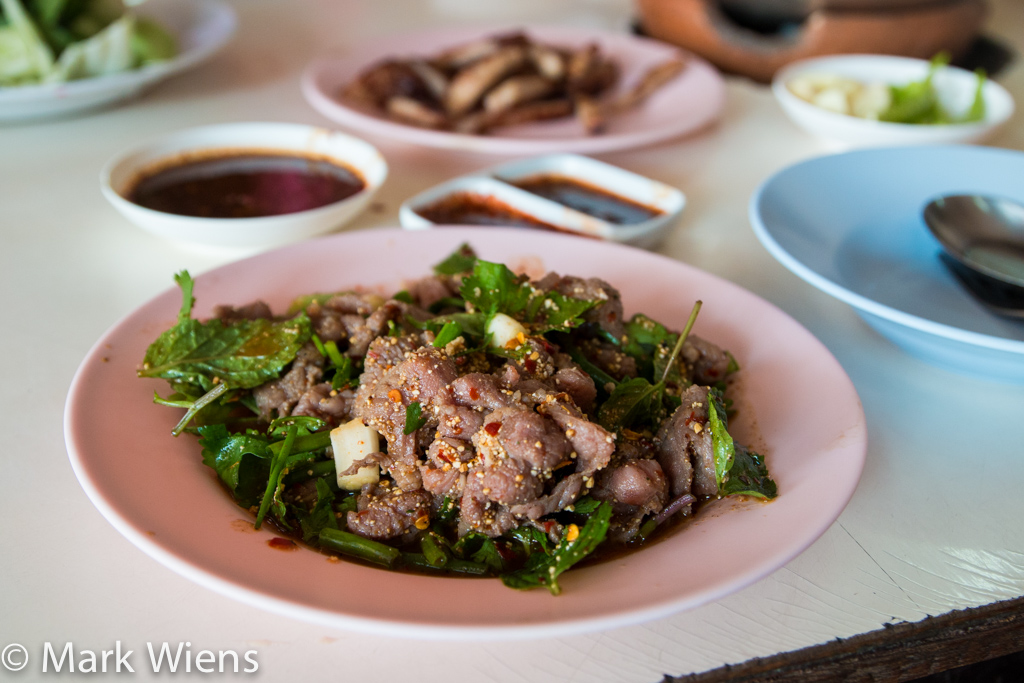 I really love people who are passionate about what they do… especially when they are cooks.
On my latest visit to Udon Thani, in the northern part of the Isaan region of Thailand, I went to a restaurant known as Laab Nuad (ร้านลาบหนวด เนื้อวัว 100%), a restaurant that specializes in serving 100% beef (เนื้อวัว 100%) as it says in the full name of the restaurant… although I later learned they recently added a few extra pork dishes to their menu as well.
Udon Thani has a number of restaurants that specialize in serving just a few dishes, but extremely fresh, and expertly prepared. For beef lovers, Laab Nuad (ร้านลาบหนวด) is a legendary restaurant in the city.
As a beef lover myself, I was very excited to eat here.
As soon as you enter the restaurant, it's not hard to tell the cow is the main event here.
Sitting in the glass display cabinet were a pair of brahman cows, next to the fish sauce, and just above a number of simmering cauldrons of bubbling beef.
But before we get too far into the amazing beef dishes, the first thing I noticed when I walked into Laab Nuad (ร้านลาบหนวด), after smelling the beef, were these pink slices of meat.
I didn't know what it was at first, but it looked like they were preparing to serve a lot of it, and it didn't just look like any kind of beef steak.
After asking, they told me it was, in Thai, puang nom moo (พวงนมหมู), or pig breasts.
"We formerly just sold beef, but I've been testing out pig breasts," said the owner of the restaurant.
So of course I had to try it.
The pig breasts (พวงนมหมู) were sliced thinly, and then grilled over a pretty hot charcoal grill so they were slightly charred and crispy on the outside edges, but the meat remained juicy and tender.
Pig breasts (พวงนมหมู)
Before trying it, I thought the meat would be extremely fatty, like pork belly.
But it turned out the grilled pig breasts (พวงนมหมู) were a little fatty, but it was marbled into the meat. The meat was outrageously tender and juicy, and was almost like pork collar, but even more tender with a slight more meaty taste to it.
Slices of the pork along with the Laab Nuad (ร้านลาบหนวด) signature sauce, a secret mixture of dry chilies flakes and fish sauce, and a bunch of bitter bile, it was insanely delicious.
Price – 70 THB
Tom haeng luak jim (ต้มแห้งลวกจิ้ม)
Another one of their signature dishes at Laab Nuad (ร้านลาบหนวด) is the well known Isaan dish called tom haeng luak jim (ต้มแห้งลวกจิ้ม), boiled meat served with chili dipping sauce.
The meat was boiled in lemongrass and galangal, giving it a light herb essence, but keeping the focus on the flavor of the meat itself.
Price – 70 THB
The plate of tom haeng luak jim (ต้มแห้งลวกจิ้ม) included just about everything from the cow – grassy pieces of rumen, intestines, and some real chunks of meat too.
It was garnished with cilantro and green onions, and served with both a normal, yet extra fiery dry chili dipping sauce, and the other glorious bile dipping sauce.
The meat was tender and fragrant, and I loved it, random pieces and all.
Tom saeb neua buay (ต้มแซ่บเนื้อเปื่อย)
A meal in Isaan wouldn't be complete without the addition of a soup, and in this case, their speciality soup, which nearly every table orders is tom saeb neua buay (ต้มแซ่บเนื้อเปื่อย), tender stewed cubes of beef in a rich and flavorsome beef stock.
The beef was similar in flavor and texture to other beef restaurants in Thailand, but the broth was more country style, packed with flavor, salty, and spicy, without being very sour.
I loved the flavor of the beef soup, and also I loved how it was served, in the middle of the table, over the top of a little burner of charcoal, so it stayed piping hot for our entire meal.
Price – 70 THB
Laab khalang (ลาบขาลัง)
I didn't know what khalang (ขาลัง) was at first, so the chef explained that it was meat from the back legs or shanks of the cow.
A little different from the more well known version of laab salad, this plate of laab khalang (ลาบขาลัง) included the meat, mixed with lots of chilies, fish sauce, and lime juice, and a good handful of mint, pungent green onions, and shallots.
On top of the delicious flavor of the laab khalang (ลาบขาลัง), the chef added a generous amount of khao khua, the sticky rice powder that makes a plate of laab complete. His khao khua was fresh and home-cooked, giving the meat a lovely crunch and smoky flavor.
Price – 70 THB
Koi khua neua (ก้อยคั่วเนื้อ)
Having eaten a few too many raw dishes lately, I decided to go for the half cooked version of koi neua (ก้อยคั่วเนื้อ).
Normally the Isaan dish of koi (ก้อย) intends raw meat, but you can always ask them to serve it to you khua (คั่ว), and it will come half cooked, still a little red, but it takes the bacteria edge off a bit!
Of all the meat filled dishes we ordered, the koi khua neua (ก้อยคั่วเนื้อ) was probably my favorite.
The meat was tender and juicy, and the dressing was perfect for me – sour from lime juice, spicy, and bitter from bile.
And again, the crunch and smokiness of the khao khua really came through beautifully.
Price – 70 THB
Along with all the wonderful beef and pork breast we ate at Laab Nuad (ร้านลาบหนวด), our meal was served with fresh green Thai chilies and raw garlic… to give our already extremely well flavored food even more of a boost.
I'll never turn down raw chilies and raw garlic – two of my favorite natural things in the world.
And finally, it would be impossible to eat all these glorious Isaan dishes without some sticky rice.
Conclusion
Laab Nuad (ร้านลาบหนวด เนื้อวัว 100%) is a restaurant in Udon Thani that specializes in serving beef, with just a few pork dishes on their menu – pig breasts to be more specific.
I ordered a nice selection of meat dishes, including laab, an Isaan meat salad, and koi khua neua (ก้อยคั่วเนื้อ), slightly cooked beef salad, that was absolutely spectacular. Everything I tried was delicious, including the tenderly juicy pig breasts.
If you love meat, specifically country style Isaan Thai beef, you don't want to miss eating at Laab Nuad (ร้านลาบหนวด เนื้อวัว 100%) when you're in Udon Thani.
The owner's passion for beef shines.
Laab Nuad (ร้านลาบหนวด เนื้อวัว 100%)
Address: 35/1 Thanon Chomchuen, Mak Khaeng, Udon Thani, Thailand 41000
Phone: 042-328-172
Open hours: 8 am – 3 pm, closed Sunday
Prices: It's pretty easy, every dish they serve it 70 THB and well worth it
ที่อยู่ ถนนศรีชมชื่น (อยู่ติดมัสญิด) หมากแข้ง , เมืองอุดรธานี , อุดรธานี 41000
โทร. 042-328-172
เปิด จันทร์ – เสาร์ 8.00 – 15.00 น.
How to get there:
Laab Nuad (ร้านลาบหนวด เนื้อวัว 100%) is located just south of the main Udon Thani prison, along Thanon Chomchuen, and next to Kuwatil Mosque. To see it on the map, scroll down to "Isaan" then click on "Laab Nuad."