Amazing Northern Thai Laap (Meat Salad) at Laap Ton Yang in Chiang Mai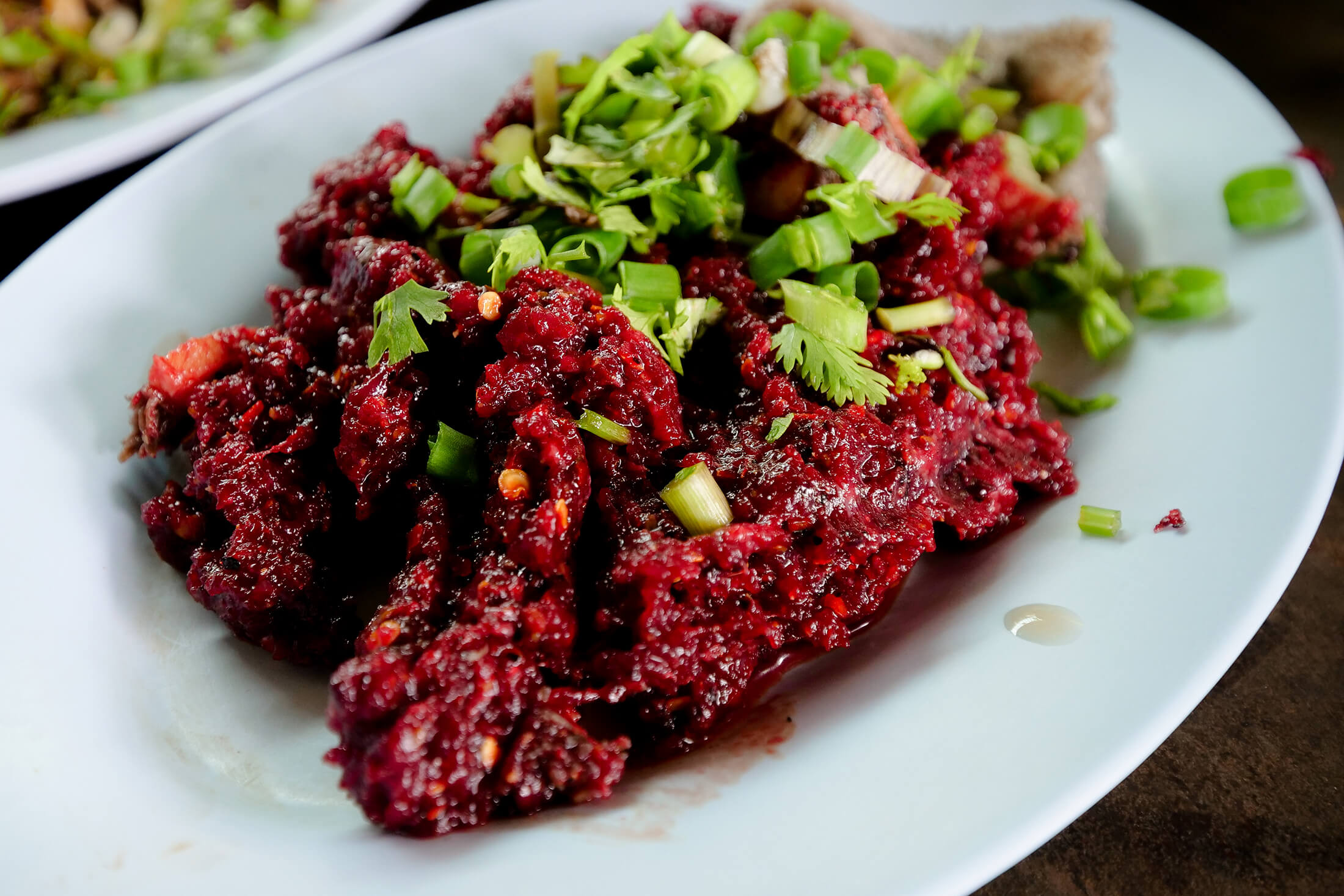 Laap Ton Yang Restaurant (ร้านลาบต้นยาง) is a Northern Thai restaurant in Chiang Mai that specializes in chopped meat salad, known as laap (ลาบ).
There's no need to brag about the masterful Northern-Thai style chopped meat salad recipes they're perfecting inside.
They're happy just to let you find that out for yourself.
In this article I am going to share with you all the details of this authentic laap (ลาบ) restaurant in Chiang Mai, Thailand.
This Way to Your New Favorite Type of Salad
The name of the restaurant is simply 'Laap Ton Yang (ร้านลาบต้นยาง)' – which means chopped meat rubber tree in Thai – but "The Endless Possibilities of Laap" would be a name closer to the truth.
If you haven't already watched my video of lunch at this restaurant, be sure to check it out.
You'll find more info and details for how you can get to this restaurant at the bottom of this article.
For now though, lets get right to the dishes!
Raw Beef Salad (ลาบเนื้อ ดิบ)
I have enjoyed many plates of laap during almost a decade of living in Thailand, and the laap recipes of Northern Thailand are some of my favorites.
First dish we ordered was raw beef salad (ลาบเนื้อ ดิบ laap-neu-ah-dip).
The raw beef version of laap, which in Thai is called laap neua dip (ลาบเนื้อ (ดิบ), served at Laap Ton Yang (ร้านลาบต้นยาง) restaurant has everything you want – consistency, texture, and flavor that is just out of control good.
Bonus Toppings are Free
As a bonus here, when you order this dish, they also throw on a few lightly blanched thin strips of rumen.
Rumen and omasum add great backdrops of chewiness to the creamy, rich consistency of this ultra-minced beef.
Cooked Pork Meat Salad (ลาบหมู สุก)
I don't think my appetite for Northern Thai-style Laap will ever diminish. Not even when I have five plates of it in a single day.
I made sure to order several plates here, one of everything on Laap Ton Yang's (ร้านลาบต้นยาง) daily special's menu. Trust me when I say – this is a place you're not going to want to miss.
The non-raw version of laap is cooked in a sauce pan, not in oil, but sizzling in the fat of whatever animal meat is being used as the main ingredient.
Bombs of Umami Flavor
Our dish of cooked pork laap (ลาบหมู สุก laap moo sook) for this meal came dripping with pork fat and smoky oily flavor. Full of crispy fried shallots and mortar-pounded garlic, it was a complete umami-trifecta of goodness.
This is the type of 'salad' that local country-side raw meat salad veterans are searching for.
Back-to-Back Bites, 1 Cooked 1 Raw
I could taste ground nutmeg, coriander for sure, and maybe even a clove or cardamom. I love their totally authentic local recipe for laap, getting big doses of both home-pickled ma-kwen (a Northern-Thai berry similar to Szechuan peppercorns) and definitely the bitter flavors of cow bile.
The serving temperature is quite cool, but the earthy spice blend they use gives this laap a powerfully warm feeling in each bite.
Northern dry spices in the recipe here make it very unique from an Isaan style laap. Even though these two dishes share a name, the ingredients of laap can vary widely by region.
Deep-Fried Tilapia (ปลาทอด (ชุดเล็ก)
Laap Ton Yang Restaurant (ร้านลาบต้นยาง) has several dishes besides red meat, and the next thing we had to try here was the deep fried Tilapia fish with Thai herbs.
It wasn't the best dish we tried here, but it did make for a nice balance to the meal. Deep-fried in vegetable oil, it comes with the standard sour/spicy/salty Thai seafood dipping sauce.
Huge chunks of fried fish meat, I thought this dish was great value for the price considering how much fish meat came on the plate.
I preferred the fish without the seafood sauce, piling up instead a small mountain of deep fried lemongrass with every bite. Piping-hot oily fish meat together with that massive crunch lemongrass, the fish was a nice addition to a table nearly overflowing with beef and pork.
Sun-Soured Dry Pork Ribs (แหนมซี่โครงหมูทอด)
Besides the house specials, we also ordered a few other Northern dishes to try.
'Naem (แหนม)' is made when thick slices of raw pork meat are covered, and left to sit for a day, under the wonderful-yet-scorching rays of Thailand's sun.
This version of sun-soured pork ribs (แหนมซี่โครงหมูทอด naem see krohng moo tawd) at Laap Ton Yang (ร้านลาบต้นยาง) are dangerously tasty, salty, and really sour, deep fried to a crunchy goodness. This is one food that probably elicits a move to order beer, so be careful ordering it if you have anything else important to do today.
These ribs definitely met the level of 'guiltily-delicious treat,' but I still think the absolute best fried pork ribs in Chiang Mai are at KumSangDao Restaurant (near Mae Rim).
Steamed Beef and Chili Paste (จิ้นนึ่ง นำ้พริกตาแดง)
Another great beef dish here that we tried, and it comes with a great Northern-style chili paste (นำ้พริกตาแดง nahm prik da daeng), which in Thai means Red Eye chili paste.
'Red-Eye' paste has its name for good reason, chili paste is usually an ingredient for cooking, here its purely a dip.
It will set you on fire in all kinds of wonderful ways.
This dish seems to be the one on order for everyone else's table as well today, and I even noticed a few tables finishing up, but then ordering this dish as take away, maybe continuing the lunch time feast while back at the office.
You take a piece of the steamed beef, dip it into the chili paste, and enjoy.
Northern-Thai Sour Curry (แกงตูนป่า)
Last but not least, we also got a huge bowl of an interesting Northern Thai sour soup (แกงตูนป่า gaeng toon pa). Full of large chunks of soft fish meat, fibrous lotus roots, and a few stewed tomatoes – this soup-like curry is amazingly tasty.
It was remarkably similar to Southern-style sour curry, that includes turmeric, chilies, and garlic – but after eating one spoon it was obviously unique, quite different, and a wonderful surprise.
It did also remind me though of a jungle feast at one of my all-time favorite restaurants, Loong Riang and Pa Malee in Chonburi.
Mid-Day Meals Here Come With a Warning
Going back to work after a meat-heavy meal like this may be tough.
If possible, I advise you to visit Laap Ton Yang (ร้านลาบต้นยาง) on an easy day, one where you can clear your schedule, and fully enjoy yourself.
Laap Ton Yang (ร้านลาบต้นยาง) is a laid-back restaurant, where you can sit down and eat laap peacefully, unlike the intense competition for plates of Raw Buffalo at nearby the nearby local delight, Laap Ton Koi.
If you love laap, then this is a restaurant you shouldn't miss. Here are a few details for how to find it.
Getting There:
I drove here (in a rental car straight from the airport for this trip, I've been using Europcar in Thailand), as I prefer traveling with my family.
The name of the shop is "Laap Rubber Tree," but you can look out for the more recognizable giant Fan Palm Tree in front.
If you are using public transportation, Chiang Mai has quite a few of these red pick-up trucks (called "Rot Song-Taew") running up and down all the main city roads.
There were plenty of other things on the menu to try, and actually with their full-color photo menu you won't need to speak any Thai even to order.
An amazing restaurant to eat a range of Northern Thai food in Chiang Mai, and some extremely satisfying plates of laap (ลาบ).
Laap Ton Yang (ร้านลาบต้นยาง)
Address: 199/330 หมู่ ที่ 9 หมู่บ้าน ล้าน นา วิ ล ล์ กลาง Chiang Mai Outer Ring Rd, สันผีเสื้อ เมืองเชียงใหม่ Chang Wat Chiang Mai 50300 (see Google map here)
Hours: 10AM-9PM
Phone: 089 433 9786
Prices: Each normal dish of Laap is 50B, the larger dishes range from 70-90B. Quite good value for the large plates of meat they serve. Our total bill – 420 Baht (10B per plate of rice, 10B per bottle of water, and 5B for a bucket of ice).