Janhom (ร้านจันทร์หอม): Some Of The Best Southern Thai Food in Bangkok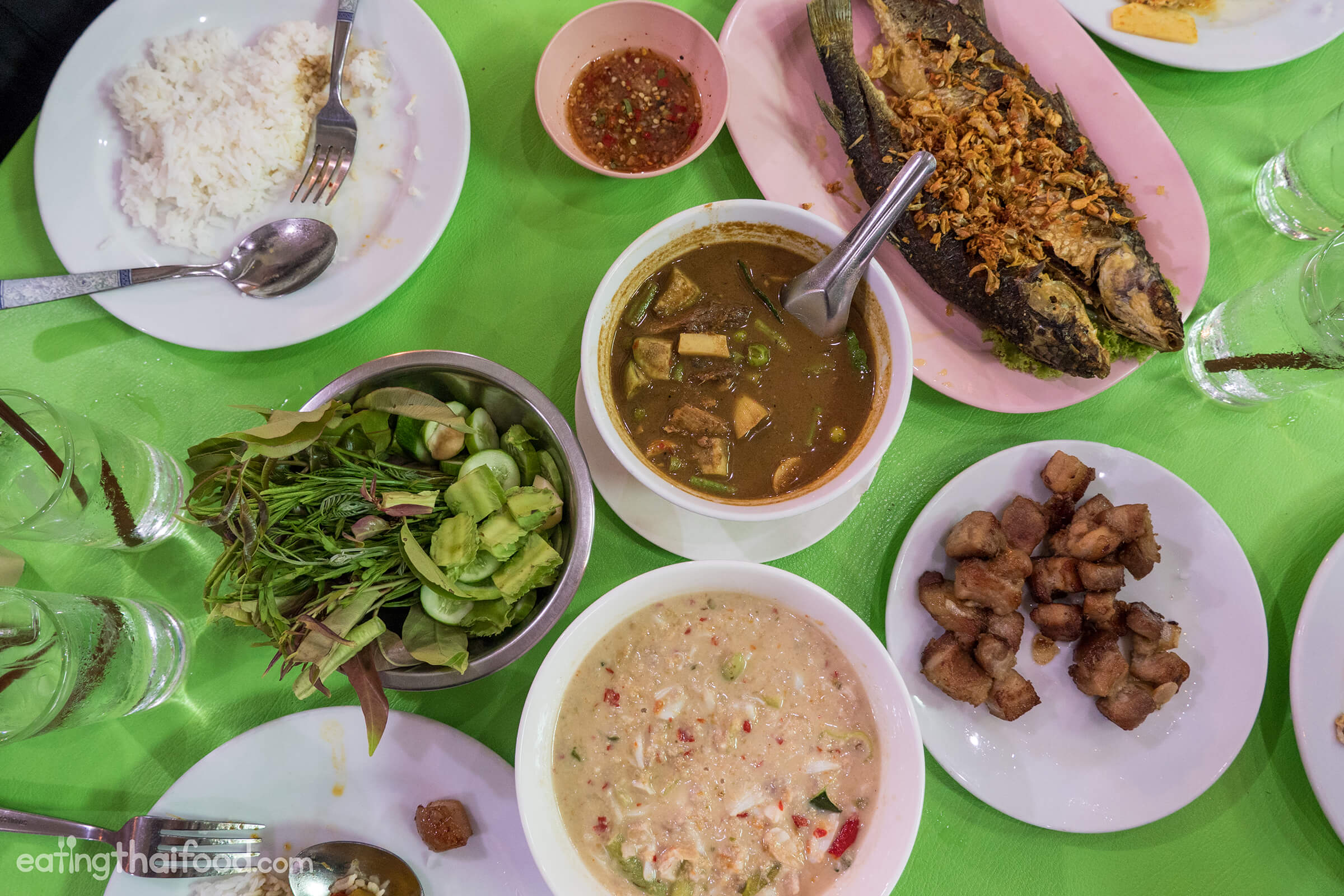 Are you ready to eat some of Bangkok's best southern Thai food?
Janhom Restaurant (ร้านจันทร์หอม) is a restaurant in Bangkok that serves incredible southern Thai food that will blow you away with an overdose of powerfully delicious flavor.
In this blog post I'm going to share with you one of the best southern Thai restaurants in Bangkok, and some of the dishes you should try.
Janhom Restaurant (ร้านจันทร์หอม)
Another one of my favorite southern Thai restaurants in Bangkok is Ran Ruam Dai (ร้านรวมใต้), which is a rice and curry restaurant (khao gaeng), where you get a plate of rice, and order whatever pre-cooked dishes you like.
Janhom Restaurant (ร้านจันทร์หอม) is the sit down version of a southern Thai food restaurant, where you order off a menu, and the food is a step up in quality and freshness (because it's cooked fresh rather than sitting around for a while); I'm a huge fan of both places, just different styles.
It's not often in Bangkok when I feel like I've had a southern Thai meal that can compare with being in a place like Krabi and eating at Ruan Thip (ร้านเรือนทิพย์), but Janhom Restaurant (ร้านจันทร์หอม) fills that space in Bangkok.
The Menu
Anyone from the south of Thailand living in Bangkok (or southern Thai food lovers) will rejoice just upon seeing the menu filled with classic southern Thai dishes.
The owner family of the restaurant is from Nakhon Si Thammarat, the province my wife's father is from. The tastes of dishes from Nakhon Si Thammarat are some of my favorite in Thailand, often characterized by being fiery spicy, salty, and non-sweet.
The menu is huge, plenty of choices, and it's written in both English and Thai.
Moo ko (หมูโค)
The first dish we ordered is moo ko (หมูโค), nuggets of pork belly, which I believe is marinated in a mixture of salt and garlic (sometimes also some shrimp paste is thrown in for flavor), then boiled to make it soft and finally deep fried to a crisp.
Price – 120 THB (120 บาท)
If you're a lover of pork, moo ko (หมูโค) is a dish you're not going to want to miss at Janhom Restaurant (ร้านจันทร์หอม).
It was crispy on the outside, gooey and soft on the inside, and perfectly salty – actually addictively salty.
Gaeng leung pla kapong (แกงเหลืองปลากะพง)
Normally in southern Thailand, this bright yellow fresh turmeric filled curry is called gaeng som (แกงส้ม), but in Bangkok, so it doesn't get mixed up with a different dish of the same name, it's referred to as gaeng leung (แกงเหลือง yellow curry). And it's one of my personal favorite dishes in the entire world, a recipe my mother in law makes at home often.
We ordered gaeng leung pla kapong (แกงเหลืองปลากะพง), yellow curry with barramundi fish and coconut shoots. Just from the appearance, the bright yellow color and the bits of red chili mixed in, I could tell it was going to be award winning.
It was!
The curry was thick full of spice, packed with turmeric, salty and sour, with fresh fish and crisp coconut shoots. It's the type of curry that will make you shed tears as you eat it, and you're not sure if it's from the spice or from happiness. Probably both.
Price – 150 THB (150 บาท)
Gaeng tai pla (แกงไตปลา)
Another one of the most popular southern Thai foods is gaeng tai pla (แกงไตปลา), and I've found that this dish, along with gaeng som, can be good indicators as to the authenticity and quality of southern Thai restaurants in Bangkok.
Price – 150 THB (150 บาท)
At Janhom (ร้านจันทร์หอม) they absolutely nailed it again with their version of gaeng tai pla (แกงไตปลา), which is a curry made with fermented fish viscera, roasted fish, and in this case, bamboo shoots, pea eggplant, Thai eggplant, and long beans.
It was spicy and absolutely overwhelming with luscious flavor. The gaeng tai pla (แกงไตปลา) was my favorite dish of our meal at Janhom Restaurant (ร้านจันทร์หอม).
Lon neau boo maa (หลนเนื้อปูม้า)
The next dish my wife and I ordered was lon neau boo maa (หลนเนื้อปูม้า), which is de-shelled blue swimmer crab, in a Thai lon, which is a coconut milk sauce reduction.
Price – 380 THB (380 บาท)
This was another winner, and it went well to balance out the other spicy salty dishes, because it's a dish more on the sweet side due to the coconut milk.
The nuggets of crab were flaky and sweet, while the lon had a wonderful fragrance. My wife especially loved the lon neau boo maa (หลนเนื้อปูม้า).
Pla krabok tod kamin (ปลากระบอกทอดขมิ้น)
A common way to fry fish in southern Thai food is marinated in garlic and fresh turmeric, and then deep fried (you can check out my recipe for it here). We ordered pla krabok tod kamin (ปลากระบอกทอดขมิ้น), mullet fish.
I thought the fish was a little on the dry side, maybe had been fried for too long. It was still good, but a little drier than I would have liked.
Price – 360 THB (360 บาท)
However, the sauce served with the pla krabok tod kamin (ปลากระบอกทอดขมิ้น) was unbelievably good, and it's a type of sauce I can't say I've ever had previously.
Rather than tasting citrusy (lime juice), it tasted more vinegary, but without being the least bit sweet, just powerfully garlicky and spicy. It was a sauce worthy of eating on its own.
Sataw pad kapi goong (สะตอผัดกะปิกุ้ง)
I'v had a soft spot in my heart for stink beans for many years; I just can never get enough of them.
Since we had many spicy dishes already at Janhom Restaurant (ร้านจันทร์หอม), we balanced our meal out with ordering a non-spicy version of stink beans: sataw pad kapi goong (สะตอผัดกะปิกุ้ง), stink beans with shrimp and shrimp paste.
Overall it was very tasty, heavy on the shrimp paste, and big meaty stink beans.
Price – 130 THB (130 บาท)
Yod liang pad kai (ยอดเหลียงผัดไข่)
Yod liang (ยอดเหลียง), or pak liang in Thai (ผักเหลียง), are melinjo leaves, which are commonly eaten in southern Thailand and relatively rare to find in Bangkok apart from at southern Thai food restaurants.
Price – 100 THB (100 บาท)
It happens to be a favorite vegetable of mine, with a wonderful chewy texture and nutty fragrance. The melinjo leaves are often fried with egg so that it gives some heartiness to the dish.
The version of yod liang pad kai (ยอดเหลียงผัดไข่) at Janhom Restaurant (ร้านจันทร์หอม) had a pretty high ratio of egg to melinjo leaves, and it was awesomely good.
Buad khao pod (บวชข้าวโพด)
I'm not a big desserts eater, but my wife had a bowl of buad khao pod (บวชข้าวโพด), a southern Thai dessert of coconut milk with corn and taro. It was sweet and very richly creamy, with plenty of sweet corn.
If you enjoy desserts, this is one of the main desserts to eat here.
Price – 45 THB (45 บาท)
Prices
It was four of us eating this meal, and our total bill came to 2,182 THB, including all the dishes mentioned above, a couple pots of rice, water, desserts, and my wife also bought a couple of things for takeaway.
This is a sit-down restaurant, and I think the for the quality and flavor, the prices were typical. Expect to pay about 200 – 400 THB per person, but once you taste the food, you might go all out and keep ordering more and more because the food is so good.
Conclusion
Janhom Restaurant (ร้านจันทร์หอม) is a southern Thai food restaurant located in the Bang Kapi district of Bangkok.
The meal I ate there was mind-blowingly delicious, especially the yellow fish curry (แกงเหลืองปลากะพง gaeng leung pla kapong) and the fermented fish viscera curry (แกงไตปลา gaeng tai pla). Just about everything I tried was applause worthy, and the service was equally friendly.
If you're ready to eat some for the best southern Thai food in Bangkok, Janhom Restaurant (ร้านจันทร์หอม) is a restaurant you'll want to immediately visit.
Janhom Restaurant (ร้านจันทร์หอม)
Address: 273/4 Soi Nawasi, Thanon Ramkhamhaeng 21, Hua Mak, Bang Kapi, Bangkok 10240
Phone number: 02-319-1128 , 02-319-1129
Open hours: Open Tuesday – Sunday (closed on Monday) from 11 am – 10 pm
ที่อยู่ : 273/4 ซอยนวศรี ถ.รามคำแหง 21 หัวหมาก บางกะปิ กรุงเทพฯ 10240
โทร. 02-319-1128 , 02-319-1129
เปิดบริการ อังคาร – อาทิตย์ 11.00-22.00 น.
How to get there: The restaurant is located in Bang Kapi, on Ramkhamhaeng Soi 21. The easiest way to get here is by taxi directly to the restaurant. By public transportation, probably the best option would be the Airport Rail Link to Ramkhamhaeng station, and then either motorbike or taxi from there.