Ruan Thip (ร้านเรือนทิพย์): Incredible Curry in Krabi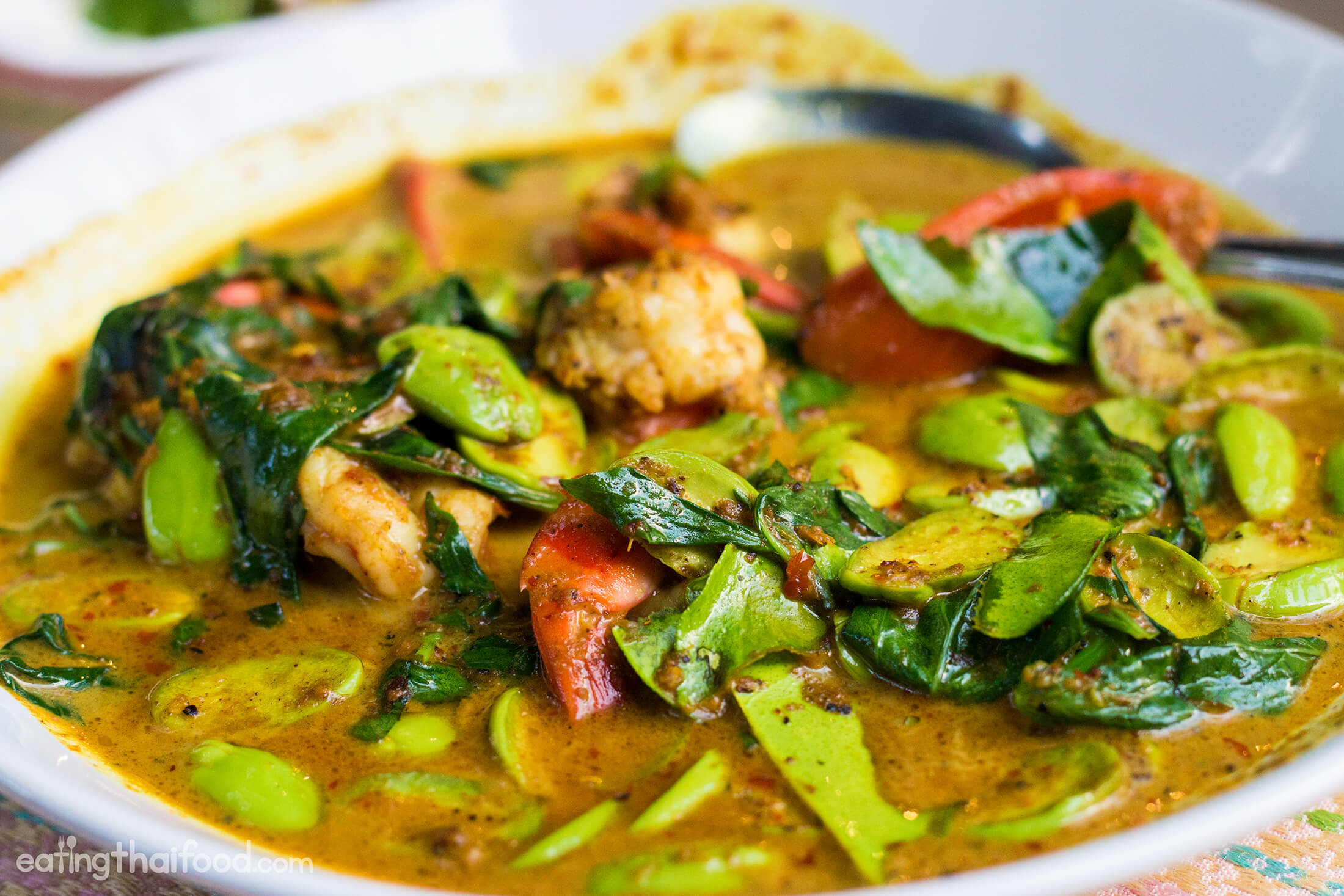 Ruan Thip (ร้านเรือนทิพย์) Restaurant is one of the long-standing classic restaurants in Krabi Town that serves up outrageously flavorful southern Thai food.
And when I say outrageously flavorful, I mean their food is so good, and the flavors are so well combined and balanced, you'll be in a state of happiness with every bite.
Ruan Thip (ร้านเรือนทิพย์) has just about everything going for it, good atmosphere, good service, and delicious food.
The menu
Ruan Thip (ร้านเรือนทิพย์) is mostly a southern Thai food restaurant in Krabi, and so most of their menu is filled with the delights of coconut cream based curries and doses of spicy curry paste.
But there are also some lesser spicy dishes and some Chinese influenced dishes as well, like at most Thai restaurants.
One of their signatures dishes that I haven't had a chance to try yet is their kha moo tod ขาหมูทอด, a big pork knuckle, but deep fried. Next time I will give it a try and update this post, but if you're in the mood for a big hunk of fried pork, it appeared almost everyone eating here goes for it.
I don't think you can go wrong with whatever you order.
Rice is served in a heavy small copper bowl, pretty cool.
Yam pla duk foo (ยำปลาดุกฟู)
Yam pla duk foo (ยำปลาดุกฟู), a Thai catfish fluffy deep fried salad, is not really a southern Thai food dishes, but it's pretty popular and happens to be one of my wife's favorite dishes to eat.
So we ordered it.
Sometimes I like yam pla duk foo (ยำปลาดุกฟู) if it's prepared in a certain way so the crispy part doesn't turn soggy and if it's not sweet, but sour and spicy. Other times, it gets all soggy and the dressing is too sweet for me.
This was one of the best version of yam pla duk foo (ยำปลาดุกฟู) I've had in a very long time.
To make this catfish salad, a catfish is minced with a knife and chopping board, then deep fried in hot oil, and somehow it turns into a big crispy fritter or crunchy, slightly catfish flavored crunchiness. The blob or crunchy is then paired with a typical Thai green mango salad, including a sour, spicy, and sweet dressing.
Rather then the crispy catfish being mixed into the salad like it sometimes is, at Ruan Thip (ร้านเรือนทิพย์) Restaurant, they scooped the salad to the bottom of the plate, and then placed the freshly fried catfish fluff on top of the salad.
That way, when eating, you could just break off a piece of fluff, scoop some salad onto your spoon and eat it together, both textures being preserved and combining the flavors.
The green mango salad was also incredibly well balanced, not too sweet, sour, and spicy.
Gaeng khua hoy kom bai chaplu (แกงคั่วหอยขมใบชะพลู)
Let me just quickly break it down:
Gaeng khua (แกงคั่ว) is a type of Thai curry popular in southern Thailand made with a curry paste that's heavy on the dry chilies
Hoy kom (หอยขม) are a type of popular river snails
Bai chaplu (ใบชะพลู) are the earthy tasting wild betel or piper lolot leaves.
So gaeng khua hoy kom bai chaplu (แกงคั่วหอยขมใบชะพลู) is a freshwater snail curry with wild betel leaves inside, and at Ruan Thip (ร้านเรือนทิพย์) it was insanely delicious.
Price – 160 THB
First off, the curry itself was lusciously flavorful – packed full of flavor form the curry paste and combined with coconut cream to give it a buttery richness – not too far from the richness of a North Indian curry.
On top of the incredibly flavorful curry, the river snails were de-shelled, and weren't rubbery, but just slightly chewy for good texture – kind of like squid.
Finally, the bai chaplu (ใบชะพลู) added that real green earthy herbaceous component.
Price – 160 THB
Goong kapi pad sataw (กุ้งกะปิผัดสะตอ)
A meal to me in southern Thailand would not be complete without a dosage of stink beans. I really can't help myself from ordering a plate every day… sometimes every meal.
At Ruan Thip (ร้านเรือนทิพย์), their stink beans prepared with shrimp  was out of control, one of the best versions of any restaurant I've tried.
Price – 150 THB
Goong kapi pad sataw (กุ้งกะปิผัดสะตอ) is a dish of stink beans and shrimp made with shrimp paste, but their version also included southern Thai style curry past I'm sure, plus a hit of coconut cream to make it rich and creamy.
The curry was extremely fragrant with curry paste, a flavor of turmeric, chilies, lemongrass, and galangal all permeating, and with just a light fragrance of shrimp paste.
The mix included not only a generous amount of stink beans, but also fresh shrimp, a handful of basil, sliced chilies, and again, the a dousing of coconut cream to richen things up.
Their goong kapi pad sataw (กุ้งกะปิผัดสะตอ) was so good, I honestly drooling as I'm writing this.
Tom kati pak kud (ต้มกะทิผักกูด)
They don't joke around with the coconut milk at Ruan Thip (ร้านเรือนทิพย์), it's outrageously creamy, thick, and rich – and so good.
While both of the curries included coconut milk as well, this dish is the one that really highlighted the pureness of the coconut milk the most, without the curry paste, and just straight coconut purity.
Tom kati (ต้มกะทิ) is a southern Thai dish of just straight up boiled coconut milk, with little seasoning. It tastes similar to tom kha gai, but even more plain.
Inside the boiled rich coconut milk was a bunch of pak kud (ผักกูด) a common southern Thai fern vegetable, just boiled along with shallots and maybe some galangal.
I don't think it was sweetened, but just naturally sweet from the coconut milk, and the coconut milk coated the ferns like melted cheese. Another good, yet plainer dish.
Price – 110 THB


Two curries, side by side, each with their own unique flavor explosion!
Conclusion
Ruan Thip (ร้านเรือนทิพย์) is a restaurant in Krabi Town, Thailand known for serving delicious southern Thai food.
It's a huge restaurant with plenty of tables and seating, and attracts a loyal set of customers and many big groups. Yet they still manage to preserve and maintain the quality of the food to the maximum.
The curries that I ordered, both the snail curry and the stink beans curry were two of my favorites dishes, but this is really one of those Thai restaurants where nearly everything on the menu is a sure bet – I don't think you can go wrong.
Along with Nong Joke (ร้านน้องโจ๊ก), Ruan Thip (ร้านเรือนทิพย์) is one of the must eat restaurants in Krabi Town.
Ruan Thip (ร้านเรือนทิพย์) Restaurant, Krabi, Thailand
Address: 16 Thanon Nwan, Krabi Town
Open hours: 10:30 am – 12 midnight daily
Phone number: 075-611-635, 075-632-043
Prices: The prices at Ruan Thip (ร้านเรือนทิพย์) are actually quite reasonable in my opinion. The portions are good size, and the dishes are extremely good quality and flavored to perfectly. You'll probably spend about 200 – 400 THB per person.
ที่อยู่ : 16 ถนนเนาวรัตน์ ตำบลปากน้ำ อำเภอเมืองกระบี่ จังหวัดกระบี่
เปิดบริการทุกวัน 10.30 – 24.00 น.
โทร. 075-611-635, 075-632-043