Serious Southern Thai Food: Feeding the Addiction at Lan Luam Dtai Restaurant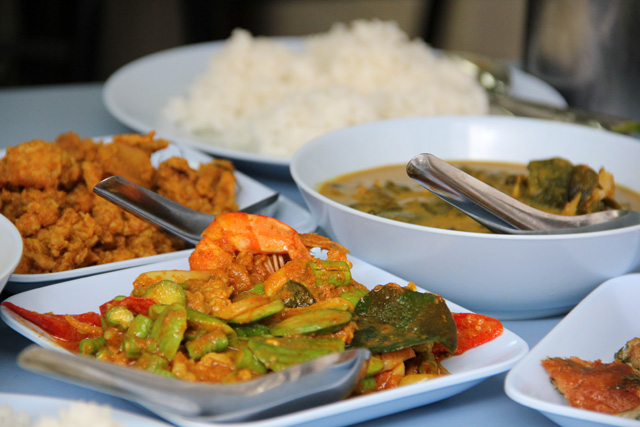 For me, nothing can compare to the bursts of extreme flavor and the internal inferno of heat that is synonymous with Southern Thai food.
I sometimes dream about southern Gaeng Som, drooling in my imagination as my mouth reacts to the harsh combinations of spices and sour bites that never fail to excite my taste buds.
One of my reining favorite hoods for southern Thai food is right around Siriraj Hospital. There are a small cluster of restaurants, 3 in particular that serve nothing but the best (you might remember Puk Tai Dao?).
Each restaurant is managed by a group of old ladies who take delight in our utmost passion of devouring their food.
Using any form of self-control would be in vain.
I ordered up a normal smorgasbord mix of dishes. It all looked so good that it took extreme effort to limit the quantity.
In restaurant situation like this I just want to give them my credit card and start a running tab, not caring the least bit how high that bill may run (though it won't be much).
The Goong Pad Sataw (กุ้งผัดสะตอ) – shrimp stir fried with stink beans was outstanding, probably the best thing we ordered. It was flawlessly curried in a powerful sauce and the beans were cooked so they were naturally crunchy and took on that wonderful curry flavor.
The bowl of Gaeng Kee Lek (แกงขี้เหล็ก) was equally amazing, a thick coconut cream based curry filled with Kee Lek leaves (known as cassia leaves in English – as identified by Eating Asia).
There are a few southern Thai dishes that are prerequisites for any meal, and southern style Gaeng Som, of any variation is mandatory. There was no messing around with this version.
The Kua Kling Moo (คั่วกลิ้งหมู) was excellent, each morsel meat coated by the dry curry and laced with fragrant slices of kaffir lime leaf.
Nam Prik Makam (น้ำพริกมะขาม) is a pounded chili paste made form tamarind pulp mixed with chilies, roasted garlic and a few other ingredients. It acts like a dip topping for raw green vegetables. They did it incredibly at Lan Luam Dtai ร้านรวมใต้.
After such a glorious hit of Nam Prik Makam, we deemed it necessary to sample the classic Nam Prik Kaphi (น้ำพริกกะปิ), a spicy chili sauce combined with fermented shrimp paste and heavy on lime juice.
Along with the vegetables we also got a plate of Cha Om Kai (ชะอมไข่), an omelet filled with some kind of acacia leaves.
After working up the courage to stand, I waddled out of the premises, a very very happy man indeed!
The Bottom Line
The food at Lan Luam Dtai is exactly what I want when I think of Southern Thai food.
All of their dishes are incredible creations of flavorful explosion. I highly recommend their Nam Prik Makam (น้ำพริกมะขาม) and I was extremely fond of the Goong Pad Sataw (กุ้งผัดสะตอ).
If you are looking for Southern Thai food – this is your heaven on earth!
Lan Luam Dtai ร้านรวมใต้
Address: 375/4 P้hrannok Rd, Bangkoknoy, Bangkok, Thailand 10700
Phone: 02-4110842
Hours: Daily 6:00 – 20:00
Price: About 30 THB ($1) per dish, 2 of us ate this giant feast for 240 THB ($8).
ร้านรวมใต้
375/4 ถ.พรานนก เขตบางกอกน้อย กทม. 10700
โทร. 02-4110842
เปิด-ปิด 6.00-20.00
How to Get There
The restaurant is located just a short walk down the road from Siriraj Hospital, directly across the street from Lan Ahan Puk. Here's the map:

View Eating Thai Food Map in a larger map