Aromkwan Bangkok – Extreme Malaysian Food! (Smoked Curry + Biryani Mountain)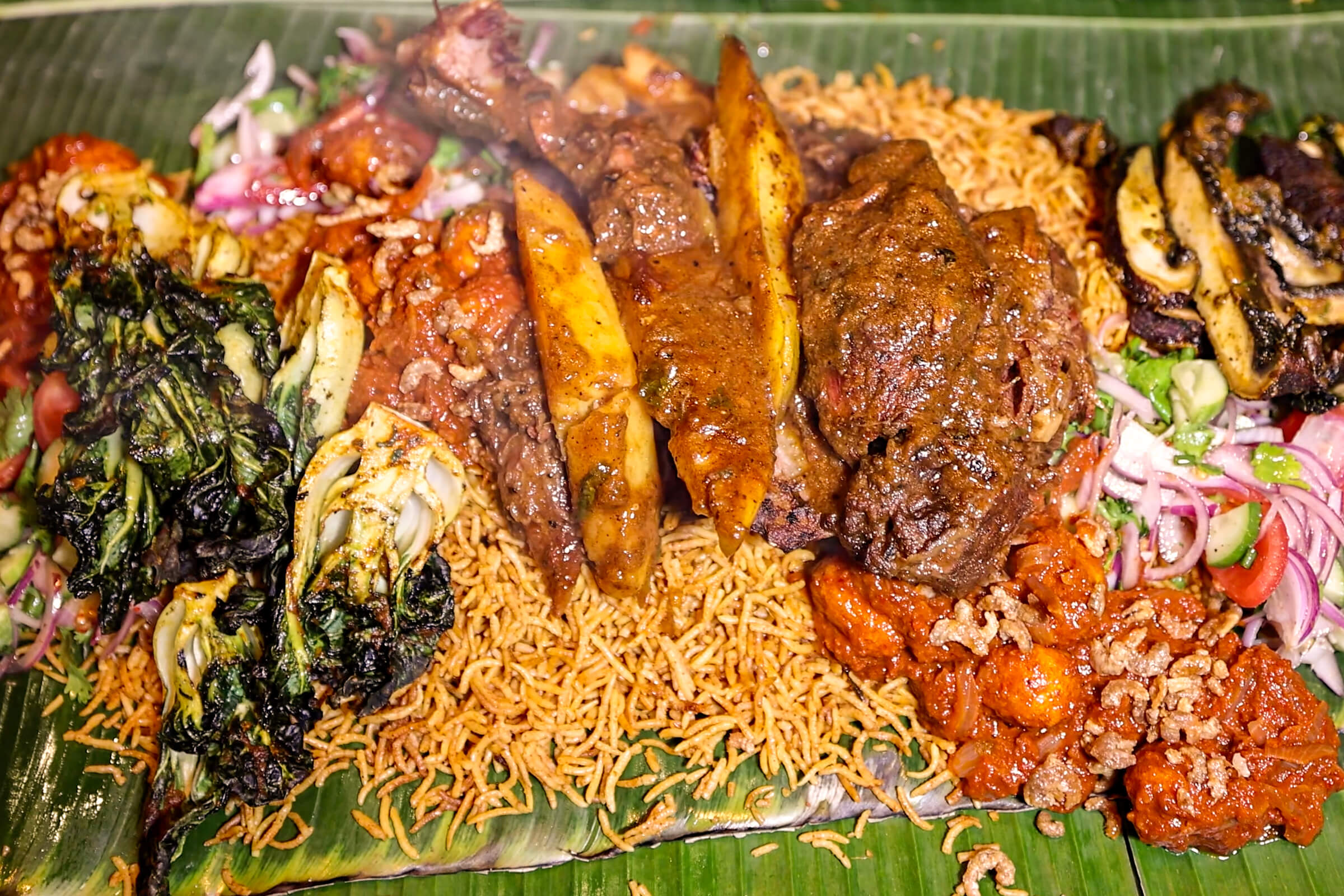 Aromkwan (อารมณ์ควัน) is a one of a kind food experience in Bangkok!
Chef Bank serves what could tamely be called Extreme Malaysian Food, where he mainly uses his traditional family recipes, but goes a step further to smoke everything, and then serves you a mountain of food on a banana leaf.
Do not wear a belt or jeans, but come ready to feast and have the time of your life.
Aromkwan (อารมณ์ควัน)
What is Aromkwan (อารมณ์ควัน)?
Chef Bank explained to me that in Thai, arom means emotion, and kwan means smoke, and romkwan is the process of smoking. As Chef Bank explained, the idea behind Aromkwan is the process of smoking that requires a high level of emotion and understanding fire.
You'll realize it's a perfect name for what they do and they food they serve.
As a quick back story, Chef Bank started Aromkwan as a BBQ smoking food truck.
Later on, especially during Thailand's lockdown period, they started to deliver orders, mainly their famous smoked pork knuckle biryani. Now, they have opened a sit down single table per night, Chef's Table restaurant – right at the bottom of their home in Bangkok.
Reservations are required. You can also still get delivery (+66884958213, Facebook page, Instagram page)
Aromkwan video
If you have a few minutes, you can watch the video to see our entire meal experience at Aromkwan.
Where are the recipes from?
"My Father is Malaysian Indian, my Mother is Thai Chinese."
This is literally a combination of 4 of my favorite food groups in the world.
I asked Chef Bank where most of the recipes came from and he mentioned his Grandmother in Malaysia. He grew up eating her curry, and over the years as he grew up, he never really found anything that compared.
So he started learning his Grandmother's recipes, while testing and testing.
Additionally, Chef Bank has always loved BBQ and smoke. And so he thought why not take these long braised curries and take the next step by smoking them in a clay pot for another 10 or 12 hours?
And that's what they do at Aromkwan (อารมณ์ควัน).
Chef Bank is extremely friendly – so when you're there you can ask him all about his story and ideas.
But now, let's get into the food now.
Bakkwa + Ginger Fizz
First thing we had was a welcome bite and drink, Singapore style bakkwa, and a homemade ginger fizz. The bakkwa is quite sweet, but the fire really caramelized the sugars to create an amazing smokiness, and it paired well with the taste of ginger.
Ox tongue skewers
Next up, ox tongue skewers, which were ridiculously tender, melt in your mouth tender. Guaranteed to get the mouth juices flowing.
Didn't get a photo, but there was also a snack bowl of crunchy nuts and fried beans, with onions and tomatoes. Reminded me a little of jhal muri in Kolkata.
A light meal for 2, please.
The Aromkwan spread for my wife and I!
Setting the table
Setting the table is both thrilling and a part of your experience when you eat at Aromkwan (อารมณ์ควัน). Chef Bank really emphasized the importance of an interactive meal, where you don't just eat, but feel the food, you know where it's coming from, and you share with the people in your group at your table.
In the grandest table setting of all time, Chef Bank starts with a base of biryani, and then proceeds to pile on everything from quail egg sambal to smoked bok choy to an entire smoked goat leg and curried pork knuckle until a mountain is before you.
Here are all the dishes we had:
Biryani
Asian slaw – salad
Quail egg sambal
South dried shrimp
Portabello smoked mushrooms
Charred bok choy
Smoked goat leg curry
Smoked pork knuckle curry
House curd
Ikan bakar
Smoked chicken wings
Crispy pork lard, curry leaves to garnish
Ikan bakar
Whenever I go to Malaysia, ikan bakar, or grilled fish with sambal, is something I can never get enough of.
At Aromkwan (อารมณ์ควัน) restaurant Bangkok, they smoke King Mackerel, then coat it in a combination of lard, and dry shrimp sambal, before wrapping it again and chucking it into the fire. It's awesome.
Smoked pork knuckle curry
One of the signature, most famous dishes is the smoked pork knuckle curry.
Braised pork knuckle is a popular Thai Chinese street food, but Chef Bank combined this concept into a curry, and then smoked it. The cooking process takes over 30 hours, so you can imagine the way it melts in your mouth.
The layer upon layer of flavor and smokiness and harmony of spices was mesmerizing.
Smoked goat leg curry
If I could choose just one dish, I think it would have to be the smoked goat leg curry.
I'm not afraid to admit that I've been a goat kind of guy since I was a kid.
The curry sauce is unbelievably rich and full bodied, and literally, you can see the pink smoky rings evident in the meat all the way to the bone – and then it's oozing in curry sauce if things couldn't get better…
and I don't think things could get better.
I think another thing to mention is that part of the joy of eating this extreme Malaysian food smoked curry meal, is mixing dishes with your fingers.
Every dish stands out on its own, and yet at the same time is enhanced when mixed and matched with other dishes in your meal.
The food itself is outstanding, and the hospitality and friendliness of Chef Bank and the entire team at Aromkwan (อารมณ์ควัน) is what makes your meal even more memorable.
An outstanding meal, with so much love, passion, and dedication in what they do and in every bite of food you taste.
Aromkwan (อารมณ์ควัน) Asian Smokery – Bangkok, Thailand
Reservations required: +66884958213, Facebook page, Instagram page
Address: 297, 2 Klang Alley, Khlong Tan Nuea, Watthana, Bangkok 10110 (Phrom Phong area of Bangkok, Google Maps)
Open hours: Tuesday – Sunday, 5 pm – 12 midnight
Prices: Approximately 1,850 THB per person