The Ultimate Braised Pork Leg in Bangkok (ร้านเจริญแสง สีลม)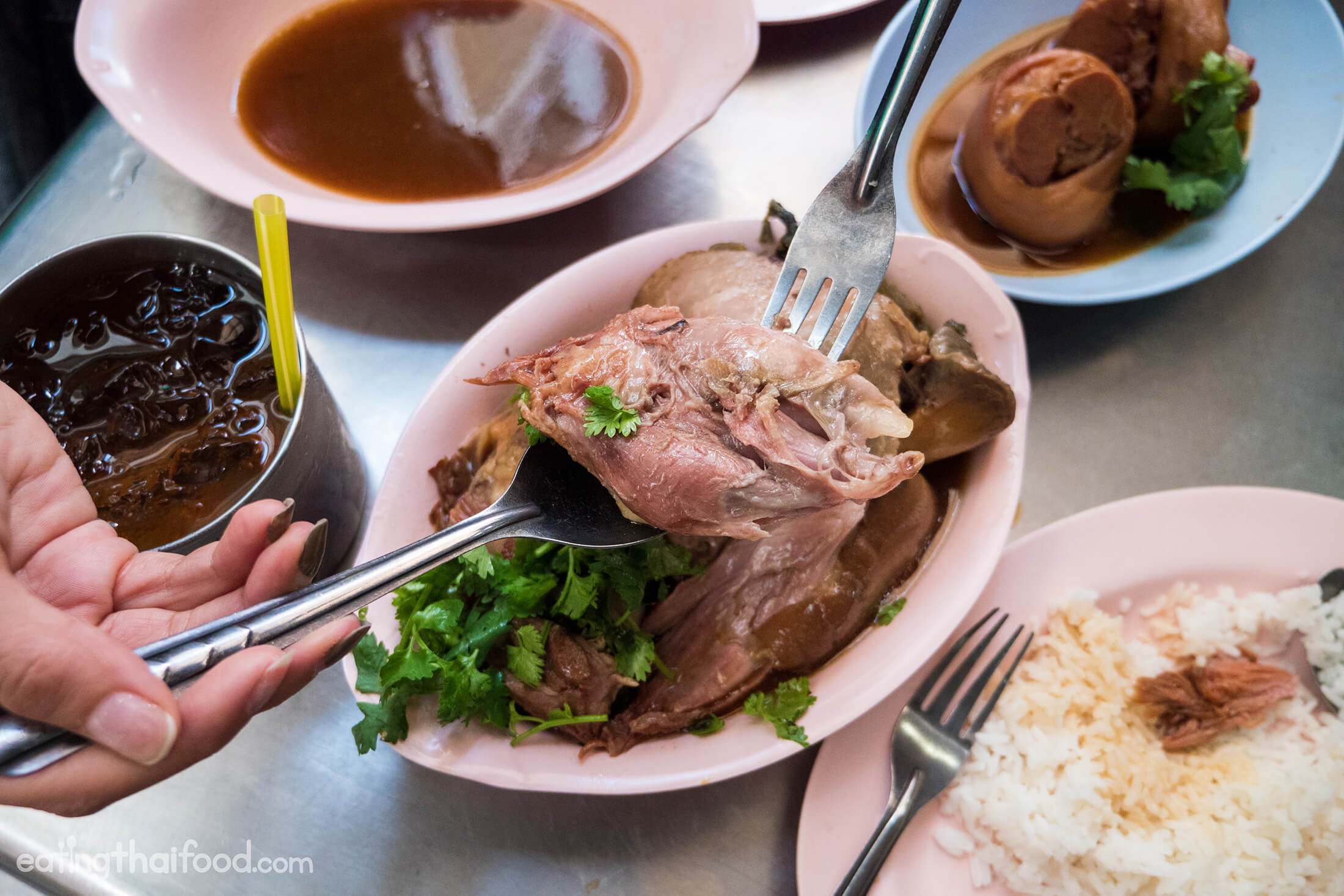 Braised pork leg and rice (khao kha moo ข้าวขาหมู) is one of the standard Thai street food dishes.
And typically, it really is a pretty standard tasting and eating dish. It's available at hundreds of street food corners, kind of like the pork version of chicken rice.
However, there are some extremely notable khao kha moo stalls in Thailand, one of the more legendary being the unforgettable Cowgirl lady in Chiang Mai.
But in Bangkok, one of the ultimate places to eat Thai Chinese braised pork leg and rice is Charoen Saeng Silom (ร้านเจริญแสง สีลม), and it's one of my favorites in all of Thailand.
Charoen Saeng Silom (ร้านเจริญแสง สีลม)
Located down a side alley behind the corner of Silom and Charoen Krung Road in Bangrak (near to Silom), but remaining completely hidden from the outside road, is Charoen Saeng Silom (ร้านเจริญแสง สีลม).
It's the type of restaurant you'd walk past so many times, but if you didn't know it was down the alley, you'd never know it was there.
It's also the type of street food restaurant that serves such good food, people come to eat it from all over Bangkok, and it's not unlikely to find a Mercedes Benz or a luxury car parked in the alley – people come for the good food.
Charoen Saeng Silom (ร้านเจริญแสง สีลม) is located down the alley, and you'll immediately recognize it by its red sign and golden letters, and typically a huge crowd around the restaurant.
During lunch they set up a row of tables along the alley, but they also have a few indoor seats as well. The braised pork is served from a giant metal bowl on a podium at the front.
Unfortunately on the day that I went, my wife and I arrived at the tail end of lunch, and they had almost sold out of braised pork leg, so I wasn't able to get a photo of the full pot of tender pork legs.
Ordering Khao Kha Moo (ข้าวขาหมู)
There are a number of different things you can order at Charoen Saeng Silom (ร้านเจริญแสง สีลม).
If you'd just like an individual portion of rice topped with tender braised pork leg and garnishing, you can just order khao kha moo (ข้าวขาหมู).
But if you're ready to take on the ultimate Thai braised pork leg experience in Bangkok, you'll want to order the entire leg – kha moo (ขาหมู).
Ying and I arrived at the peak of the lunchtime rush at Charoen Saeng Silom (ร้านเจริญแสง สีลม), and we luckily found a table, and sat down. I immediately went around to take some photos and videos, and my wife did all the ordering.
Little did I know, she was really hungry… and ordered the full leg. But I'm definitely not one to complain.
We also tried to order pig feet, which is also very popular, but so popular in fact, that they had already sold out.
So instead of getting pig feet, we had to settle for what in Thai are called kawki (ข้อกิ), which I believe are the joints between the leg and foot.
Kha moo (ขาหมู)
Our pork leg arrived, filling up an entire bowl with its wrinkly skin.
When it comes to eating kha moo (ขาหมู) I'm not huge on the skin, I'm a crispy skin kind of guy rather than a gelatinous skin kind of guy. So I peeled back some of the skin.
As ironic as it might sound, the meat underneath the skin can be quite lean, as was the case with the pork here.
It was kind of like a pork drumstick, just multiple times bigger – a big bone, surrounded by tons of succulent meat, with a thick layer of skin surrounding it.
The kha moo (ขาหมู) was also served with some pickled braised mustard greens on the side, plus a handful of fresh cilantro to garnish.
The meat off the pork leg was some of the best I've ever tasted in my life, both in flavor and texture.
It literally just slid off the bone effortlessly, and it was so tender, yet not mushy. When they serve you an entire pork leg like this, they never serve you a knife, you just don't need it – it's spoon tender!
The taste wasn't too sweet, but it was mild with a pleasant aroma of star anise, and I'm sure an arsenal of Chinese herbs and spices that went into the braised juice.
Absolutely incredibly good.
To take things further, Thai kha moo (ขาหมู) is always served with a side sauce.
The sauce at Charoen Saeng Silom (ร้านเจริญแสง สีลม) was mostly vinegar based, and filled with chilies and garlic.
The contrast of the sweet meat, with the harsh vinegar, chilies, and garlic, complemented each other so well.
I'm also a big fan of their mustard greens, which are undoubtedly enhanced by being cooked in the pork juices. Just like the pork, they were so tender, you could slice through them with your spoon.
Kawki (ข้อกิ)
I mentioned above that we tried to order the pig feet, but they were already sold out, so we decided to order kawki (ข้อกิ), which to my understanding is the section right above the foot, kind of the pig foot joint area.
It looked pretty much like a bone surrounded by skin, and that's pretty much exactly what it was.
I'll admit, this wasn't my favorite, but it was indeed fun to try.
The skin had some texture to it, but the insides, the white stuff between the bones, was just pure smooth and silky gelatinous in texture, and perhaps a combination of collagen, fat and tendon I think.
Total price
For our entire meal at Charoen Saeng Silom (ร้านเจริญแสง สีลม), we had a pork leg, the pig joints, with two plates of rice, and our total bill came to 309 THB ($8.63) – I think it's a pretty good deal for the amount of meat we ate.
Watch the video:
(Or you can watch it on YouTube here)
Conclusion
Hidden down an alley side street in downtown Bangkok, Charoen Saeng Silom (ร้านเจริญแสง สีลม) is one of the ultimate places to eat khao kha moo (ข้าวขาหมู) – Thai Chinese braised pork leg and rice.
Their pork leg is unexplainably soft and silky, yet not mushy, and it has a slight sweetness, but well balanced with a blend of Chinese spices and herbs.
If you're up for a pork feast, I'd recommend ordering the entire leg!
Charoen Saeng Silom (ร้านเจริญแสง สีลม)
Address: 492/6 Soi Charoen Krung 49, Bangrak, Bangkok 10500
Open hours: 8 am – 2 pm daily, but don't come at 2 pm, they will probably be sold old. The best time to come would be the morning at about 10 or 11 am if possible.
Prices: Our total bill for my wife and I and everything we ate came to 309 THB ($8.63)
ที่อยู่ 492/6ซ.เจริญกรุง49 ถ.สีลม (ใกล้ร.พ.เลิดสิน) สุริยวงศ์ , บางรัก , กรุงเทพมหานคร 10500
เปิดบริการ ทุกวัน 8.00 – 14.00 น.
How to get there: Charoen Saeng Silom (ร้านเจริญแสง สีลม) is located within the alley, right on the corner of Silom Road and Charoen Krung Road, in the Bangrak area of Bangkok. It's on the opposite side of the intersection from Sirocco and Muslim Restaurant and just within the alley.