Abdulloh Muslim Food Restaurant in Krabi Town, Thailand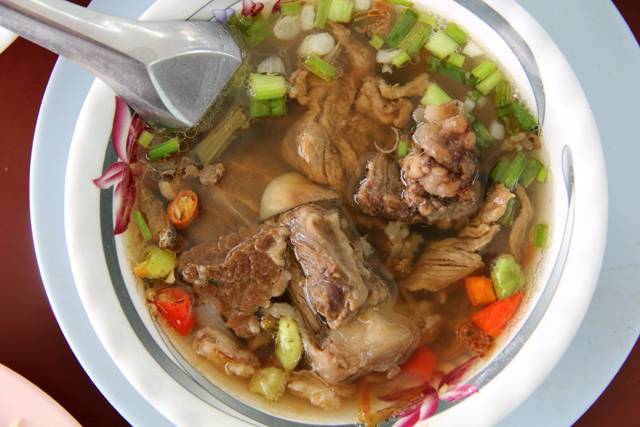 Nothing proclaims the exuberance of being back in southern Thailand more than an encounter with an array of southern style curries.
ของเด็ดของอาหารภาคใต้ : ข้าวแกงภาคใต้
At Abdulloh Muslim Restaurant in the center of Krabi Town, there's always a small but scrumptious selection of the finest southern Thai Muslim dishes ready to be dished out and served.
The restaurant not only makes splendid curries and soups, but also caters to those looking for fried roti bread or just a cup of milk tea.
ที่ร้าน Abdulloh Muslim ที่ตั้งอยู่ใจกลางจังหวัดกะบี่นี้ มีอาหารรสชาติเยี่ยมจากปักษ์ใต้มาให้ลิ้มลองกันอย่างมากมาย
ไม่ใช้แค่ร้านอาหารอย่างเดียวแต่ท่านสามรถมานั่งจิบชา นั่งพักผ่อนได้ด้วย
The Tom Kha Gai ต้มข่าไก่ in Krabi is slightly different from how it would be made in Bangkok. The chicken is cooked in more of a soupy coconut milk instead of the white heavy coconut cream.
It's mildly flavored with crushed lemongrass, galangal, and onions and tomatoes that have been cooked to death for their flavor.
ต้มข่าไก่ของภาคใต้ ก็จะมีความแตกต่างจากของกรุงเทพเล็กน้อย
โดยจะใสเครื่องเทศที่มีรสชาติจัดจ้านแตกต่างกันเช้น การใส่มะเขือเทศเพื่อให้ได้รสชาติที่กลมกล่อม
Gaeng Som แกงส้ม is among my exclusive list of top Thai dishes. The version that is served at Abdulloh is excellent by way of flavor, but I really enjoy it when it's piping hot.
Unfortunately, all the dishes normally sit in the glass cabinet at room temperature until being ordered, so it's not as tasty as it could be!
แกงส้ม หนึ่งในอาหารจานโปรดของผม ก็มีวิธีการปรุงรสที่ต่างจากในกรุงเทพอย่างมาก แต่ถ้าที่ร้าน จะเสริฟแกงที่ยังร้อนๆอยู่คงจะดีมากเลย
In my opinion, beef is what Abdulloh cooks the best.
The Gaeng Neua แกงเนื้อ beef curry is fantastic. The lean chunks of beef are simmered in rich coconut cream and curry paste to create a full flavored sauce.
ในความคิดของผม แกงเนื้อของชาวปักษ์ใต้นั้นถือเป็นอาหารที่มีรสชาติยอดเยี่ยมที่สุดแล้ว ไม่ว่าจะเป็นแกงเนื้อ หรือซุปเนื้อต่างๆ ก็มีรสชาติที่ยอดเยียมไม่แพ้กัน
One of the best things on the menu is the outrageously delicious Soup Neua ซุปเนื้อ (beef soup). When I take my first bites, I tend to forget everything else in life.
The tender chunks of beef odds and ends are boiled down for hours to create an immaculate beefy broth and meat combo. After ordering the soup, they add fresh green onions, green and red chili peppers, and a handfull of extremely fragrant deep fried onions.
ซุปเนื้อที่นี้ เมื่อได้ลิ้มลองรสชาติแล้วจะทำให้คุณลืมอย่างอื่นไปหมดเลย น้ำซุปใสๆ ที่ใส่เนื้อทั้งชิ้นลงไป พร้อมกับหัวหอมลูกใหญ่่ และพริกที่ช่วยทำให้รสชติกลมกล่อมมากขึ้น
This time at Abdulloh Restaurant I didn't have any Roti, but previously I sampled their Malaysian food style Roti Gaeng (fried flatbread with curry sauce), and it was fantastic.
เมื่อมาที่นี้คราวที่แล้วเคยลองทานโรตี แกงเนื้อไปและสร้างความประทับใจอย่างมากกับผม
If you are still yearning for more delightful Thai Muslim food, there's always Khao Mok Gai ข้าวหมกไก่ available.
ข้าวหมกไก่ : อาหารชื่อดังอีกอย่างหนึ่งของชาวปักษ์ใต้
The Bottom Line
The beef dishes in particular are excellent at Abdulloh Muslim Thai restaurant. If I was living in Krabi, I'd be there at least once a week for that amazing beef soup!
Hours: Open daily from around 8 am to 6 pm, good restaurant to grab lunch at
Prices: Each dish is around 30 – 40 THB
(ร้านนี้มีของเด็ดคืออาหารประเภทเนื้อวัว โดยเฉพาะซุปเนื้อวัว ที่มีรสชาติกลมกล่อมน่ารัปประทาน เปิดทุกวัน 8 โมงถึง 6 โมงเย็น ราคาอาหารจานละ 30-40 บาท)
How To Get There
The restaurant is located smack dab in the middle of Krabi main area of town, right across the street from the Vogue Mall Supermart – the only shopping mall in Krabi.
ร้านอยู่ใจกลางจังหวัดกระบี่ อยู่ตรงข้ามกับห้าง Vogue Mall Supermarket

View Abdulloh Muslim Food, Krabi, Thailand in a larger map