7 Links of Thai Food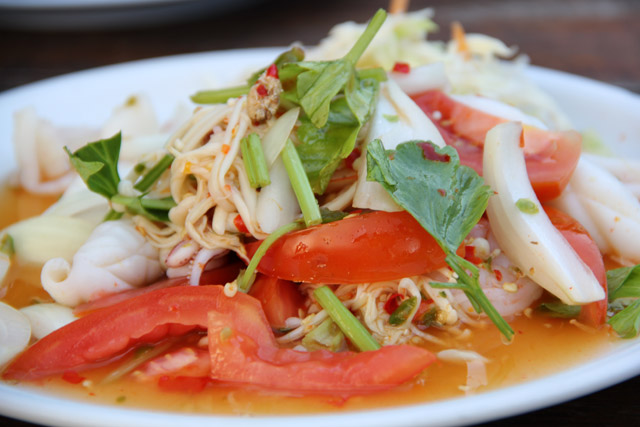 The 7 Links project was started to highlight the best content from the endless archives of blog posts and spread through the entire travel / food blogosphere.
A few month ago, I took of the links challenge on my travel website, but just recently Eating Thai Food was nominated by Thailand Musings to take on the challenge as well!
So here it goes, a highlight of some previous articles published on EatingThaiFood.com.
1. Most Beautiful Post
Serious Southern Thai Food: Feeding The Addiction at Lan Luam Dtai Restaurant
Something about southern Thai food is just naturally beautiful (though I might be blind because I can imagine the taste). Anyways, I think southern Thai food is about as good as one can get and Lan Luam Dtai is one of my favorite restaurants in Bangkok! If you like southern Thai food, it's your heaven.
2. Most Popular Post
9 Secret Ways to Pick and Outstanding Restaurant (Before You Eat There)
With thousands upon thousands of restaurnats and street stalls in Bangkok, it can be a bit daunting to try and choose an outstanding restaurant (despite your delicious odds being pretty good in Thailand).
Here are 9 secrets that I use to tell if a restaurant will be outstanding, before eating there.
3. Most Controversial Post
Bangkok Dangerous: Sunday Afternoon Durian Conquest
I wouldn't say there's a whole lot of controversial material on this blog, so I'll just go ahead and highlight an article about a fruit that seems to stir emotions. Durian is one of the more pungent and delicious (in my life) treats in Thailand, but there are definitely a mix of opinions when it comes to that.
4. Most Helpful Post
This is not a single post, but a page with all the posts from the month of eating vegetarian Thai food. I think it has potential to be a great help to those who like to eat vegetarian or healthy meals in Thailand – and still get to enjoy awesome food!
5. A Post Whose Success Surprised You
Tho Po Channa: A Restaurant so Fine – It Only Opens 3 Hours a Day!
One lunch I had an amazing meal at a restaurant in my far-off neighborhood of Ratburana. The food was outstanding, but I didn't know the article would do this well.
6. A Post You Didn't Feel Got the Attention It Deserved
Thai Wedding Food: Migrating from Meal to Meal
I had the pleasure of attending a traditional Thai wedding where I was the token farang. I limited my close-up food shots to remain respectful, but still wrote up a post about the experience. Maybe it was the lack of food porn…
7. A Post You Are Most Proud Of
Hor Mok Ma Prao On (Seafood Curry in Coconut)
One of the first articles I published on Eating Thai Food was a highlight of one of my favorite special Thai dishes. The mix of seafood cooked in rich coconut cream is an irresistible combination!
Thanks for tuning in to these 7 links.
I'd love to hear your comments below!