7 Divine Mouthfuls from Big Bite Bangkok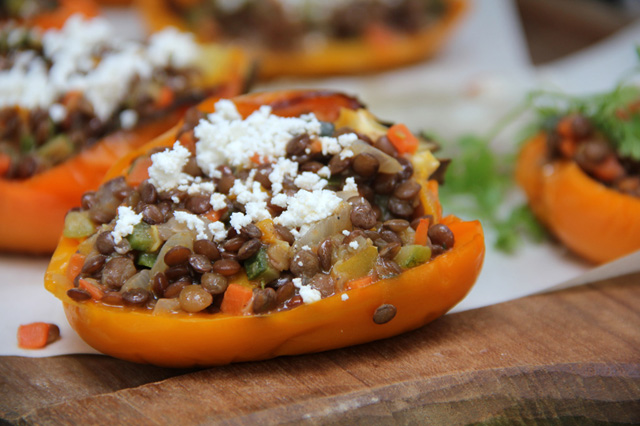 The debut Big Bite Bangkok was truly a tasty success!
If you missed it, hopefully you can join another Big Bite Bangkok in the future! Become a ETF Facebook fan to catch this event and others.
I started the day off with a few bites of northern Thai sai oua sausage handcrafted by the Bangkok Glutton herself. It was delightful, a wonderful blend of pork and spices.
After visiting Sri Lanka a few months ago, I was hurting to eat some more of their glorious cuisine. Big Bite Bangkok included some awesome Sri Lankan food like the kottu and potato cutlet pictured above. It was spectacular – authentic Sri Lankan food in Bangkok!
BKK Bagel Bakery was represented by a selection of their tastiest bagels and cream cheese – the authentic taste of New York City at Big Bite Bangkok!
These peppers stuffed with lentils, spices and topped with a bit of cheese were fabulous – a healthy and delicious treat brought by Birds in a Row.
The fresh organic cherry tomatoes brought by Adam's Organic were among my favorite snacks of the day. They were flawless, a burst of pure juicy tomatoey goodness wrapped in a thin bright red skin. Amazing!
The citrus cake from Roast BKK was a sweet success. They were sugary, tart and crumbly!
But those sweet bars weren't the final thing I enjoyed tasting at Big Bite Bangkok. To end the day in style, I ordered a fantastic plate of freshly fried Vietnamese spring rolls from Vietnamese & More. They were hand rolled on site, fried and served with a tangy sweet and sour sauce!
Thanks to all vendors who participated in the event, the organizers (Dwight and Chawadee), and everyone that showed up, the first Big Bite Bangkok was a tasty success!
Dwight is going to give you the more in-depth overview of Big Big Bangkok on an article that will publish on Thursday. Make sure you stay tuned to read more!
Were you at Big Bite Bangkok? What did you enjoy?