Vegetarian Food Stall at MBK Shopping Center, Bangkok, Thailand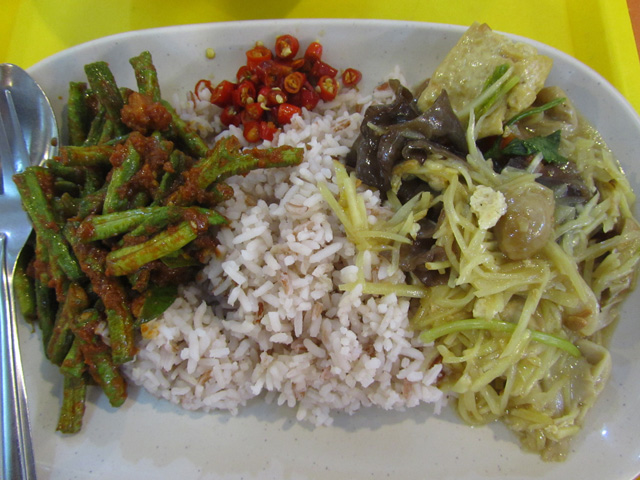 Seeing a giant plate of red covered green beans is enough to make me want some.
แค่ได้เห็นผ้ดพริกขิงจานนี้ ก็ทำให้ผมหิวแล้ว
Here's a short little (goofy) video:
There have been some ups and downs with the vegetarian restaurant stall at the MBK Food court, but I recently ate there and the vegetarian Thai food was great.
Apparently there's a little story that goes along with the stall. There was formerly a different vegetarian restaurant with many positive reviews in its place that moved locations. A new restaurant took over and decided they would also serve vegetarian food and take advantage of the reviews of the old restaurant.
Whatever the story, I can report that they serve pretty decent food and a good selection of Thai dishes!
แม้ว่าจะผ่านความเปลี่ยนแปลงมาบ้างเล็กน้อย ร้านอาหารเจที่สวนอาหารมาบุญครองนั้น ล่าสุดที่ผมไปทานมาก็ยังมีความอร่อยอยู่ดี
ปรากฎว่าร้านอาหารนี้ มีเรื่องราวประวัติที่ซ่อนอยู่ คือเมื่อก่อนนี้ มีร้านอาหารเจที่เคยตั้งอยู่ และเคยได้รับคำชมจากนักวิจารณ์อาหารหลายท่าน แต่ได้มีการย้ายร้านออกไป ทำให้มีร้านอาหารอื่นมาเปิดให้บริการแทน โดยร้านที่มาเปิดใหม่ จึงถือโอกาศใช้คำวิจารณ์ที่ดีๆ ของร้านเก่าให้เป็นประโยชน์ และเปิดร้านที่มีความคล้ายกับร้านเดิมให้มากที่สุด
อย่างไรก็ตามผมของยืนยันว่า รสชาติอาหารร้านนี้นั้นถือว่ามีรสชติที่ดีทีเดียว
I got the double dish combination and chose Pad Prik Gaeng – chili coated curry green beans, and Tao Hoo Pad Khing – stir fried tofu with pungent strips of ginger.
ผมเลือกทานข้าวราดกับ 2 ชนิด คือผัดพริกแกง กับเต้าหู้ผ้ดขิง
Price: 45 THB
On the side I ordered a bowl of Tom Jap Chai (ต้มจับฉ่าย), which was filled with the tuber gourd known in Thai as fuk.
ส่วนต้มจับฉ่ายที่สั่งมาก็รสชาติกลมกล่อมและใส่ฟักมาให้อย่างพอดีคำ
The Bottom Line
The food made for a good vegetarian lunch. Though it was a little greasy, all dishes were nicely spiced and I liked the heavy ginger used in the cooking. Not a bad place to have lunch if you are looking for vegetarian food.
โดยสรุปแล้ว ผมก็ได้ทานอาหารกลางวันที่มีรสชาติอร่อย ถึงแม้อาจจะมีความมันไปบ้าง แต่กับข้าวทุกอย่างก็ผ่านการปรุงมาอย่างดี และใส่เครื่องปรุงอย่างเข้มข้น จึงถือว่าเป็นร้านที่ใช้ได้ทีเดียวสำหรับผู้ที่กำลังมองหาร้านอาหารเจ
Vegetarian Food MBK Shopping Center
Address: MBK Shopping Center, Bangkok, Thailand
Hours: About 11:00 – 21:00
Price: Meals will run around 50 THB
ที่อยู่ของร้าน : สวนอาหาร ห้างมาบุญครอง  เปิดเวลา 11 โมงถึีง 3 ทุ่ม
How to Get There
It's always more complicated to find the MBK food court than it seems, I always have trouble, but eventually you will find it. The Vegetarian Food restaurant is located in the middle of the longest section of stalls.
สวนอาหารมาบุญครองนั้น อาจจะหายากนิดหน่อย แต่ร้านอาหารเจร้านนี้ จะตั้งอยู่ตรงกลางของส่วนที่ยาวที่สุดของสวนอาหาร

View MBK Shopping Center Vegetarian Food in a larger map