Tikki South Indian Restaurant: The Authentic Taste of Chaat in Bangkok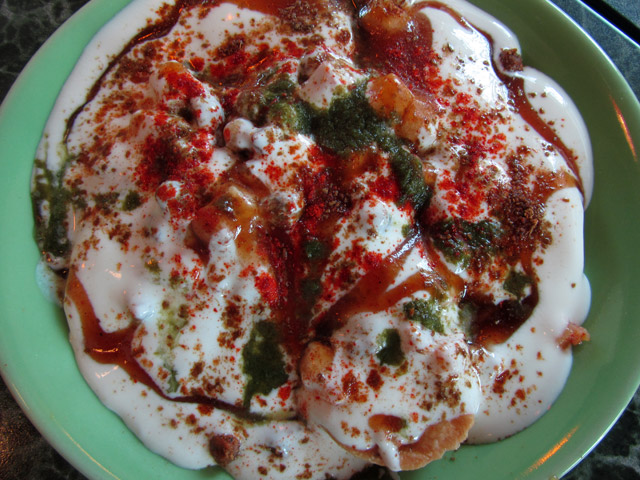 Just like sampling Iranian food in Bangkok for the first time,  I hadn't really had a meal that consisted solely of Southern Indian food.
When I bumped into Tikki flavours of India – the authentic taste of Chaat from Agra, India, (and when I saw they served purely vegetarian food), it was necessary for me to drop in with some friends for lunch.
The menu is full of small dishes, not full size meals, but more snack plates of tasty food. We ordered a few "all day snacks," as they are called on the menu for all of us to try.
The first dish was called Bhel Puri – a Mumbai delicacy that is made from puffed rice, a few types of beans, and a killer spicy sour and sweet sauce. The tomatoes and flavor of tamarind acted to make the dish seem like a fresh salad.
Price – 70 THB
The next dish that came out of the kitchen was Papdi Chaat, a plate layered with deep fried frittered covered in homemade hung curd (tasted like a cool mild plain yoghurt), and spruced up with a Jackson Pollock tossing of herbs and spices.
The coolness of the yoghurt paired with the crunchy fritters and spice combination was spectacular. I'd come back for Papdi Chaat anytime!
Price – 75 THB
The Paneer Cheela was reminiscent of a dosa style pancake that was filled with paneer cheese and wrapped up into a snack style burrito. It was served along with a sweet and sour tamarind sauce and a sour cilantro based sauce.
Price – 80 THB
Aloo Chaat is basically chopped potatoes that are fried and then glazed with spices. There was great flavor, still good, but the dish seemed just a little on the dry side.
Price – 60 THB
Last we tried the Masala Cheese Uttapam – another winner!
I had no idea what to expect, but I like anything where the words masala and cheese are involved. It could be described as a South Indian pizza. A thick cooked dough filled with herbs, a masala blend of spice, and filled with a gentle cheese. It was served with a small bowl of daal, coconut chutney, and tomato sauce chutney.
Price – 125 THB
The food at Tikki Flavours of India restaurant was excellent, though as I left I still wanted more. I was pleasantly surprised at the variation of Indian food, distinctly different from the Indian street food restaurant I usually go to in Pahurat.
I would have to say that the Papdi Chaat and the Bhel Puri were my two favorite dishes, as they were both spiced perfectly and served cool in temperature to make for a real unparalleled freshness.
The dishes are all small snacks and each plate costs around 60 – 100 THB. It's not the cheapest, but it's a nice little air-conditioned establishment and the food is worth the cost!
Here's how you can get to Tiki Restaurant
The restaurant is located on Suriwonse Road (also known as Surawong) just under the expressway. It's about a 10 minute walk from Saphan Taksin BTS station – walk up Charoen Krung, take a right on Surawong, pass the expressway, and it will be on your right hand side.
Address:
Tikki Restaurant
311/9 Suriwongse Rd. Bangrak, Bangkok 10500
Here's the map so you can get there easily:

View Eating Thai Food Map in a larger map