Thailand Fruit Farm Tour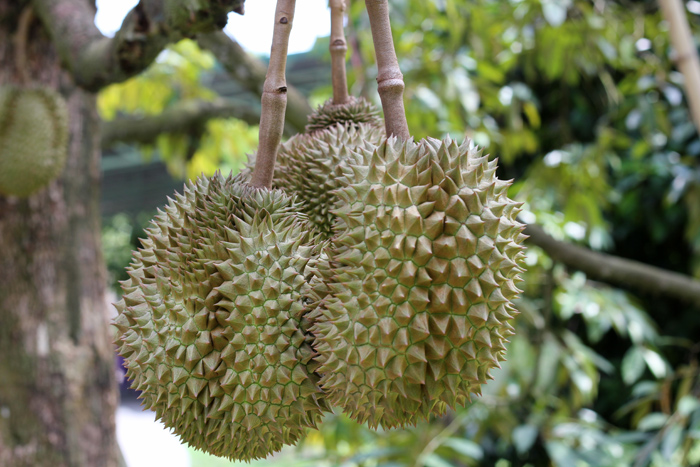 NOTE: Due to my frequent travel schedule, at this time I'm not able to offer any Bangkok food tours. Please refer to the blog, and also to the Eating Thai Food Guide. – Thank you, Mark
NOTE: At this point the Thai fruit farm tour has been discontinued. For information about the fruit farm, see this article. Also if you're interested in Thai food check out the Thai food guide or the 101 things to do in Bangkok guide. Thanks!
Thailand is one of the best countries in the entire world to sample tropical fruit. And there's no better place to eat fresh fruit than straight from the source – the fruit farm.
At Suan Supatra Land fruit farm, not only will you have an opportunity to see the fruit trees themselves, you'll also have the chance to indulge in an all-you-can-eat tropical fruit buffet!
Thailand is a serious fruit lovers' paradise, and it would be a shame to miss out on all the juicy fruit the country has to offer.
What we've got for you…
Suan Supatra Land farm is located about 3 hours from central Bangkok, near the town of Rayong.
The tour will begin in Bangkok where you'll be picked up in a private van. A small Thai style snack (probably sticky rice and grilled pork) will be served in the van to hold you over until we arrive at the farm.
At the farm, we'll hop into designated trolleys and cruise around, giving you an opportunity to see exotic fruit trees being grown.
Within the farm is the famous fruit buffet, a bounty of fresh fruit all sliced and diced and ready to be eaten – as much as you can handle.
Suan Supatra Land also grows organic vegetables and on the tour you'll have a chance to eat a fresh plate of green papaya salad (som tam) made with ingredients picked right from the farm.
Tours: As of now, we are only able to offer private tours – so you can be assured they will be laid back, flexible, and catered to suit your own interests!
Please email [email protected] for further inquires and booking requests.
Here's the fruit farm tour tentative itinerary
Pick up in private van
Small snack of sticky rice and grilled pork
Tour of the Suan Supatra Land Fruit Farm
Fruit Buffet – That's right, all you can eat fresh fruit picked straight from the farm. Includes about 15 different kinds of fruit like mangosteen and durian!
Drive to the beach
Enjoy more Thai food while relaxing on the beach
Drive back to Bangkok
Time: full day excursion, probably 8 – 10 hours
Note: As of now, we are only able to offer private tours.
Email [email protected] if you're interested in more information about booking a fruit farm tour to Suan Supatra Land.
Who Are We?
EatingThaiFood.com was founded in 2009 to be a resource for Thai food lovers. Over the years we've published restaurants reviews in Bangkok, tips on Thai food dining and lots and lots of delicious Thai food photos!
In 2011 we published the Eating Thai Food Guide – a compilation of over 2 years of Thai food photos, useful eating tips and places to eat in Bangkok.
Thai food is our passion!
If you'd like to learn more about arranging a fruit farm tour, please email us at [email protected].
– Mark
PLEASE NOTE: Due to my frequent travel schedule, at this time I'm not able to offer any Bangkok food tours. Please refer to the blog, and also to the Eating Thai Food Guide. – Thank you, Mark