Thai Vegetarian Jay Restaurant on Charoen Krung Road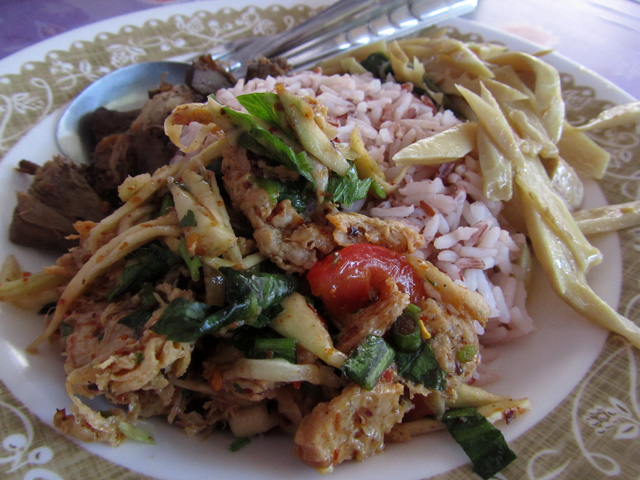 Lan Boy Boon (ร้านร้อยบุญ) vegetarian restaurant is a local style Chinese Thai vegetarian dining experience. The small restaurant on the corner of the old building is marked by an outdoor cart with the yellow "Jay Label," on it (pictured below).
Upon seeing the selection of Khao Rod Gaeng (ข้าวราดแกง) dishes already prepared, I was ready to dig in and start choosing what 3 item combination I wanted.
We ordered 2 plates.
Here are some of the dishes that are worth a mention:
Yam Mamuang Proteen – It was a sour green mango salad supplemented by meaty chunks of protein and dressed with tasty herbs and chilies.
Gaeng Phet – Some kind of red chili based curry with chunks of vegetables and basil.
Grilled Mushrooms – The brown steak looking material is actually big pieces of meaty mushrooms. They are so good that they could easily pass for a beefy steak.
Just out of curiosity I tried the Kuay Teow Jay (เส้นเล็กต้มยำเจ). Nothing special, just a pretty ordinary bowl of noodles with that slight cardboard vegetarian taste.
Here is the platter of the magic mushrooms, disguised as steak chunks.
Lan Boy Boon (ร้านร้อยบุญ) is a nice little Chinese looking Thai restaurant with a small buffet table and a few neatly organized tables. The vegetarian Thai food is freshly prepared in the morning, so be sure to show up at brunch for the best food.
The Bottom Line
The food was normal vegetarian Jay Thai food. It was good and I especially loved the mixed rice dishes and those meaty mushrooms!
Lan Roy Boon Vegetarian Restaurant
Address: Charoen Krung 74/2, Bangkok, Thailand
Phone: 02-2890007
Hours: Mostly serves breakfast and lunch on weekdays, they sort of make their own schedule
Prices: Normal street food prices, about 30 – 50 THB for a big meal
ร้านร้อยบุญ
ถ.เจริญกรุง ปากซอย 74/2
โทร. 02-2890007
How to Get There
Lan Boy Boon (ร้านร้อยบุญ) vegetarian restaurant is located a bit of a distance south of Saphan Taksin on Charoen Krung Road. You can either take a taxi or jump on the #75 or #15 bus to get there.

View Lan Boy Boon vegetarian restaurant in a larger map