Thai Vegan Festival and Delicious 'Jae' Food (อาหารเจ) at "Ming Kwan Vegetarian"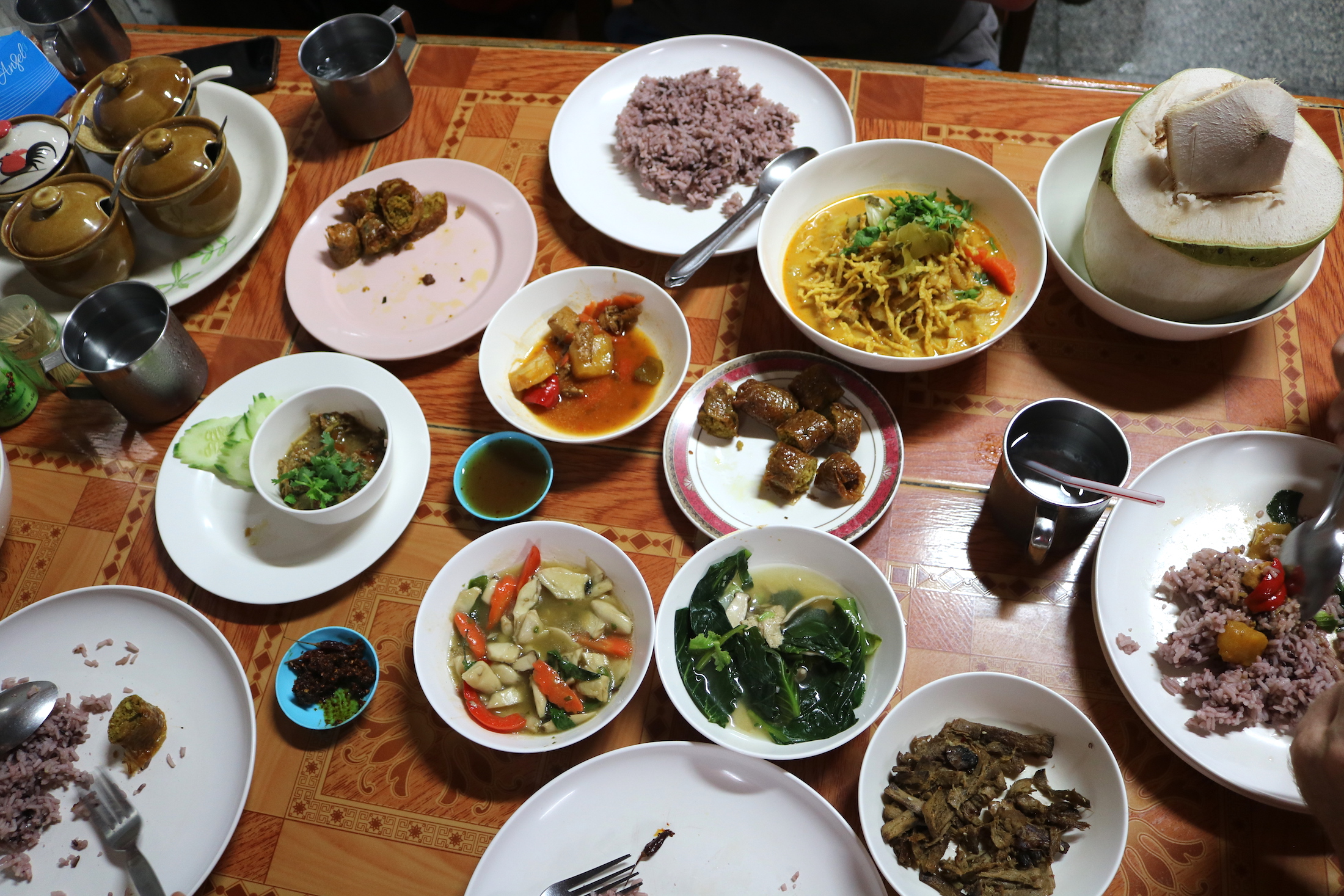 Ming Kwan Vegetarian Restaurant is a place so full of authentic Thai Vegan food recipes, I can almost guarantee you'll be wanting to come back the next day – no matter if you follow a Vegan diet or not!
In this article, we will visit this amazing Chiang Mai vegan restaurant, and give you all the details on a meal of delicious 'Jae' Vegan food (อาหารเจ).
For authenticity, for hospitality, and for one of the more budget-friendly feasts in all of South East Asia – Ming Kwan is a great choice for anyone and everyone.
Welcome!
Scroll down now for some of the best vegan food in Thailand.
Best Vegan Restaurant in Chiang Mai?
With an easy-to-find location in Chiang Mai old town, Ming Kwan restaurant (ร้านอาหารมิ่งขวัญ) is a perfect place to visit while walking around visiting historic sights and temples in Chiang Mai.
I love this restaurant for many reasons, but I think that my favourite thing about Ming Kwan Vegetarian Restaurant is how they are expertly whipping up authentic Thai vegan recipes, never once making their customers feel as though a single ingredient is lacking.
Never 'Miss the Meat'
"Missing the meat" may be an occasional complaint for those trying out a vegan diet, or even those omnivores who are simply enjoying a meat-free meal.
Let me tell you right now, this is absolutely not the case at Ming Kwan.
I can name plenty of meat-heavy meals that can't even come close to matching the depth of flavour happening in almost every dish on this massive menu of local Thai vegan recipes.
Let me give you all the details – and the photos to prove it – right now.
'Jae' Food in Thailand
The 'Jae' (เจ) tradition in Thailand originates with a group of people migrating from Southern China to Southern Thailand (Phuket being the center of 'Jae' culture in Thailand) over 100 years ago.
Chiang Mai is one place in Thailand well known for its huge selection of vegan-friendly restaurants (and honestly offers much for an entire vegan-friendly lifestyle as well), and many of these kitchens follow 'Jae' vegan traditions.
Important practices for the Jae movement involve both diet and belief, but for now we are just focusing on the incredible food this tradition brings to Thailand.
If you want to know ALL about eating vegetarian food in Thailand, Mark Wiens has an entire food guide ready just for you!
Where Does 'Thai Vegan' (อาหารเจ) Come From?
'Jae' vegan is basically the same as 'normal' Vegan, but with just a few additional details.*
Therefore, any person who follows a Vegan diet is completely safe to also eat their fill of 'Jae' Thai vegan food in Thailand.
How Can I Find It?
The yellow flag (usually with thick red characters, both Thai and Chinese), signifies that a restaurant is serving Jae-friendly food, and as you can see already, these are the same yellow and red signs welcoming you to eat today at Ming Kwan Restaurant today.
Let's get straight to the amazing menu of Thai vegan food right now!
*more info for those following a strict diet at the end of the article.
Mixed Plate of Sausage and Mushroom Stems
In the tasty-looking photos above, you see a mix plate of 'Sai Krawk' vegan sausage (ไส้กรอกเจ), and 'Het Tawd' (รากเห็ดทอด) which are the stems of long Thai oyster mushrooms.
Sausage like this is a Thai staple snack, anywhere throughout the country, and at Ming Kwan they don't miss a beat including the exact texture and flavor profile that almost every Thai child (and adult!) loves to eat.
Even the skewer is perfect for a single-hand snack on the go, but its great food to have at a sit-down restaurant like this today as well – I ordered a full plate of both these, and the mushrooms on the side, which offer a wonderful crunch to go with that Sai Krawk sausage gooey-ness – I love this texture pairing.
How to Order Thai Vegan Food
With a little over three dozen dishes to choose from on any given day, there are at least another twenty dishes in packages waiting to go (also fully meat-free). Find these on the shelves beside the serving area, as Ming Kwan also has a small supermarket inside their restaurant as well.
When you choose from the glass case full of trays of curries and vegetables, the person assisting you will naturally serve your selections over rice (this style is 'Khao Raad Gaeng' or 'Curry over Rice')* unless you tell them that you want the meal 'with Rice' instead ('Gaap Khao').
*Most Thai vegan restaurants I visit are serving food in this style.
Fried Vegetables with King Oyster Mushrooms
The next plate you see combines a selection of vegetables with Thai king oyster mushrooms.
Again, the texture is what I love most, the mushrooms offering something so meaty, I might even say its more meaty than many meats!
In Thai, this dish is ผัดพักรวมเห็ดออรินจิ, and I think that the thicker sections of a huge head of cabbage work great in balancing that hearty chewiness and rich mushroom flavor with something simple and crunchy.
Besides the cabbage and mushroom, the chef also includes carrot, red pepper, and seasons it all with a clear and salty soy sauce.
"Curry Over Rice" (ข้าวราดแกง) or "Rice on the Side" (เป็นกับข้าว)
Pricing is standard for 1, 2, or 3 different curries per plate of rice, and the size of each serving will depend on how many or how much you are wanting to fit on your plate.
In the photos you see from our meal today, I choose to have rice separate from the curry (where all of the curries and fried vegetables come in their own bowl to share), but if you are here eating alone, the chef will naturally serve you a single plate of rice with each selection sitting on top.
For a few more details on the dishes I am picking for today, here is a list of 4 different stir-fry veggies I love at Ming Kwan Restaurant, as well as some deep-fried items from the Individual plate menu – each and every one an example tasty enough to be a reason to visit this restaurant on its own.
Broccoli Sprout Greens (ผัดผักแขนง)
No matter what the general consensus is of broccoli sprouts around the world, have you ever tried just the greens?
A common vegetable to eat in Thailand, I am willing to bet that this could win you over, maybe even bring you back to give one of the world's 'least favorite vegetables' a second chance!
Cooking these greens simply, the chef fries them on a lower heat than the usual flaming wok that you'll find hunting down the best street food carts in Thailand, and adds in some garlic, a clear salty soybean sauce, and (in the case of a Jae restaurant) some firm tofu or mushroom stems.
Mushroom Chili Dip ('Nam Prik Het') น้ำพริกเห็ด
Continuing on to a few of the things you will be eating as a side plate to share (all on your own is fine as well), this chili dip is easily my first choice.
I actually check to see if they have this dish as one of the first things I do when I'm here!
The Mushroom chili dip (น้ำพริกเห็ด) at Ming Kwan restaurant contains enough flavor to win awards, to win hearts, to easily win over anyone thinking that a Northern Thai chili dip needs to include pork fat* in the recipe.
When you order this, it will come on a plate with some type of crunchy fresh vegetable, either cucumber as you see in the photo, or a gently steamed carrot, slices of baby watermelon, or a Thai water loofah.
This dish is incredible, in my mind its truly a star of any meal at Ming Kwan – do yourself a favor and do NOT leave without trying this dish for yourself.
Traditionally, most Northern Thai food recipes will include oil from frying pig fat.*
Sweet and Sour Stir Fry Tofu (ผัดเปรี้ยวหวานเต้าหู้)
During my several visits to this restaurant, its never a bad idea to finish off your buffet order with a plate of Sweet and Sour Fried Fried Tofu (ผัดเปรี้ยวหวานเต้าหู้).
The bean tofu is very firm, which matches well texturally with the soft pineapple, and soft sweet peppers, all of which are frying in a slightly sweet black soy sauce.
These chilies are not at all spicy, there are actually some sweet carrots in here as well, and with the addition of cucumber and also some Thai gourd vegetables ('Water Loofah' พักบวบ).
A huge and wonderful blend of texture in this stir-fry, something for everyone available in every bite, I particularly like combining the more sweet bites from this stir-fry with some of the fiery chili oil from any of Ming Kwan's noodle dishes.*
Yes, part of eating 'Jae' food means reducing the chili content… but this is still Thailand, and you will readily find chilies/chili oil available in the center table of the restaurant.
Individual Plates
After making your selections from the larger serving dishes in front, now its time for individual plate items.
First and foremost, do not attempt to do anything else before ordering AT LEAST one plate of these mushrooms (เห็ดปรุงรส in Thai).
If they are sold out, or if you don't immediately see them on display – you need to ask about these – I am completely serious right now.
I can tell you honestly that few 'real' beef steaks in my lifetime offer more depth of flavor than this amazing plate of mushrooms.
What Makes This Mushroom Dish SO Amazing?
The consistency and texture is what does it first of all, the chewiness is on a level of perfection of only the most exact standards of medium-rare cooking.
The slightly tangy, slightly sweet marinade combining with the aroma of roasting sesame seeds and the roasting of the mushrooms themselves may even have you swooning.
I will never pass up the chance to have this particular recipe of Thai vegan cuisine, and you can be sure that I will order (at least) one plate of these (all for myself) at every Jae restaurant in Thailand.
Northern Thai Vegan Sausage (ไส้อั่ว)
Chiang Mai is literally a heaven for lovers of sausage, and so its no small feat that the head chef at Ming Kwan is making a version of 'Sai Oua' to rival any sausage on any market table – regardless of the basic ingredients!
This will likely be one of those orders you will double up on to take home, and don't forget to ask for a take-away packet of their in-house chili jam to go with it.
This 'Sai Oua' can be eaten with your rice, eaten as is just using the toothpick skewer, or even (in some parts of China this works well!) adding it in to a soup curry for extra flavor!
Something common to find each year during the Thai Vegan festival, are restaurant making common Thai dishes (meat inclusive) and shaping tofu/vegan protein products to look like meat. This is not happening at Ming Kwan however, and all the foods you see in this article will be available during the Vegan festival, and every other day as well!
Khanom Jeen Nam Ngeow (Shan Noodles)
One final dish you cannot visit this restaurant without trying is a version of their Northern Thai curry noodles.
I enjoy both their versions of vegan Khao Soi (ข้าวซอยเจ), as well as their Shan Noodles with Vermicelli (ขนมจีนน้ำเงี้ยวเจ), and today it is the Shan noodles that draw me in.
Asking the chef to make up a bowl "just as he eats it," I am able to watch as he adds in all the ingredients, in all the right ratios.
The Chef's Own Ratios
Beginning the dish by filling a bowl with slightly sour white rice vermicelli, he covers it with two huge ladles of the Nam Ngeow thin red curry broth.
It is full of tofu, sour bean curd, roast chili peppers, and smells wonderfully of Northern Thailand's favorite herbs. Today, these include cardamom, turmeric, and both coriander seeds and the roots.
The power of this dish comes from the combination of both the long-stewing ingredients from the pot, and the addition of tons of fresh ingredients from the chef's prep table.
Moving quickly on, the chef adds fresh cilantro, green onions, a huge nest of finely cut white cabbage, and then some Karen chili peppers for good measure.
Squeezing on the juice from 2-3 halves of fresh cut lime, with a dab of shallot oil, the dish is perfect – and ready to eat.
Final Information for Vegan Eaters
Jae chefs not only cook without meat (or any other animal ingredient like milk, eggs, or honey), they also refrain from using foods that strongly affect the body.
The main difference between 'Jae' and 'Vegan' is that 'Jae' food will not contain super-spicy peppers, pungent raw garlic, Chinese chives, or any food/drink that contains alcohol (or tobacco, just to be entirely accurate and comprehensive).
"So, Is 'Jae' OK for me as a Vegan Eater?"
Yes. It is all 'Vegan-Friendly.'
The thing that is the most attractive to me though, is how the chef's skill has a chance to shine through when cooking all these honestly quite unique food creations.
Thai food can be wonderfully simple, or amazingly complex, and almost every recipe I know includes some animal product at some stage (most often, in one of the curry pastes, or cooking sauces).
While this might make you think that 'Jae' cooking as extremely 'limiting,' I have rarely found this to be the case at all!
In my experience, the sauces, the cooking styles, specifically the amazing Thai 'Nam Prik' chili dips, a key part of any traditional and authentic meal of Thai food, might even be more complex than their 'standard' (meat-inclusive) counterparts.
I urge you to give 'Jae' food a try for yourself, and if you are lucky enough to have Ming Kwan Vegetarian Restaurant be your first meal of authentic 'Jae' Thai vegan food, then I am positive you will love it.
Especially during this year's Thai Vegan Festival!
Your First Visit Comes with a Risk
This is the kind of place where you are risking having a 'new favorite restaurant' after your very first visit.
I need no asterisk when saying this either (as in, "Oh, I meant my favorite vegan* restaurant").
When you experience the full package of warmth and hospitality here, incredible flavour in the meat-free cooking, and almost an unbelievably affordable price for the entire meal – I think I can confidently say you will be right there with me.
This restaurant is just that good.
Thank you for reading this article, and we hope you find it useful, attractive, and of course ever-so-slightly hunger inducing.
We hope you have the chance to visit Ming Kwan when you visit Chiang Mai for yourself, and we wish you all a wonderful day today.
Cheers!
Address: 98 Rachadamnoen Rd Soi 4, Si Phum Sub-district, Chiang Mai 50200
Map: Link (Google Maps)
Hours: 7AM-7PM Daily
Prices: Our total bill came to 310 Baht for 3 people (including 2 bottles of water, and 1 fresh coconut)