Sai Oua – Best Northern Thai Sausage at Mae Hia Market in Chiang Mai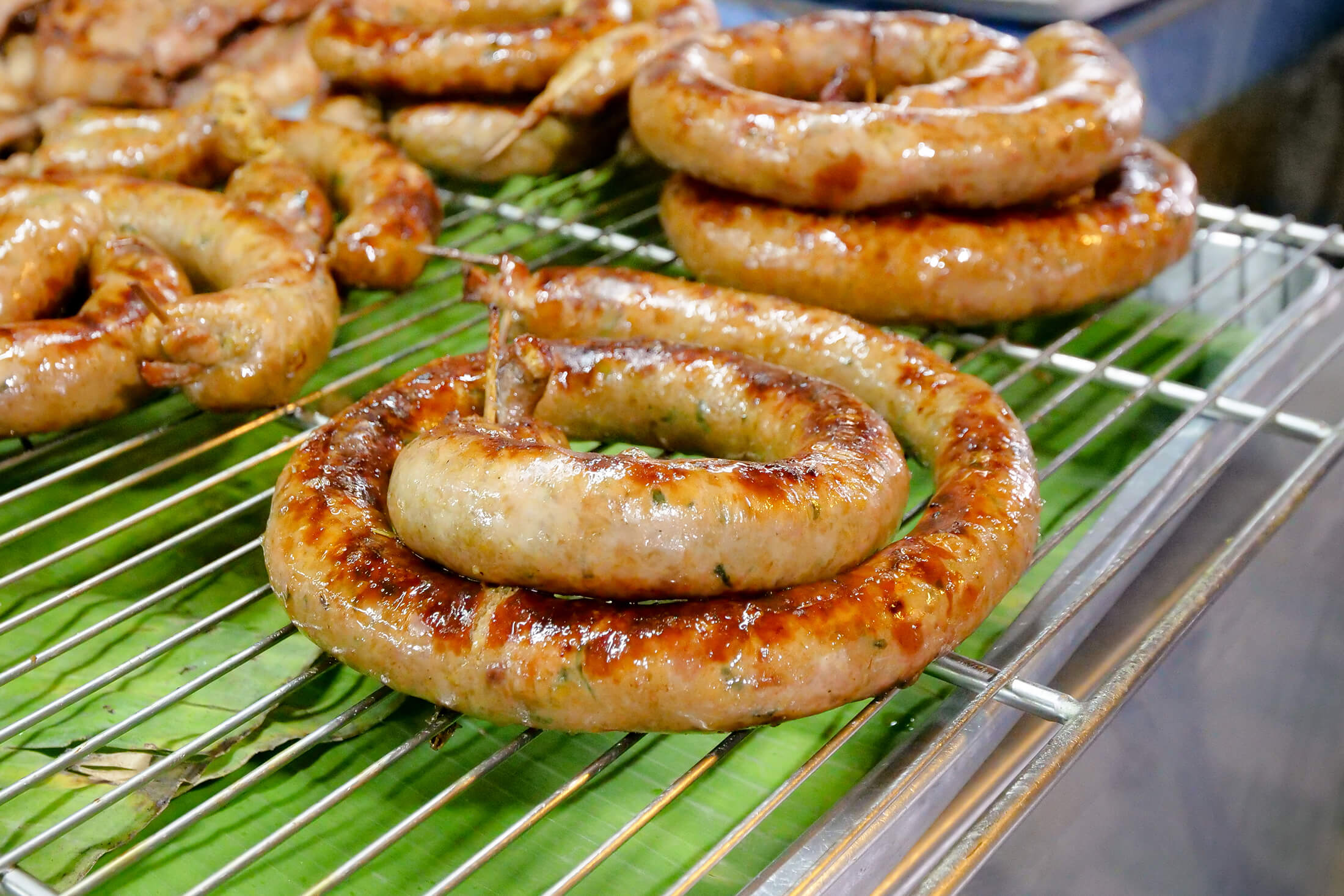 Sai Oua (ไส้อั่ว), Northern Thai herb sausage, has to be one of the best sausages in the entire world.
Its one of the best local foods from the Northern Region of Thailand, and I would say its even worth a trip to Chiang Mai just to eat sai oua.
In this article, I am going to share with you details on what foods to try at the Mae Hia market (ตลาดสดแม่เหียะ talad sod mae hia), and why activities like 'sausage day at the morning market' need to be high on your travel list of things to do in Chiang Mai, Thailand.
Scroll down to get all the info.
Sai Oua (ไส้อั่ว) – Northern Thai Spiced Sausage
The palpable buzz of morning market life in SouthEast Asia is always a scene to experience. The view gets even better of course, when a few hundred meters of sausage drift into focus.
Imagine standing in line, and overhearing a single order for '4 KILOS of barbecue spiced sausage.'
If you're like me, you'll have an undeniable urge to follow their lead.
I'm a sucker for spicy grilled treats, and Thailand's sai oua ("sigh-ooh-ah") is one of the Greats. Whenever I spot these golden sausage spirals nestling, heaping together, on a double-wide charcoal grill, I get so excited I may even start to sweat.
Near the entrance to the Mae Hia fresh market, the amount of sausage this one market chef is handling takes serious responsibility. He makes it fun though, throwing out smiles, a few thumbs ups, obviously enjoying himself even while 'at work.'
The Mae Hia Morning Fresh Market
The grill master must chop up a few meters or so of sai oua every minute. Roughly chopping sausage bites, then rapidly sharing among waiting customers, he exchanges scissors for tongs and quickly returns to the grill.
There are few things in life as special as seeing a pile of meat grilling before your eyes, knowing a portion of it is just for you, and receiving that part already cut into bite-size pieces.
Steam still rising from thick chunks of sausage, you order your meat treat, and the triangular folds of banana leaf protect your hand from piping hot oil running down.
In good keeping with SouthEast Asia's food philosophy, there is a convenient toothpick already piercing the upper-most circle of meat – your first bite is ready and waiting.
Delightfully chewy squares of pork fat, almost gooey they are so hot, are packed in among fresh herbs. Strips of lemongrass, crunching entire cumin seeds, a slight nutty aroma mixing with citrusy flavor of crushed coriander makes each bite of sai oua (ไส้อั่ว) something amazing.
Eating Thai Style
The sign overhead advertises not only sai oua sausage, for 35 baht per 100g, but also strips of pork belly which are grilled (หมูสามชั้นย่าง), at 35 baht per 100g, and finally, a green chili paste (นำ้พริกหนุ่ม), at just 25 baht per 100g.
To eat this food Thai-style, get it with fresh sticky rice and a small baggie of the green chili paste (nam prik noom). Finally, you're also going to need a small bag of fried pork rinds from another seller's table nearby.
After a few glorious sections of sausage, dip a pork rind into the nam prik noom chili paste. Follow this with a bite of sticky rice, perfecting this blend of Northern Thailand flavor.
Scoop, crunch, repeat, and enjoy.
Don't be surprised if you find yourself reserving another spiral of sai oua for tomorrow, wondering how fast you can get back to the market for opening time the following morning.
Finally, be sure to order take-away of some of the other options sold from this same grill station at the Mae Hia morning market.
Other Food Options
In the colorful baskets, there are also banana leaves called 'mok' or 'app,' full of fish (หมกปลา mok pla), pork belly with bamboo (หมกหน่อไม้ mok naw mai), or my personal favorite – pork brains and eggs (แอ๊ปอ๋องออ app ong aw).
Some versions contain still other pork parts (like heart/kidneys and tripe), and picking and choosing at random can leave you with a fun meal of 'Mystery Mok.'
Mok dishes are not only delicious, but they're very budget friendly. They are common throughout Northern Thailand as a pre-lunch/mid-day snack.
All mok go great with hot sticky rice, and you'll most likely find the rice sold together with, or very close by, a table full of these grilling leaf-packets.
Look to find a convenient place to set them down, as they can get a bit messy eating when holding everything with just your hands. Set one down, peel back the charred and aromatic banana leaf, and enjoy a great and authentic food of Northern Thailand.
"Food-Tech Innovation Award" of 800BC.
The Mae Hia market is full of great food, but the thing that will just keep me coming back just has to be that sai oua sausage.
Stuffing an animal's intestinal lining full of ground meat and dry spice blends is a timeless move of human of genius.
No advances in food technology will ever outdo the ancient human engineering feat of sausage making.
Sai oua has been a favorite since my first visit to Chiang Mai in 2009. My most recent trip in 2018 only confirms my vote for sausage as the best food-tech innovation since, well, ever! And the Mae Hia market vendors serve probably the best sai oua I have ever had in Thailand.
Sai Oua at Mae Hia Market Passes 'The Test'
There's a test I have discovered, checking to make sure that a meat-treat is truly pilgrimage-worthy.
When you order a second round while still chewing the first bite, you have personally given that food your gold star of approval.
That is exactly what I was doing at the Mae Hia Market, and I was hit by an immediate flashback to Luang Prabang, another place that serves mind-blowing flavor packed into smoking sausage links.
Final Notes:
Don't miss the Mae Hia fresh market during your next trip to Chiang Mai, Thailand.
Of course, there are plenty of places closer into town. Read an article here about my previous trip hunting down Sai Oua Spiced Sausage in the Wararot Market.
If you have any frequent flier miles lying around, I would also recommend that you spend an entire week eating Sai Oua in Luang Prabang, Northern Laos.
Getting There:
Name: Mae Hia Fresh Market
Hours: Active from 4AM, most vendors open at around 6AM, and sell until 12PM Noon. (We arrived at around 8AM, and it seemed like we came just a bit after the main rush of activity.)
Address: (Google Maps)
Address in Thai: 32 หมู่ 2 ถนน เลียบคลองชลธาร ตำบน แม่เหียะ อำเภอ เมืองเชียงใหม่ Chang Wat Chiang Mai 50100
The Market is located on the Chiang Mai Canal Road (Highway 121), heading South from town. Driving your own vehicle the trip takes about 15 minutes, but there are also public transport options like the Red Songtaew.