Sai Ua La Wan (ร้านไส้อั่วลาวัลย์) – Sausage in Chiang Mai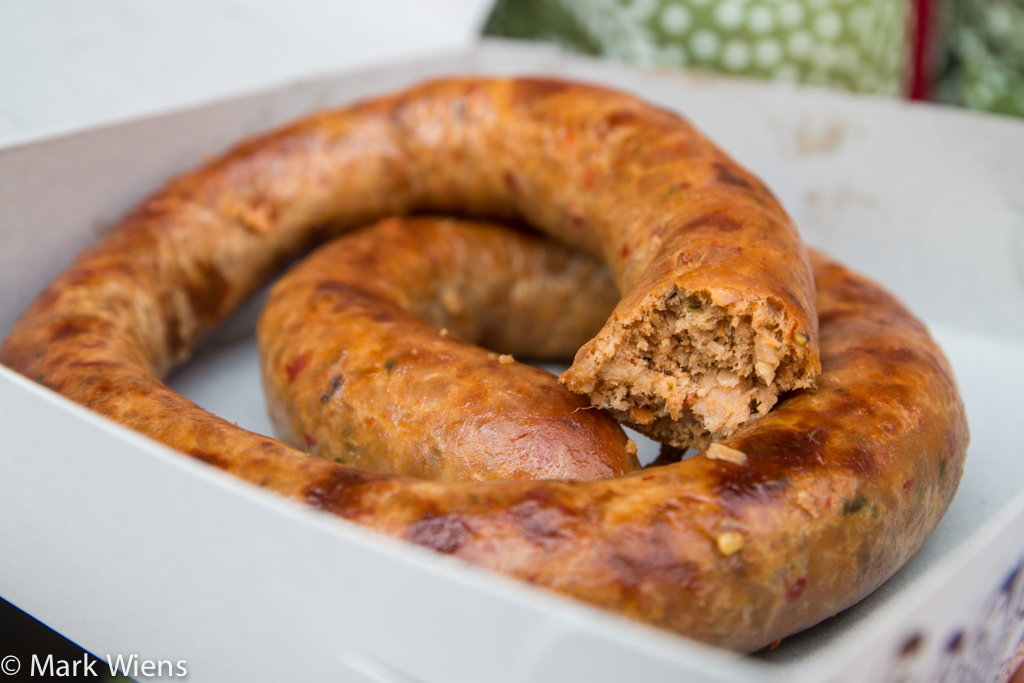 Sai ua (ไส้อั่ว also spelled in English as sai ooah) is one of the foods that Chiang Mai is most famous for.
It's a famous northern Thai sausage that's infused with a beautiful blend of spices and herbs, which makes it some of the most flavor loaded sausage in the world – all wrapped up in that beautiful orange coil of meat.
There are literally probably hundreds of different places to eat sai ua (ไส้อั่ว) in Chiang Mai, and it's commonly found at street stalls and markets throughout the city. It's also normally available at northern Thai restaurants throughout Chiang Mai like here and here.
Everyone seems to have their own opinion about which sai ua (ไส้อั่ว) vendor is the best, and if you were to set out to sample all the sai ua (ไส้อั่ว) options in Chiang Mai, it would be quite the mission impossible.
What is Sai Ua (ไส้อั่ว)?
Sai ua is a northern Thai sausage made with a combination of pork mixed with a medley of herbs like lemongrass, kaffir lime leaves, and galangal, and also usually some red chili paste.
The mix of meat and aromatic herbs are stuffed into an intestine wrapper (at least traditionally), wrapped into a beautiful coil, and grilled until golden orange brown.
Oftentimes they actually broil or bake the sausage nowadays (but at some ready to eat street food stalls they still grill them).
You'll find many of the famous sai ua (ไส้อั่ว) vendors at the Wararot Market, located right in the heart of Chiang Mai.
Another place to go, a market where plenty of locals go to get their sai ua sausage fix, is at Ton Payom Market (ตลาดต้นพยอม).
Even within this relatively small market, across the street from the Chiang Mai University, you'll discover a good handful (maybe even 10) vendors all selling their own variation of this Thai sausage.
Sai Ua La Wan (ร้านไส้อั่วลาวัลย์)
In the end, you've just got to make a choice on where to buy your sausage, and I went with Sai Ua La Wan (ร้านไส้อั่วลาวัลย์), one of the more famous vendors at the market.
You order by weight, and we got 1/2 kilo, which was a pretty good sized ring of sausage, and cost 160 THB.
If you buy sai ua (ไส้อั่ว) from the market (not from a pre-cooked street food cart or a restaurant), they usually specialize in takeaway, so after you order your sausage, they wrap it into a plastic bag, and even package it up pretty nicely, quite similar to a box of goodies from Char Hung Sut.
Despite the nice packaging, I was ready to tear into that gift wrapping as fast as I bought it.
As soon as the plastic bag opened, I got a whiff of lemongrass and chilies mixed with meat that hit my nostrils and made me all the more excited.
Sa ua (ไส้อั่ว) has such a wonderful herb filled aroma.
Some recipes of sai ua (ไส้อั่ว) are more fatty, others are more spicy, or more lemony from lemongrass… it all depends what place you go.
I tend to prefer sai ua (ไส้อั่ว) that's a little less fatty and more herby and filled with spices.
The sausage from Sai Ua La Wan (ร้านไส้อั่วลาวัลย์) was not actually as strong of herbs and spices as other versions I've tasted, but it wasn't too fatty, and the spice blend was extremely well balanced.
It had a nice kick of lemongrass which nicely balanced out the chili and galangal, and each bite finished with a tiny hint of sweetness.
There are so many wonderful sai ua (ไส้อั่ว) vendors in Chiang Mai, but exploring the Ton Payom Market (ตลาดต้นพยอม)  is a good place to get a local sample of this northern Thai meat speciality.
Sai Ua La Wan (ร้านไส้อั่วลาวัลย์)
Address: Ton Payom Market, behind Chiang Mai University, Tambon Suthep, Chiang Mai
Open hours: 8 am – 5 pm daily
Price: 320 THB per kg (what you see pictured is a 1/2 kilo)
กาดต้นพยอม อยู่ด้านหลังมหาวิทยาลัยเชียงใหม่ ตำบลสุเทพ อำเภอเมือง จังหวัดเชียงใหม่
ไส้อั่ว กิโลละ 320 บาท
เปิด 8.00 – 17.00 น.
โทร.053-808085,08-19934053
How to get there: Just like in all of Chiang Mai, if you don't have your own motorbike, the easiest way to get here is by taking a rot songthaew. This market is a little outside of central Chiang Mai, but still not too far away.