Thai Pork Satay on a Grill Longer Than Your School Bus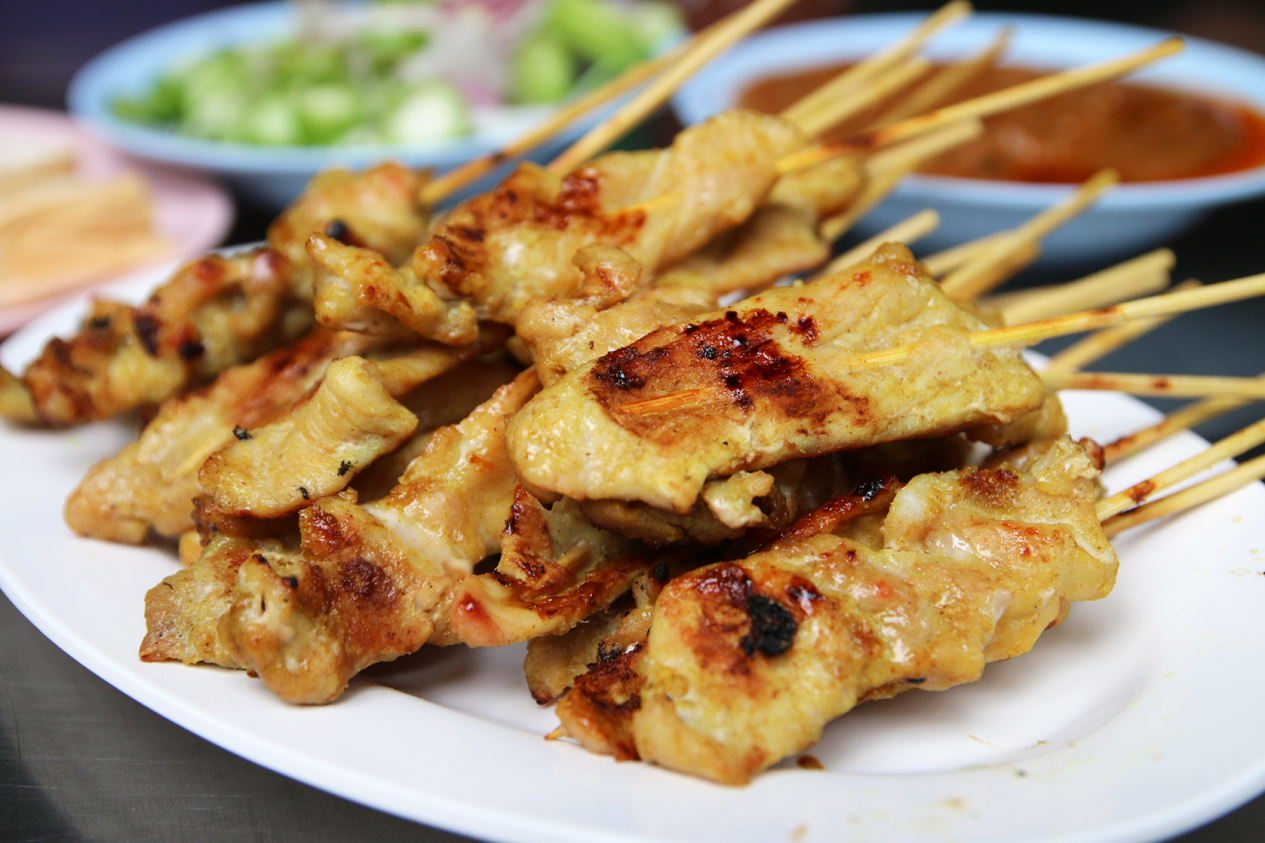 I'm really not joking…
The grill at Bangkok's "Dee Moo Satay" (ตี๋หมูสะเต๊ะ), is quite honestly the longest grill I've ever seen in my life, and it's probably longer than the bus you took to school when you were a kid.
The photo above shows less than half of the full grill, it's that long!
When I first arrived at this famous Bangkok street food stall, I almost couldn't help myself from chuckling out loud – a result that occurred from admiring such a beautiful culinary piece of construction.
Who wouldn't want to own a bus-sized grill in their backyard?
The Thai street food stall, that only sells pork satay, is located just a short distance from Somsak Boo Op, along Tha Din Daeng road near Wang Wian Yai.
They say they sell about 7000 – 8000 sticks of Thai pork satay (หมูสะเต๊ะ) everyday, so these grills get worked hard.
When a fresh batch of pork satay sticks were laid on the grill, I could hear a symphony of lightly sizzling meat.
There was an entire army of grillers, watching the sticks of Thai satay acutely to make sure none caught on fire, flipping them over by the fistful, pulling them off the grill, and adding fresh raw sticks to the coals.
The process of cooking the sticks of meat never seemed to end – looked like there was always more!
What is Thai satay?
Satay (also sometimes spelled sate หมูสะเต๊ะ), is quite a popular meat snack or light meal throughout parts of Southeast Asia. In Thailand, chicken, beef, and pork are used, but pork is normally the most popular, and at Dee Moo Satay (ตี๋หมูสะเต๊ะ) pork is the only option.
The meat is slice thin, marinated in a combination of turmeric, other spices, and coconut milk, then poked onto skewers and grilled over charcoal.
The Thai style of satay is eaten along with sweet peanut sauce, cucumber pickles, and often a few slices of grilled bread (optional).
There's a pitcher of light tea on every table at Dee Moo Satay (ตี๋หมูสะเต๊ะ), so I ordered a cup of crushed ice to sip on a few ice Chinese teas before the satay arrived.
There were three of us when I went, and I ordered 30 sticks, each stick was pretty good sized and cost 5 THB per stick (that's 6 for a dollar!).
They came piled onto a plate, super fresh right off the grill, and accompanied by all the typical sides.
Thai satay wouldn't be complete without peanut sauce.
Their version wasn't my favorite. It was quite oily, and though it was stuffed with ground peanuts the way I would like it, it was way to sweet for me.
Though a few of the sticks were overcooked and dry (this happens when there are hundreds of satays on a bus-sized grill at one time), most of the meat was pretty good.
The marinade had great flavor, plus the meat was a good texture, not too soft, yet not chewy.
If you like sweet, you'll love the peanut sauce at Dee Moo Satay (ตี๋หมูสะเต๊ะ), but for me, it was well over my sweet tolerance.
I ended up eating most of my Thai satay with just a splash of sauce and lots of the cucumber and onions.
The Bottom Line
To be honest I'm personally not the biggest Thai satay fan. For me it's alright, but it's never shockingly good, as a dish in general.
The satay here were a little dried out, maybe over cooked due to the vast quantity they cook at once, and the peanut sauce was way to sweet for me, almost like peanut brittle candy. That being said, I did think the pork was nicely marinated, and it was perfectly tender.
I mostly ate my Thai satay sticks dipped into the pickled cucumbers and onions.
This place is worth visiting if you love satay, or if you just want to be impressed by their Thai satay street food production.
Dee Moo Satay (ตี๋หมูสะเต๊ะ)

Address: Tha Din Daeng, Khlong San, Bangkok 10600
Open hours: 3 pm – 9 pm daily
Phone: 02-437 1172, 081-628 8740
Price – 5 THB per stick, bread 15 THB
ที่อยู่ : ท่าดินแดง แขวง คลองสาน เขต คลองสาน กรุงเทพมหานคร 10600 ประเทศไทย
โทร. 02-437 1172, 081-628 8740
เปิดทุกวัน 15.00- 21.00 น.
How to get there:
The street food stall is located on Tha Din Daeng road, and you can either get there from the Saphan Phut side or from the Wang Wian Yai side. It's easiest to take a taxi directly there, or otherwise take the BTS to Wang Wian Yai, and either grab a bike from there.

View Bangkok Eating Thai Food Map in a larger map