Thai Food Hunger Games: The Bangkok Duck Hunt ข้าวต้มเป็ด เจ๊โอว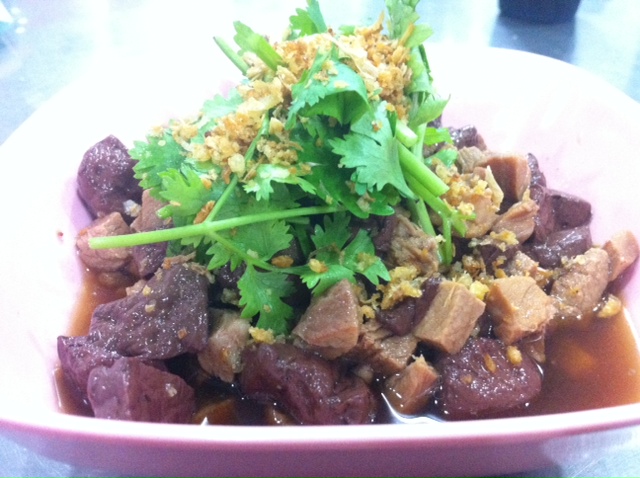 If you love mall food courts or get excited about boiled chicken on rice when eating in Bangkok, we're not responsible if the following post makes you want to end your life.
As a matter of fact, when Mark spent a day eating and filming kow man gai— one of Thailand's most well loved, but boring dishes– we immediately knew we would have to repent to all of the real Thai food fans.
Never fear, we offer as penance for our Thai food sins a stunning restaurant called Kow Tum Bpet Jay Oy ข้าวต้มเป็ด เจ๊โอว.
But forget the name and look below for something I know you can relate to:
For starters the chicken here, unlike the chicken rice in our offensive 'kow man gai' post, has been deeply marinated and doesn't need to be doused in sauce to make it interesting. The dish name Gai Song Kreung ไก่ทรงเครื่อง indicates this chicken was twice the size of the kids he grew up with, so prepare to be full-filled.
The other great option for chicken lovers is satay, for which there's a grill dedicated to making.
If you spotted the fish on the back of the grill you're a true foodie and give me no reason to explain the next photo:
Great chicken, pork and fish dishes on the menu. None of them my dear fat friends, are the main event.
If you didn't notice we've been on a mission this past week to help you relive the glory of one of Nintendo's greatest hits, Duck Hunt. If you missed the action be sure to review our posts on Succulent Thai Duck Rice AND Bangkok's Duck Mouth Street Restaurant.
Those posts are the prerequisites for the following:
Marinated duck tongue ลิ้นพะโล้ requires a litte a work to eat, but we're well trained at French kissing duck beaks from hanging out at the Duck Mouth Restaurant.
Kibble and duck bits? The duck has been diced into bits along with congealed blood chunks. This dish looks like it was from the dog's bowl, but was tasty!
Just to prove we have no bones about eating a little dark winged duck (Dish: ขาปีกเลือดพะโล้), here's a few legs and wings again soaked in the paloe sauce. Delicious! (Note: If you were turned away from the blood in the previous dish, this is a better choice because it's easier to avoid.)
And the winner ladies and gentlemen was this  heavenly deep fried duck with chili and basil (Dish: เป็ดทอดผัดพริก). Crispy and flavorful, I hope you can imagine how quickly we turned this dish into a plate of bones.
Duck hunt accomplished!
Until we're back at this place, challenge yourself to try and eat more duck dishes than us!
How to Get to Kao Tum Pbet Jay Oy ข้าวต้มเป็ด เจ๊โอว:
Located in one of my favorite underrated markets, Suan Luang you can get here by taking a 40 baht tuk tuk from National Stadium to Chula 24. Go in the evening and find the small soi before you reach Chula 5 with a sign above at the front. Follow the arrow down the soi until you spot this amazing place. Remember to order frosty beer while you create duck carcasses. We've listed this place and a bunch of others in the same market on our Bkkfatty Suan Luang Market Foursquare list. Or try our Eating Thai Food map below where you can see the google street view too:

View Eating Thai Food Map in a larger map