Famous Thai Beef Noodles Near Khao San Road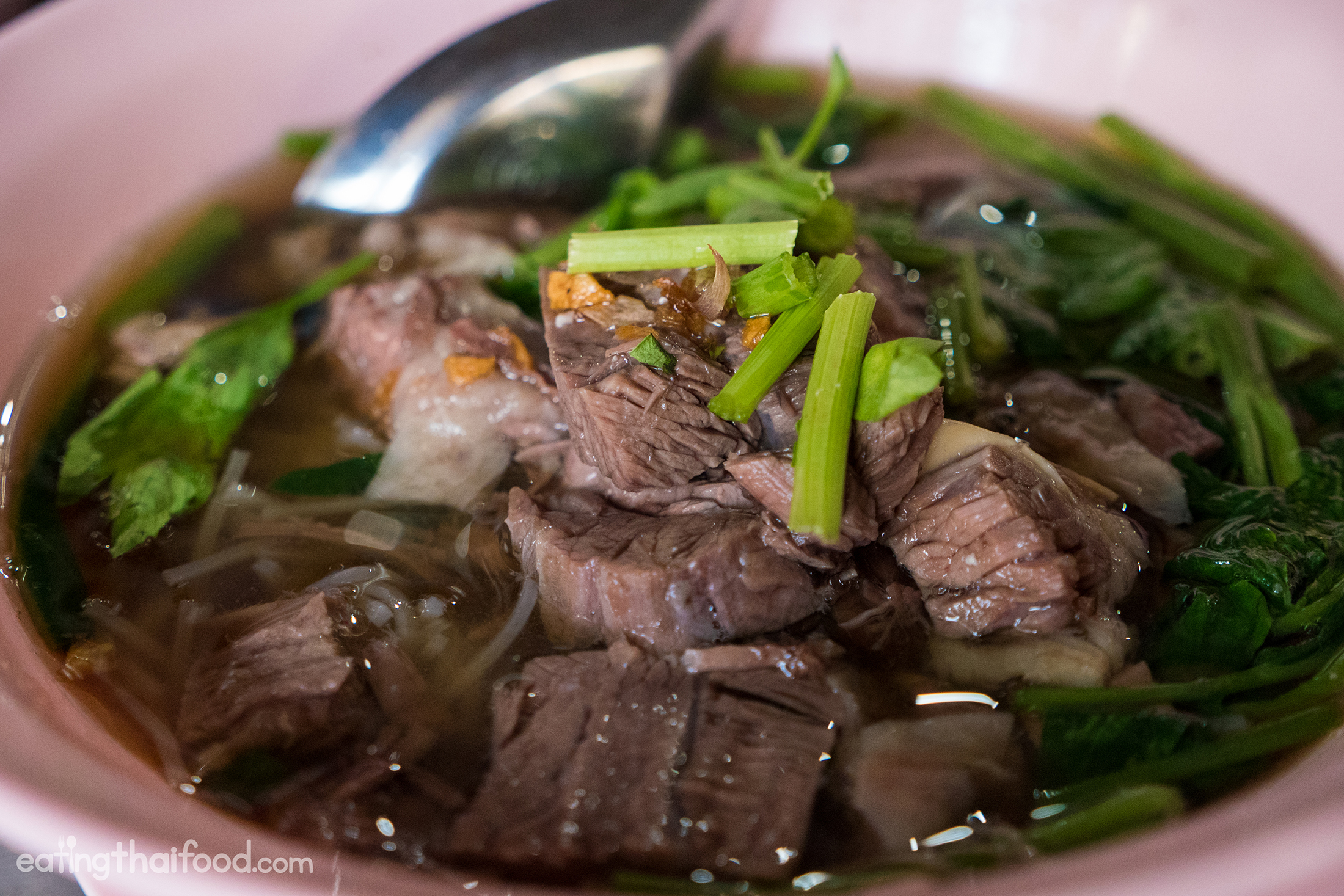 Along with boat noodles, one of my favorite types of noodle soups in Thailand is beef noodles.
A base of rice noodles, tender chunks of beef, a hint of star anise and cinnamon in the broth, and garnished with vinegar, dry chili flakes, and sometimes toasted garlic, makes for a superb bowl of noodles.
I was recently staying in the Banglamphu area near Khao San and doing a "2 weeks in Bangkok" video series (coming soon), and decided to try a pretty famous Bangkok Thai beef noodle restaurant called Kuay Teow Neau Nai Soi (ก๋วยเตี๋ยวเนื้อนายโส่ย).
Kuay Teow Neau Nai Soi (ก๋วยเตี๋ยวเนื้อนายโส่ย)
The restaurant is located right along Phra Athit road in the Banglamphu district of Bangkok, just about a 5 minute walk from Khao San Road.
Due to its location, quite a few backpackers as well as local Thais eat here, and they have even managed to make their sign in Korean as well – maybe the place has been written up in a Korean guide book?
The menu was just posted on the side of the wall, I didn't see an English menu, but the main thing to order is just a simple bowl of beef noodles.
Kuay teow neua buay pisayt (ก๋วยเตี๋ยวเนื้อเปื่อยพิเศษ)
I didn't order anything too crazy, just a straight up bowl of kuay teow neua buay pisayt (ก๋วยเตี๋ยวเนื้อเปื่อยพิเศษ), braised beef noodles and the special order, which means the larger size.
Before I did any seasoning I did a quick taste test of the broth and some of the beef.
Compared to a bowl of beef noodles from the swimming pool at Wattana Panich, the flavor of the broth here was lighter on the star anise and cinnamon – so it had less of a Chinese style braised flavor, and more of a simple beef flavor.
Price – 80 THB ($2.24)
Kuay teow neua buay pisayt (ก๋วยเตี๋ยวเนื้อเปื่อยพิเศษ)
Nice chunks of beef
The broth was rich, but not too oily, and the beef was tender but not completely fall apart tender, so it still had a bit of beef texture grain to it (which I like).
I also liked that my bowl was seasoned with some chopped up water morning glory, Chinese celery for an herb touch, and a sprinkle of fried crispy garlic.
You can't eat a bowl of Thai noodles without doing some seasoning, that's one of the joys of eating Thai noodles.
I like to usually season with just a couple spoons of dry chili flakes, and a couple scoops of chili vinegar.
Sorry about the soggy looking noodles in the photo… I took quite a few photos before digging into my bowl, so my rice noodles started to swell up with the hot broth – but it was still good.
My wife Ying ordered a bowl of gao lao neua buay (เกาเหลาเนื้อเปื่อย), just a bowl of all the beef and toppings, but without the noodles. She wasn't very hungry when we went, so she gave me most of her beef, which I was happy to accept.
Conclusion
Kuay Teow Neau Nai Soi (ก๋วยเตี๋ยวเนื้อนายโส่ย) is a well known Thai beef noodle restaurant in the Banglamphu area of Bangkok.
It wasn't the best bowl of beef noodles I've had in Bangkok, but it was certainly quite good. The beef was tender, but not mushy, and what I liked was the addition of Chinese celery and crispy fried garlic to give it a nice roasted garlic flavor.
Overall, if you're craving a bowl of Thai beef noodles when you're around Khao San Road, Kuay Teow Neau Nai Soi (ก๋วยเตี๋ยวเนื้อนายโส่ย) is a worthwhile stop.
It's a little on the expensive side for a bowl of beef noodles in Bangkok, but I think probably the prices are a bit higher due to location.
Kuay Teow Neau Nai Soi (ก๋วยเตี๋ยวเนื้อนายโส่ย)
Address: 100/2-3 Thanon Phra Athit, Bangkok 10200
Open hours: 8 am – 6 pm daily
Prices: 80 THB for the special size of beef noodles
ที่อยู่ 100/2-3 ถนนพระอาทิตย์ แขวงชนะสงคราม กรุงเทพมหานคร 10200
เปิดบริการทุกวัน 8.00 – 18.00 น.
How to get there: Kuay Teow Neau Nai Soi (ก๋วยเตี๋ยวเนื้อนายโส่ย) is right along Phra Athit road. From Khao San, walk all the way through Rambuttri, cut though the small Chana Songkhram Alley, and to Phra Athit road.
Here's the map of the restaurant: