Thai basil chicken recipe (pad kra pao gai ผัดกระเพราไก่)
Thai basil chicken, better known in Thai as pad kra pao gai (ผัดกระเพราไก่ or pad ka prao gai), is a contender for the most popular, and the most beloved street food dish in ALL of Thai cuisine.
In Thailand it's available and eaten everywhere.
You know sometimes when you go to a restaurant and you have no idea what to order, or even what you want to eat?
When that happens in Thailand, pad kra pao gai (ผัดกระเพราไก่, with chicken), or any type of meat stir fried with Thai holy basil, is a dish that comes to the rescue…
Exclusive Bonus: Download a Free PDF version of this recipe. It's convenient to read and print. Enjoy!
Where can I send it?
Enter your name and e-mail below to download your free PDF copy of this Thai chicken basil recipe now.
Thai basil chicken recipe (pad kra pao gai ผัดกระเพราไก่)
You've got to have the fried egg on the side!
The reason:
It's simple cook, always available at street food stalls and restaurants in Thailand, and most importantly, it tastes amazing.
You can order pad kra pao with pork, squid, shrimp, or even tofu, but this time I'll be showing a Thai basil chicken recipe. However, feel free to substitute chicken with whatever meat you want.
Let's quickly talk about Thai basil…
There are three main types of basil used in Thai cooking: Thai sweet basil (ใบโหระพา – this one is often just referred to as Thai basil), lemon basil (ใบแมงลัก), and holy basil (ใบกะเพรา).
This recipe uses holy basil (ใบกะเพรา).
Can I use Thai sweet basil for this recipe?
Unfortunately it can be challenging to find holy basil outside of Thailand, and I've found that Thai restaurants in the United States often substitute Thai sweet basil for Thai holy basil and call it basil chicken.
Sweet basil doesn't have the vibrant peppery flavor that holy basil has, and so to get this dish to taste the way it tastes in Thailand, you really can't substitute another type of basil for holy basil.
However, if you simply cannot find holy basil and can only find Thai sweet basil, you can still make this recipe, and though it won't have that peppery flavor, it will still probably taste good.
For a little reassurance, on my latest visit to the United States, one day at the Asian supermarket I came across a big box of holy basil, I think grown in California – so it can be found in the US.
Another way you can really elevate the flavor of this Thai basil chicken recipe is by using a mortar and pestle to hand grind your garlic and chilies. A garlic press would also do the job well.
Unlike mincing, grinding really releases all the juices and oils of the chilies and garlic and it brings out an extra depth of flavor, which in return makes the entire dish of chicken basil more vibrant, garlicky and spicy.
You don't need to crush the garlic and chilies down to a curry paste, but you're just looking for just a coarse crush, like in the photo above.
But no worries if you don't have a mortar and pestle, mincing is still adequate.
(If you can't see the video, watch it here: http://www.youtube.com/watch?v=OV5fQ6EHFyk)
Thai basil chicken recipe
Time: About 30 minutes or less
Recipe size: 1 plate meal, and to be honest, it tastes best when cooked in a single portion. You could multiply this recipe a few times to make enough for a few people at once, or you could make individual portions.
Utensils: wok, frying pan
Flavors: Salty stir fry, complete meal deal, fragrant from the chilies, garlic, and holy basil
Eat it with: Pad kra pao gai (ผัดกระเพราไก่) is normally eaten on top of a pile of plain steamed jasmine rice with a fried egg on the side.
Before getting started on this Thai basil chicken recipe, often my very first step is to begin by cooking a pot of rice. That way it's finished and freshly cooked as soon as the chicken and egg are ready.
The first step is to fry the egg. Thai fried eggs are more like deep fried eggs, cooked in lots of oil. The extra oil gives them a lovely crispiness on the outside edges, and they taste so incredibly good mixed with the rice and chicken.
After the egg is finished cooking, lay it aside and get started cooking the chicken.
Finally, just like all of my Thai recipes, the ingredients listed (and the quantities) are a guide – it's what I used – but use it loosely as a guide. Thai food is made to taste the way you want it to.
(If you haven't already watched the video above yet, you should do that first.)

Thai basil chicken recipe (pad kra pao gai ผัดกระเพราไก่)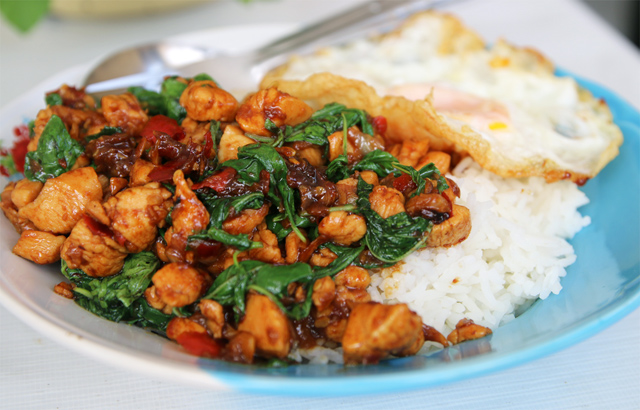 This
Thai basil chicken recipe
(pad kra pao gai ผัดกระเพราไก่) is a true classic. It's one of the most popular Thai street food dishes. The chicken is stir fried with Thai holy basil, and served on top of rice with a fried egg on the side.
Ingredients
For the egg
1 egg
2 tablespoons of oil for frying
Basil chicken
1 chicken breast (or any other cut of boneless chicken, about 200 grams)
5 cloves of garlic
4 Thai chilies
1 tablespoon oil for frying
1 teaspoon of oyster sauce
½ teaspoon light soy sauce
½ teaspoon sugar
1 splash of dark soy sauce
1 handful of Thai holy basil leaves
Instructions
First, fry the egg
Heat about 2 tablespoons of vegetable oil in a wok or frying pan on high-medium heat.
When the oil is hot and sizzling, drop in the egg. Let it sizzle and bubble up, and at the same time, splash some of the hot oil onto the top of the egg (don't flip the egg, unless you really want to).
After the egg looks about right to your cooked likeness (I like mine runny), take it out, drain the excess oil, and put it on a plate for later.
Basil chicken
Cut the chicken into small bite sized pieces.
Rinse and peel the garlic and chilies, and pound them in a mortar and pestle (alternatively you can just mince them with a knife). They don't need to be super fine, you just want to bring out the oils and flavors from the garlic and chilies.
Pluck a good sized handful of holy basil leaves off the stems.
Now it's time to start cooking. Heat your wok on high heat, and add about 1 tablespoon of oil to the pan.
When the oil is hot, add the chilies and garlic. Stir fry them for about 20 seconds or so until they get really fragrant, but don't let them burn or get too dry.
Toss in your chicken. Keep stir frying continuously. At this stage you want to continue to stir and cook your chicken until it's just about fully cooked all the way through (depending on the size pieces of chicken and how hot your fire is, it should take about 2 - 3 minutes). If it starts to get dry, add just a tiny splash of water.
Add 1 teaspoon of oyster sauce, ½ teaspoon light soy sauce, ½ teaspoon sugar, and finally a splash of dark soy sauce. Keep stir frying for about another 30 seconds.
Grab a handful of holy basil, toss it into the pan, fold it into the chicken, and then immediately turn off the heat (if you're using an electric stove, you'll want to remove the pan from the burner). The holy basil really only needs to cook for about 5 seconds, and it will continue to wilt and cook from the existing heat of the chicken. This step is important because if you cook the basil for too long, it loses some of its glorious flavor and gets slightly chewy.
Notes
Make sure your rice is cooked and ready to be served before you start cooking... believe me on this one, because there's nothing more disappointing than finishing a pan of pad kra pao gai (ผัดกระเพราไก่) only to realize your rice isn't cooked yet!

Remember that the ingredients listed here are just a guide - they are the amounts I used - but you should really taste test all the Thai food you cook, and make it according to the way you like it!
Dish out a plate of freshly steamed jasmine rice, scoop the hot Thai basil chicken (pad kra pao gai ผัดกระเพราไก่) onto one side of your rice, and nestle your fried egg on the other side of the plate.
And there you have one of the most widely loved Thai street food dishes in Thailand.
Try this recipe out, let me know if you have any questions or comments below, and if you enjoyed this recipes, I would really appreciate it if you would share this with a friend you know who loves Thai food as well – thank you!
Exclusive Bonus: Click the button below to download your Free PDF copy of this recipe (it's easy to read and easy to print!)
Where can I send it?
Enter your e-mail to download your PDF copy of this Thai chicken basil recipe now.
Join 30108 other Thai food lovers
If you enjoyed this post, get more authentic Thai food updates for FREE
How can I contact you?
Enter your e-mail below to subscribe to updates.
---