Sutunthip Healthy Thai Restaurant – Vegetarian Dining in Comfort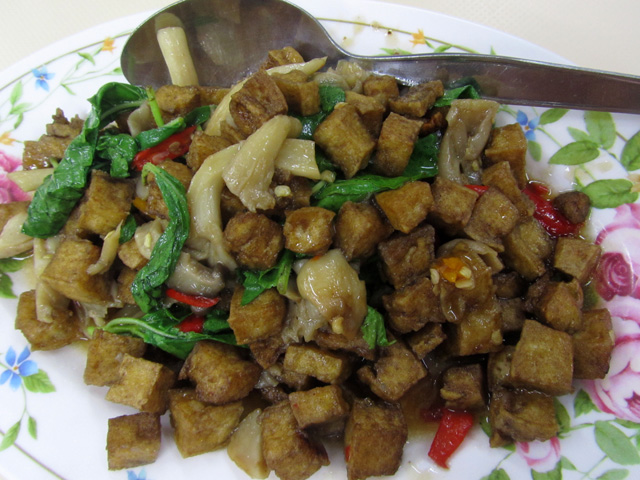 If you are looking for excellent Thai vegetarian Thai food served fresh and in a clean comfortable air-conditioned environment, Sutunthip has you covered.
It was a restaurant that I had noticed in the corner of my eye as I was cruising down Charoen Nakhon in one of those notoriously chaotic little orange buses.
The bright white lights and lively flow of human commotion hit the corner of my eye – and that's when I noticed the "Vegetarian Food" signs plastered on the glass walls (I went vegetarian for a 1 month challenge).
Bingo, a bustling restaurant is one of best ways to pick an outstanding restaurant, and this was even vegetarian!
I returned the following day to my delight.
The first dish we tried was this lip-licking plate of Pad Ga Pao Tao Hoo (stir fried tofu with basil ผัดกะเพราเต้าหู้).
Little cubes of deep fried tofu were stir fried up along with the always fragrant sprigs of holy basil and a sauce that was killer – even without the normal fish sauce signature blend.
Price: 80 THB
Being a voracious mushroom devourer, there's wasn't much that could deter me from ordering the simple Pad Het Ruam (mixed mushrooms เห็ดหอมผัดน้ำมันหอย).
It was a perfect mixture of mushrooms with a light sauce that could have been a little more flavorful, but then again it's Jay food.
When I noticed the picture of Goong Op Woon Sen (baked mung bean noodles กุ้งอบวุ้นเส้น) on the lovely photo menu, I decided to give it a try.
I normally enjoy the dish for the fatty prawns that are included, but this was substituted with fatty chunks of fake something – and it wasn't bad!
The dish that hit it home for me was this fried up plate of Pad Kee Mao Proteen (stir fried protein chunks with vegetables โปรตีนเกษตรผัดขี้เมา).
The chunks of fake chicken were so good, that I almost thought I was cheating on the vegetarian challenge. Along with the protein was the perfect amount of eggplant, chilies and basil.
When it comes to eating vegetarian Thai food, mushrooms really are precious.
The cheapest items on the menu are served lad khao (rice with side dish). This Het Pad Gra Pao (stir fried mushrooms with basil เห็ดผัดกะเพรา) was fantastic.
Price: 50 THB
Often these healthy looking rolls on the side of the street contain small amounts of pork, making them off-limits for vegetarians. When I saw that Sutunthip had Kuay Teow Lui Suan (fresh noodle rolls ก๋วยเตี๋ยวลุยสวน) displayed on their menu, it didn't take much thought for them to be delivered to my table.
They were marvelous, unnecessary pork was omitted for slices of soft tofu. The accompanying sauce was pure heaven.
Price: 35 THB
Purely out of curiosity, I tried their version of Kuay Teow Tom Yum Jay (vegetarian jay noodle soup เส้นเล็กต้มยำเจ). It was alright but a little bland.
Price: 30 THB
The Bottom Line
In my opinion, Sutunthip Vegetarian Food is one of the best sit-down comfortable vegetarian restaurants I've been to in Bangkok. Almost all forms of Thai dishes are available – only here in vegetarian format.
The food is made hot and the cooks have the recipes down perfectly to satisfy customers. To my delight, even the fake meats (which I usually avoid) were tasty.
I especially recommend the Kuay Teow Lui Suan (fresh noodle rolls ก๋วยเตี๋ยวลุยสวน) and the Pad Ga Pao Tao Hoo (stir fried tofu with basil ผัดกะเพราเต้าหู้).
Sutunthip Vegetarian Food สุธัญทิพย์ มังสวิรัติ
Address: 1022/34-36 Thanon Charoen Nakhon Soi 36, Banglamphulang, Khlongsan, Bangkok 10600
Hours: Daily 9:30 – 21:30
Phone Number: 02-862-4238
Prices: About 100 – 200 THB per person
สุธัญทิพย์ มังสวิรัติ
1022/34-36 ถ.เจริญนคร ซอย 36 แขวงบางลำภูล่าง เขตคลองสาน กทม 10600
โทร.02-862-4238
เปิด-ปิด 09:30-21:30 น. ( ทุกวัน )
How To Get There
The restaurant is located on Charoen Nakhon Soi 36. The closest BTS station is Krung Thonburi, but it's still a little ride from there. Alternatively, you can take a free hotel boat across the river from Saphan Taksin, and then take bus #6 south to soi 36.

View Sutunthip Vegetarian Food สุธัญทิพย์ มังสวิรัติ in a larger map