Suki Koka (สุกี้โคคา) – Fantastic Thai Suki in Chiang Mai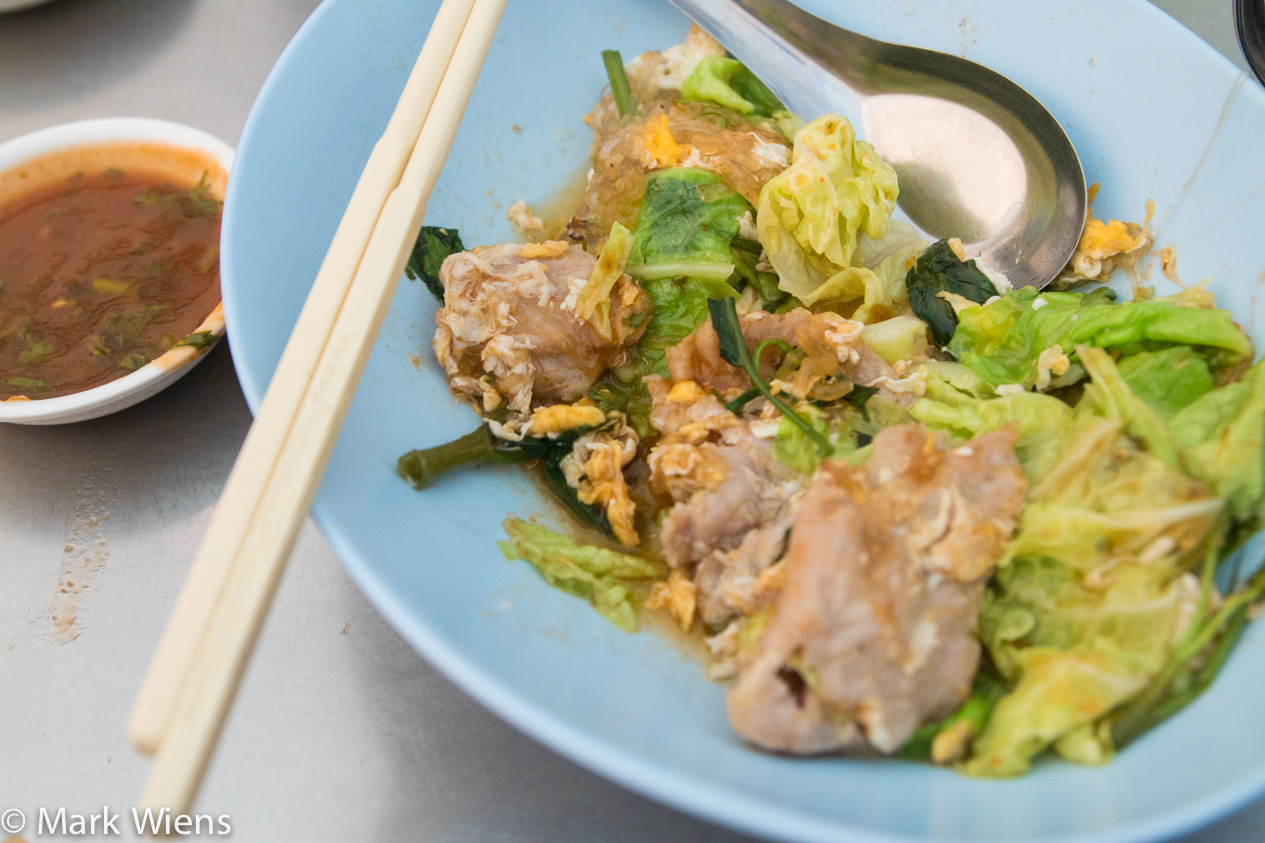 Thai suki is a dish I really enjoy eating, especially when I want something that's healthy and not too oily.
It's not the most filling dish when you're really starving, but for a snack, or part of a dinner, and when you want to eat some vegetables, I highly recommend it.
Located at the North Gate in Chiang Mai, known better as Chang Phueak (ช้างเผือก), is a street food stall known as Suki Koka (สุกี้โคคา) that sets up in the evening among the other stalls.
It was 5:45 pm when we got to Suki Koka (สุกี้โคคา), and it was already quite full, just about every table was occupied.
This place, along with the marvelous pork leg cowboy lady, are the two most popular and well known stalls, and both of them are fantastic.
Ok, I did mention that I like to eat suki as a healthy meal, but I'll fill you in on a little secret: I first ate a plate of khao kha moo (ข้าวขาหมู) before sitting down for this suki.
There are two ladies that cook, a few staff that prepare all the ingredients for the cooks, and a few servers and table clearers.
The two ladies cooking the suki stayed continuously busy and focused.
When you eat street suki in Thailand you have a choice of meat, normally chicken, pork, or seafood, and from there you can usually order the dry version (suki haeng) or the soup/ wet version (suki nam).
Both are good choices.
I decided to go for the suki haeng moo (สุกี้แห้งหมู), dry suki, more like a stir fry, with pork.
When it arrived to my table, I was quite surprised at just how much napa cabbage they included – basically the entire suki was made up of the bright green and yellow napa cabbage.
The suki haeng moo (สุกี้แห้งหมู) was absolutely fantastic. I loved the large amount of napa cabbage, yet less glass noodles, than other versions I've had.
The big pieces of pork were tender and thinly cut, and the egg was fried into the cabbage wonderfully. You could just taste that beautiful flavor of the high heat from the wok, charred in the cabbage, which was cooked through, yet still so fresh and crisp.
It was really among the top bowls of street food suki I've had in Thailand.
I guess that's why it's so locally famous in Chiang Mai.
Price – 40 THB
Another essential component of Thai suki is suki sauce. And at Suki Koka (สุกี้โคคา) they do it unique and well.
Their sauce had a tomatoey base, but unlike other suki sauces I've had before, their version included sesame oil, which I immediately noticed with my first bite, and that's what made the difference.
You can either just pour the sauce over your bowl of suki, or you can dip pieces of cabbage or meat into the sauce to really give it a good douse.
Ying, my wife, had the suki nam talay (สุกี้น้ำทะเล), soup suki with mixed seafood that included some squid, shrimp, and a few fish balls.
It was also excellent, not quite as good as my suki haeng (สุกี้แห้ง), but it still had the wonderful, heavy on the napa cabbage mix, plus a wonderful smokey flavor.
Go for either version, depending on what you're feeling like.
Price – 45 THB
The Bottom Line
I've eaten my share of bowls of street-side suki in Thailand, and I'd have to say that Suki Koka (สุกี้โคคา) is one of the best versions I've had – it was flat out delicious.
It was heavy on the napa cabbage, with just a small handful of glass noodles, whereas other versions (video) are the opposite – so that's partly why I liked it so much – it was a nice fresh and crisp suki.
I also really liked the sauce, which was nicely flavored with sesame oil.
Another bonus is that you can first eat a plate of khao kha moo, and then move next door for a plate of suki.
Suki Koka (สุกี้โคคา)
Address: Thanon Manee Nop Parat, Amphoe Mueang, Chiang Mai, Thailand
Open hours: 5:30 pm – Midnight
Price: 40 THB
ที่อยู่ ตลาดประตูช้างเผือก ถ.มณีนพรัตน์ อำเภอ เมือง จังหวัด เชียงใหม่
เบิดบริการ 17.30 – 00.00 น.
How to get there:
Suki Koka (สุกี้โคคา) is a street food stall within the cluster of stalls that set up at the North Chang Phueak Gate of Chiang Mai.