Spicy Red Choo Chee Curry Over Fake Fish and Brown Rice at Baan Suan Pi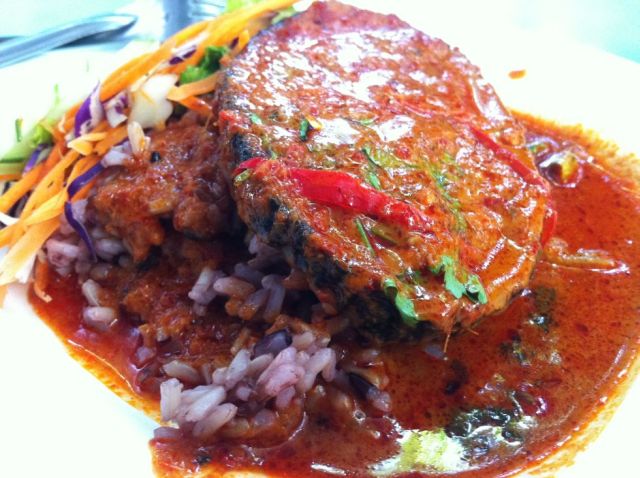 This month we're eating vegetarian Thai food to raise awareness and money for needy families. Subscribe for daily blog updates and read more about how to contribute here.
Didn't expect to be eating or enjoying fake meat so much, but this faux fish was delicious. The choo chee curry was spicy and there was just the right amount of filling brown rice to make me satisfied. One of the complaints I've had about the vegetarian food that I've been eating this month has been the lack of spice. This curry was a reminder that chilies do indeed come from the ground and should be celebrated, not neglected in vegetarian food. My curry covered meatless wonder was made to order at Baan Suan Pi, costs less than $2 and I would gladly go back to have it again. Although, I must admit I'm still a little mystified by the fake meat!
For more info on Baan Suan Pi, including a map and pictures, read our full review: Baan Suan Pi — Bangkok's Best Vegetarian Food Court