Som Tam Boo Maa Restaurant (ส้มตำปูม้า): Sensational Thai Isan Food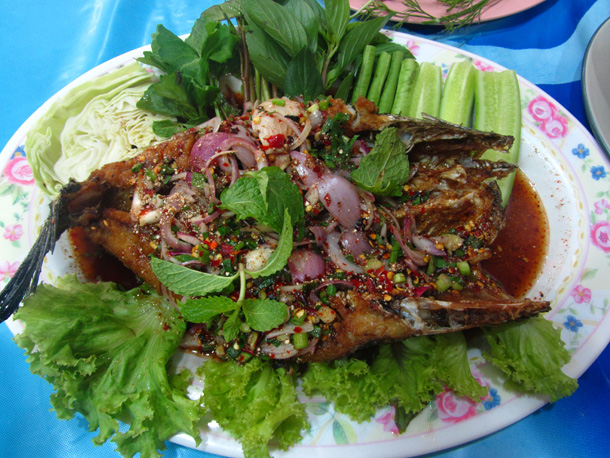 I get the chills even thinking about Som Tam Boo Maa restaurant ส้มตำปูม้า. It surely reigns as one of finest Isaan food restaurants in Bangkok, and my overall favorite pick. It's run by a family that treats food with utmost respect, a family that I would trust to make food for royalty.
A full meal here with a spread of fish will cost anywhere from 100 – 200 THB per person.
My inevitable first move is to involuntarily order the roasted fish (pla pao ปลาเผา) that is smellable from a ways down the road. They are absolute masters of grilled fish, a light char on the exterior with flawless moist fish meat under the skin.
The roasted fish is served with a combination of succulent sauces. They serve one sauce that is reminiscent of a Mexican chipotle roasted chili sauce with a Thai twist; it's so delicious that every time I eat at this restaurant, I have to refrain myself from drinking the sauce like a beverage.
My first bite of this deep fried snakehead fish bathed in a spicy pungent chili sauce and garnished with robust red onions, basil, and mint sprigs (nam tok pla chon tod น้ำตกปลาช่อนทอด) was enough for me to immediately award it a trophy for the top 10 things I've ever indulged in. I'm salivating right now just thinking about it.
Of course, no Isaan meal is complete for me without an order of Thai spicy catfish salad (larb pla duk ลาบปลาดุก). I can't get enough of this dish. Som tam boo maa serves it brilliantly, the body of the fish emptied out, mixed with spices and herbs, and then placed back between the head and tail of the catfish.
The normal Isaan dishes, like green papaya salad (som tam thai ส้มตำไทย) are prepared with flawless expertise.
A nice twist to a normal plate of papaya salad is with an added touch of grilled shrimp (som tam goong sot ส้มตำกุ้งสด)!
Som tam boo maa makes possibly the best minced pork salad (larb moo ลาบหมู) in Bangkok, a luscious combo of minced pork, red onions, green onions, mint sprigs and roasted chilies – the winner ingredient in my opinion!
Among the repertoire of divine treats offered, the winged bean salad (yam tùa ploo ยาํา ถวั่ พลู) is yet another dish to rave about.
The sour Isan Thai soup with duck (tom saap bped ต้มแซบเป็ด) is literally insane, a fusion of the best tastes that could possibly fulfill any mans mouth in a single bite. Dry chili flakes permeate through the dish in an amazing fiery liquid!
Yes indeed, it always makes my day when I wake up knowing that I will be visiting Som Tam Boo Maa restaurant!
Here's a video about my latest meal here:
(You can also watch it on YouTube here)
Address for Som Tam Boo Maa Restaurant, Bangkok, Thailand
Som Tam Boo Maa Restaurant
25/48 Thanon Charan Sanitwong
Bang Khun Non, Bangkok 10700
Tel. 0-2822-3577
Hours: 11:00 – 23:00
ส้มตำปูม้า
25/48 ถ.จรัญสนิทวงศ์ บางขุนนนท์ บางกอกน้อย กทม. 10700
โทร. 0-2882-3577
เปิด-ปิด 11.00-23.00 น.
How to Get to Som Tam Boo Maa Restaurant
The restaurant is located just off Charan Sanitwong road, on a great food street called Bang Khun Non in Bangkok, Thailand. The easiest way to get there is to go by taxi, fare should be around 70 THB from central Bangkok. There are also plenty of buses that pass Charan Sanitwong road and it's just a short walk down Bang Khun Non road to reach the restaurant (on the left side of the road).

View Som Tam Boo Maa Restaurant (ส้มตำปูม้า) in a larger map