Soi Polo Fried Chicken – Is This Bangkok's Best Fried Chicken?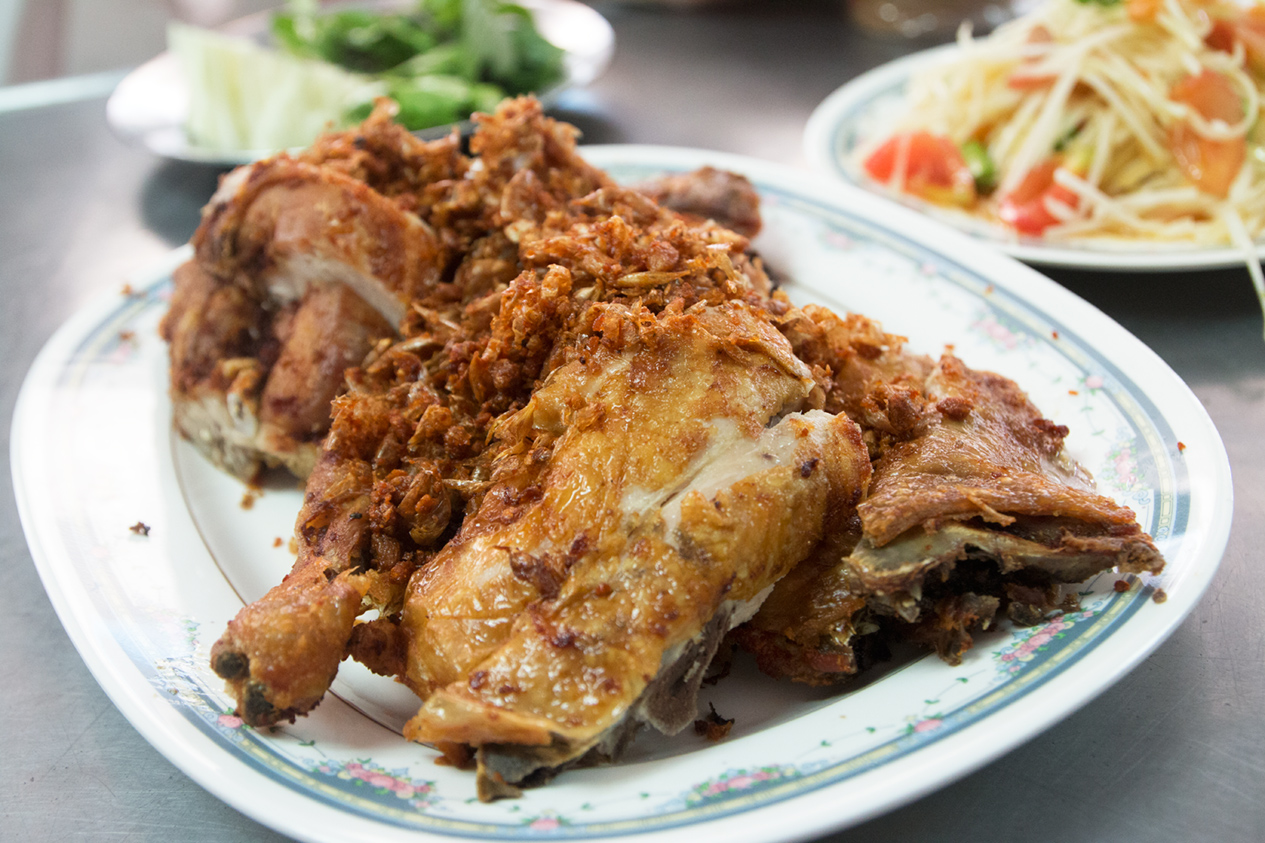 Soi Polo Fried Chicken ไก่ทอดเจ๊กี (โปโล) is a legendary name for fried chicken in Bangkok.
But just like Hai Som Tam Convent, for some reason throughout my many years in Bangkok, I just never got around to eating there.
Anyway, the day came when I had an opportunity to eat at Soi Polo Fried Chicken along with my friends from Nomad is Beautiful.
It's an extremely famous restaurant, and they are always busy, especially during mealtimes. The day I went, bus loads of Thais were unloading, ready to get some fried chicken for themselves. It's also quite a famous lunch restaurant in the area, catering to all the office workers.
You don't really need me to tell you this, but Soi Polo Fried Chicken specializes in…. fried chicken (ไก่ทอด)!
The chickens are deep fried whole (similar to how a grilled chicken would be cooked in Thailand), and they are pre-fried before the meal rushes.
When someone orders, they pull a crispy bird out of the metal pot and hack it into pieces on the giant cutting board.
They have both a Thai and English menu, so if you don't speak Thai, you should have no trouble making your order. Staff the day I went were all nice and friendly.
We got a whole chicken, and if you're eating with 2 or more people, you should definitely go for the whole thing!
The gai tod (fried chicken ไก่ทอด) was sliced up into manageable pieces, and then quite a generous amount of deep fried crispy garlic was sprinkled on top – a big bonus in my books.
Price – 200 THB full chicken
Just look at all that golden crispified skin and that garlic piled on top!
I liked that the chicken was drained quite well, it was dry and not dripping in oil like fried chicken can potentially be.
I'm personally more of a fan of dark meat, especially when it comes to grilled or fried chicken. The drumstick wasn't too big in size, but it was nice and flavorful, and that golden skin was nice and crunchy.
The white meat was a little overcooked, and in my opinion, a little on the dry side. The dark meat, was excellent, and had that country chicken taste to it.
Som tam (ส้มตำ), green papaya salad is the sibling of chicken, and when in Thailand, eating grilled or fried chicken simply calls for a plate of som tam.
We had just a normal plate of som tam Thai, which was good. I like the good fresh tomatoes they used in their mix.
I actually didn't even get a taste of the tod man (ทอดมัน), but we did order it, and it looked to be quite good. The sauce in particular looked fantastic, a medley of vegetables and peanuts.
The larb moo (ลาบหมู) at Soi Polo Fried Chicken was unremarkable.
The pork itself was pretty scrappy and not very good quality – actually didn't taste all that fresh to me. The seasoning wasn't sour enough for me either, I could have used an extra few squirts of lime juice to pucker it up.
I wouldn't order the larb moo again, but they also have larb gai (ลาบไก่) and larb bpet (ลาบเป็ด) which might be better options?
Gai tod and som tam goes incredibly well with sticky rice (ข้าวเหนียว)!
Do they serve the best fried chicken in Bangkok?
To be honest, I'm not totally sure.
I don't actually eat fried chicken all that much in Bangkok, and if I do, it's normally from street stand takeaway stalls. At restaurants I would tend to go with grilled chicken over fried chicken.
Other than the white meat pieces of chicken being a little on the dry side, the fried chicken at Polo was pretty tasty – but best in Bangkok? – I guess I need some more fried chicken experience.
What do you think?
Soi Polo Fried Chicken ไก่ทอดเจ๊กี (โปโล)
Address: 137/1-2 Soi Sanam Khli
Open hours: 7 am – 10 pm daily
Phone: 0-2252-2252, 0-2251-2772
Price: Everything you see cost just under 450 THB
ที่อยู่137/1-2 ซ. โปโล แขวงลุมพินี เขตปทุมวัน กทม. (ใกล้สถานนีตำรวจลุมพินี)
เปิดบริการทุกวัน เวลา 07.00 – 22.00 น.
โทร. 0-2252-2252, 0-2251-2772
How to get there:
From Wireless Road, turn onto Sanam Khli (a small soi), and you cannot miss the big red "Polo Fried Chicken" sign waiting for you on the left hand side of the road. Taxi is probably the easiest way to get there, otherwise it's about a 15 minute walk from either Ploen Chit or Ratchadamri BTS stations.

View Bangkok Eating Thai Food Map in a larger map