Sizzling Oyster Omelet at Wang Lang Market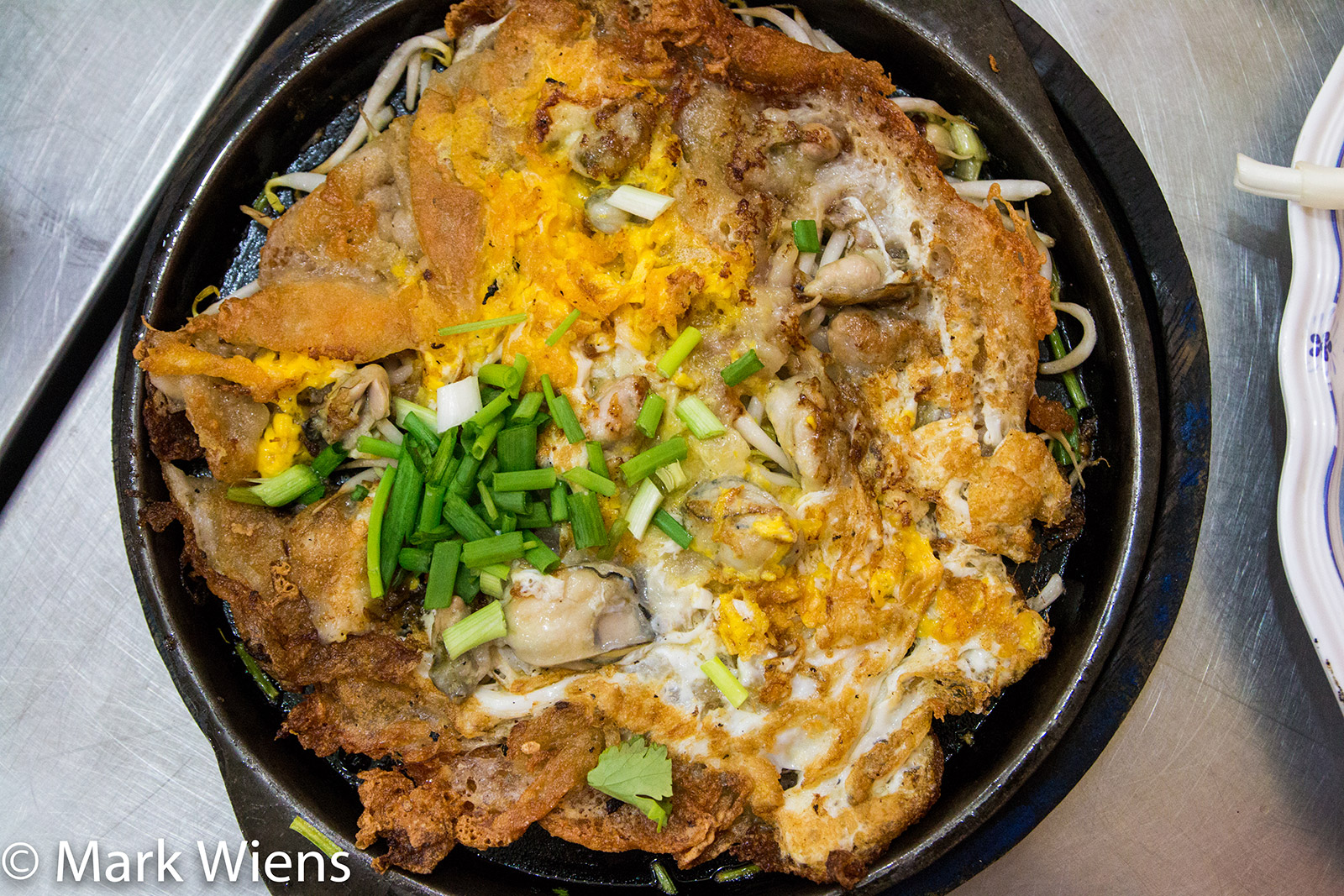 Inside the sweaty lanes of Wang Lang Market is a restaurant that not only serves fried oyster omelets, but sizzling fried oyster omelets.
The recipe is pretty simple: oysters, eggs, batter, and lots of oil (lard kind of oil), all mingled together sloppily on a hot griddle, and served on a hot skillet.
What is there not to love?
Wang Lang Market (ตลาดวังหลัง) is one of my favorite places in Bangkok for street food.
There are so many delicious things everywhere you look, and there's such a diversity of snacks and things to try – from southern Thai food to traditional desserts.
Another thing I love about Wang Lang Market is that there is a choice of both street food snacks and shophouse style sit-down restaurants slotted into the labyrinth of the market.
De Yai Chuan Cheem Hoy Tod Kata Ron (ตี๋ใหญ่ชวนชิม หอยทอดกะทะร้อน) is not located on either of the main alleys of Wang Lang Market, but it's sort of hidden within an alley of an alley.
(More directions on how to get there at the bottom of this post)
Although they have a surprisingly extensive menu, most people come to strictly to get their fix of what the restaurant is most well known for, and the dish in their name: hoy nang rom tod kata ron (หอยนางรมทอดกรอบ) – fried oyster omelet in a hot skillet.
For the fried oyster omelet, you can order a number of different variations, but on my last time eating there, I just ordered their most basic basic version with oysters served on a hot skillet.
Just like other hoy tod recipes, the process began with a spattering of egg and glutinous rice flour batter, fried together in a mess.
Just at the right time, the oysters were placed on top, so they slightly cooked, but still remained half raw and stuck into the egg and batter.
A bed of bean sprouts were spread out onto the bottom of the hot skillet, and then the omelet was placed on top.
While the edges of the hoy tod bubbled up and turned golden crispy during the cooking process, they continued to get even more crispy after the omelet was placed onto the hot oiled skillet.
Typically most Thais like to eat hoy tod (หอยทอด) with Thai sweet chili sauce, the kind that tastes pretty much like tangy ketchup.
I like it too, but it's typically a bit too sweet for me, so I used it sparingly.
Price – 80 THB
One of the joys of eating a fried oyster omelets are all the different textures in the single omelet.
The edges were incredibly crispy, while the inner parts changed to gooey and sticky – the result of egg and sticky rice flour batter.
But the best bites are where you get that perfect ratio of egg, crispy edges, and a juicy oyster in a bite, which elevates the richness to the next level.
The bean sprouts and green onions, plus a touch of white pepper, added another dimension of fresh crispness to the hoy tod (หอยทอด).
To go with the sizzling oyster omelet, I also got a plate of khao pad boo (ข้าวผัดปู), crab fried rice.
Any kind of Thai fried rice would not be complete without a squeeze of lime juice and a few spoonfuls of fish sauce and diced chilies.
By the time I did all the seasoning, I quickly devoured the entire plate, so unfortunately I didn't get any photos of it after being seasoned – but I'll just tell you it was good.
The fried rice was nice and dry and fluffy, it had a slight smoky flavor, and nice and salty. Just like the fried oyster omelet it was a little on the oily side, but very good.
Price – 50 THB
Conclusion
Hoy tod (หอยทอด), a Thai fried oyster omelet, is one of those dishes that all of us love, but we know we shouldn't eat too often.
I wouldn't say De Yai Chuan Cheem Hoy Tod Kata Ron (ตี๋ใหญ่ชวนชิม หอยทอดกะทะร้อน) serves the best fried oyster omelet in Bangkok, but their version is pretty awesome and well worth eating.
The ratio of ingredients and batter to egg and oysters is good, and being served on a hot skillet, the crispy bits get even crispier as you eat them.
I'm still not sure if I've ever had a better oyster omelet than Nai Mong in Yaowarat, but if you're at Wang Lang Market and in the mood for a greasy fried oyster omelet, De Yai Chuan Cheem Hoy Tod Kata Ron (ตี๋ใหญ่ชวนชิม หอยทอดกะทะร้อน) is well worth eating for a treat.
De Yai Chuan Cheem Hoy Tod Kata Ron (ตี๋ใหญ่ชวนชิม หอยทอดกะทะร้อน)
Address: 25 Thanon Phra Nok Bangkok Noi, Siriraj, Bangkok 10700
Open hours: 8:30 am – 7:30 pm daily
Phone number: 02-411-0275 , 08-1344-5842
How to get there: If you're on Thanon Wang Lang (the main road), and facing away from the river, walk straight down the left side of the road at Wang Lang Market through the rows of street food stalls. Make a left on a semi-main pathway, and then take a quick right into another smaller lane. Hopefully you'll see the red sign for the restaurant. If you can't find it, just ask someone at the market, and they'll point you in the right direction.
ตี๋ใหญ่ชวนชิม หอยทอดกะทะร้อน (Hoy Tod Kata Ron)
25 ถนนพรานนก บางกอกน้อย กรุงเทพฯ ศิริราช 10700
โทร. 02-411-0275 , 08-1344-5842
เปิดบริการทุกวัน 8.30 – 19.30 น.
For the map, scroll down to the bottom of the "Bangkok" section and click on De Yai Chuan Cheem Hoy Tod Kata Ron (ตี๋ใหญ่ชวนชิม หอยทอดกะทะร้อน) to see the location: