Best Thai Green Curry in Bangkok at Sanguan Sri (ร้านสงวนศรี)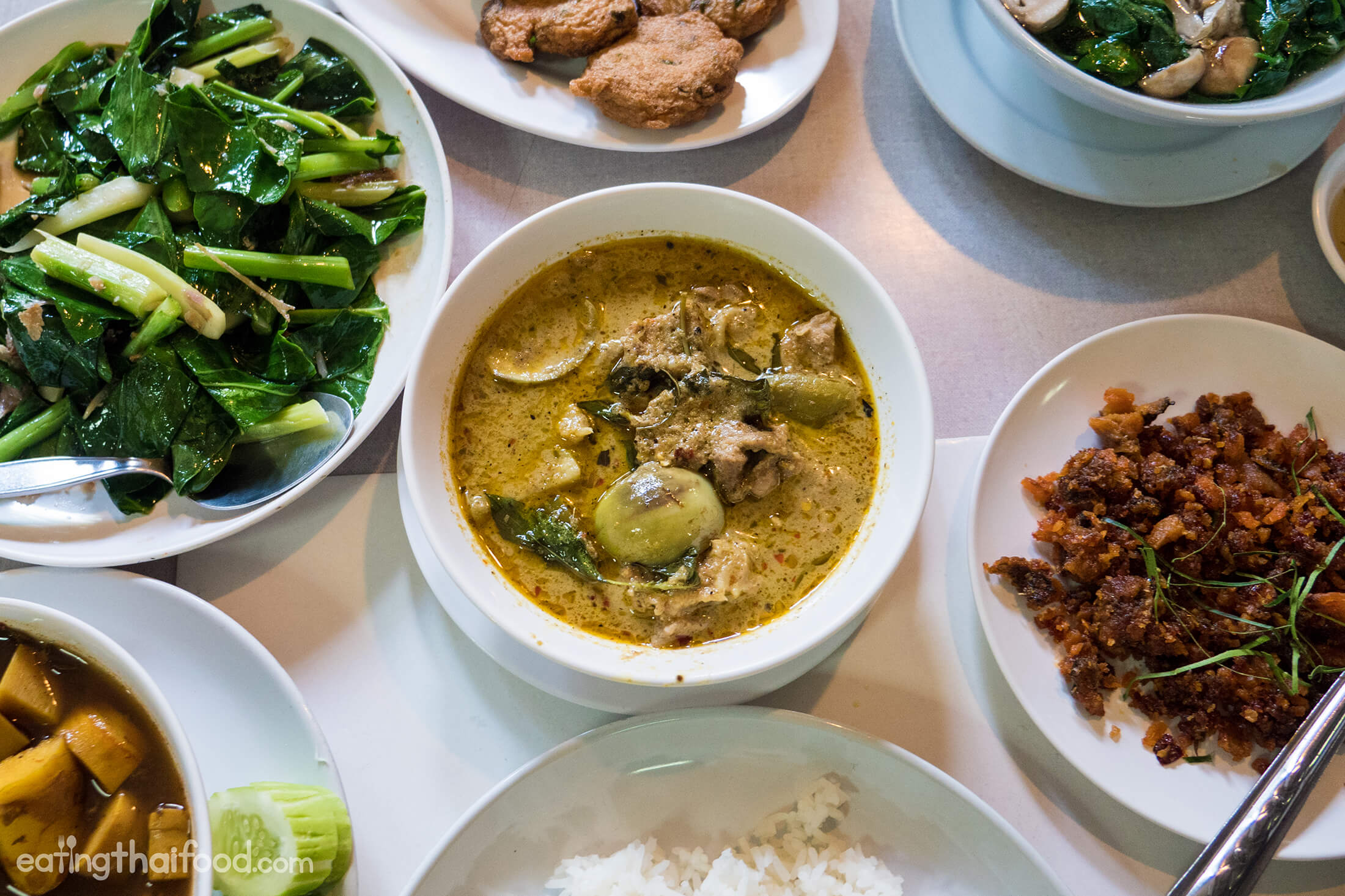 Sanguan Sri (ร้านสงวนศรี) is a restaurant in Bangkok along Phloen Chit Road, that serves one of the best versions of Thai green curry with beef I've had.
But they only serve it one day per week.
In this blog post I'm going to share with you all the details of this classic Thai restaurant that's withstood the test of time.
Sanguan Sri (ร้านสงวนศรี)
NOTE: The common English spelling is Sanguan Sri, but there's actually no "r" in the pronunciation, so it's pronounced Sanguan Si (or like "See").
Sanguan Sri (ร้านสงวนศรี) is one of those restaurants in Bangkok that you could walk by multiple times and if you're not overly observant, you wouldn't even know it's a restaurant.
I remember walking past the front of the restaurant numerous times over the years, always something else on my mind, like on my way to an embassy, and thinking, "that looks like an office cafeteria."
From the decor and the style of food, it reminded of the fantastic Krua OV in Dusit. It's a restaurant that's been around for over 50 years, and I don't think anything about the restaurant, or the food they serve, has changed.
Located a stones throw from Phloen Chit BTS station and near the corner of Phloen Chit Road (Sukhumvit) and Thanon Witthayu (Wireless Road), it's a Thai restaurant that's remained classic and traditional while everything around it has developed..
I love restaurants like this.
The Menu
There are a few things you need to know about the menu at Sanguan Sri (ร้านสงวนศรี).
I only saw that they have a menu in Thai, even written on the white board at the front of the restaurant it's only in Thai. I don't think they have an English menu.
But that being said, the staff and owners were all nice and I think they will assist you with ordering if you don't speak Thai.
They have a main menu which is offered everyday.
But the catch is, they have a smaller menu of the different specials for each day of the week, and each day it's something different. Usually on the day menu, they serve their signature dish that everyone who walks into the doors of the restaurant that day orders.
NOTE: Each day has about 5 special dishes, but I've picked out what I think is the main dish of that day.
Monday – Massaman gai (มัสหมั่นไก่) – massaman chicken curry
Tuesday- Kanom jeen sao nam (ขนมจีนซาวน้ำ) – An old Thai dish of fermented rice noodles and coconut cream, here's what it looks like.
Wednesday – Gaeng kee lek moo yang (แกงขี้เหล็กหมูย่าง) – Curry made with Siamese cassia
Thursday – Gaeng keow wan neua (แกงเขียวหวานเนื้อ) – beef green curry
Friday – Gaeng phet bet yang (แกงเผ็ดเป็ดย่าง) – red duck curry
Saturday – Gaeng keow wan lukshin pla krai (แกงเขียวหวานลูกชิ้นปลากราย) – green curry with fish meatballs
So do keep this menu and days in mind. But that being said, I'm sure each day the signature dish is fantastic, so don't hold back from going if you're in the area. Or just surprise yourself on the day you go!
By chance (I didn't know about the menu days), I happen to eat here on Thursday, aka beef green curry day.
Khao Chae (ข้าวแช่) – They also offer khao chae (ข้าวแช่), a Royal Thai dish eaten only in the hottest summer months in Thailand. At Sanguan Sri (ร้านสงวนศรี) they sell it only during April and May. When I ate here, they had already finished selling it for the year. We all have to wait until April to try it!
Gaeng keow wan neua (แกงเขียวหวานเนื้อ)
The food was brought to our table, and I did my thing taking photos of all the food. In the meantime, my wife Ying started sampling some of the dishes.
She tried the beef green curry, and she literally gasped, "Oh Mark, that's the best green curry I've had in Bangkok."
My wife proceeded to devour the entire bowl of green curry (that's one reason I love her so much), and she ordered me another fresh bowl.
That's how good it was, once she tasted it, she couldn't stop.
Price – 100 Baht per bowl
In Thai it's called gaeng keow wan neua (แกงเขียวหวานเนื้อ), beef green curry, and it's one of those dishes for me that can be extremely good, like here, or if you pick up a bag of green curry from the market it can be mediocre at best.
It's a Thai curry that is often sweetened up un-necessarily, and the flavor of the green curry paste and spices are often not pronounced enough.
By nature of the curry, gaeng keow wan (แกงเขียวหวาน) in Thai the exact translation is, "curry green sweet."
However, the sweetness is not supposed to be abused with adding lots of sugar, as is the common case sometimes in modern Bangkok.
The sweetness is supposed to come naturally from the thick coconut cream required in the recipe.
At Sanguan Sri (ร้านสงวนศรี) Restaurant, they made their Thai green curry, what I would probably call perfect.
The sweetness was only there from the coconut cream, and I could taste the richness of the green curry paste including the green chilies, the kaffir lime leaves, and sweet basil, and additionally a hint of cumin.
Their gaeng keow wan neua (แกงเขียวหวานเนื้อ) included cubes of tender beef and Thai eggplant that was so creamy that it melted into the coconut cream.
In my opinion, this is the definition of what Thai green curry should be.
Prik king pla chon tod krob (พริกขิงปลาช่อนทอดกรอบ)
I'll tell you straight before getting into it, prik king pla chon tod krob (พริกขิงปลาช่อนทอดกรอบ) has never been one of my favorite dishes, but I wanted to try it since it's a popular dish to order at Sanguan Sri (ร้านสงวนศรี).
This version was made with bits of snakehead fish that were minced up and deep fried to a complete crisp. It was then coated in a sweet chili ginger sauce and topped with shredded kaffir lime leaves.
The first taste you'll get is sweetness (which is why it's never been my preferred dish), and then you get a nice ginger aftertaste.
If you enjoy dishes on the sweeter side, this is an interesting dish to try.
Price – 80 Baht
Tod man pla krai (ทอดมันปลากราย)
Just from the appearance of it, I could tell the tod man pla krai (ทอดมันปลากราย), fried patties of pureed clown featherback fish and curry paste, would be good. From looking at it, you can detect that sponginess.
They were very good, and especially the dense yet spongy texture is what really shined.
The flavor of the curry paste was mild, but the overall taste of the blend of pureed fish with the vinegary pickles, was fantastic.
Price – 80 Baht
Gao lao tamlung (เกาเหลาตำลึง)
For a soup, my wife and I ordered gao lao tamlung (เกาเหลาตำลึง).
Tamlung, which in English is ivy gourd leaves, has always been a favorite vegetable of mine. It kind of looks and tastes like spinach, but with less of a slimy factor.
This was a plainer, un-spiced soup, just seasoned with salt and pepper and included meatballs, ivy gourd leaves, and mushrooms. It was a great palate cleanser.
Price – 50 Baht
Gaeng tai pla (แกงไตปลา)
My wife being from southern Thailand, we eat a lot of gaeng tai pla (แกงไตปลา), which is a southern Thai curry made with fermented fish entrails.
The curry soup base of the gaeng tai pla (แกงไตปลา) at Sanguan Sri (ร้านสงวนศรี) was wonderfully flavorful, salty, and spicy.
While I usually like my gaeng tai pla (แกงไตปลา) with a mixture of roasted fish and some other vegetables like pumpkin or eggplant, their version came with only bamboo shoots.
The taste was very good, but I would prefer it with a few more ingredients.
Price – 60 Baht
Kana pla kem (คะน้าปลาเค็ม)
To finish off our exquisite classic Thai meal, we ordered kana pla kem (คะน้าปลาเค็ม), kailan stir fried with salted fish.
It was an absolute winner.
They didn't over-do it with the salted fish, but they added just enough to season the greens, but so it wasn't too salty. Additionally the kailan remained crisp and filled with the flavor of the wok.
Kana pla kem (คะน้าปลาเค็ม) is a must order when you eat at Sanguan Sri (ร้านสงวนศรี).
Price – 80 Baht
Total price
Our total bill for my wife and I came to 596 Baht, but we did eat quite a bit for 2 people.
You could spend anywhere from 100 – 300 Thai Baht per person depending on how much you eat.
Conclusion
In an area of Bangkok now dominated by malls, hotels (by the way it's a good area to stay in Bangkok*), and embassies, Sanguan Sri (ร้านสงวนศรี) is a shining light of good classic traditional Bangkok Thai food.
All of the dishes I tried were solidly good, but nothing could outdo their beef green curry (gaeng keow wan neua แกงเขียวหวานเนื้อ) which has moved up my best list to become one of the top versions of green curry I've ever had in Bangkok.
Sanguan Sri (ร้านสงวนศรี)
Address: 59/1 Witthayu Rd, Lumphini, Pathum Wan, Bangkok 10330
Open hours: 10 am – 3 pm on Monday – Saturday (Closed on Sunday)
Phone: 02-251-9378 (if you want to eat here are noon on a weekday, you may need to reserve a table)
Prices: Dishes range in price from about 50 – 100 Thai Baht. The portion sizes aren't big, but they are sufficient and you can order a range of different dishes.
ที่อยู่ 59/1 ถนนวิทยุ (ใกล้สถานีรถไฟฟ้าเพลินจิต ติดกับโรงแรมพลาซ่า แอทธินี) ลุมพินี ปทุมวัน , กรุงเทพมหานคร 10330
เปิดบริการ จันทร์-เสาร์ 10.00-15.00 น. (ปิดทุกวันอาทิตย์)
โทร. 02-251-9378
How to get there: The restaurant is literally a stones throw from Phloen Chit BTS station. Take Exit 5, make a left on Thanon Witthayu, and walk about 50 meters, located along the main road you'll see the restaurant.