Saiyut and Doctor Sai Kitchen, "Food is Art of Life," in Chiang Mai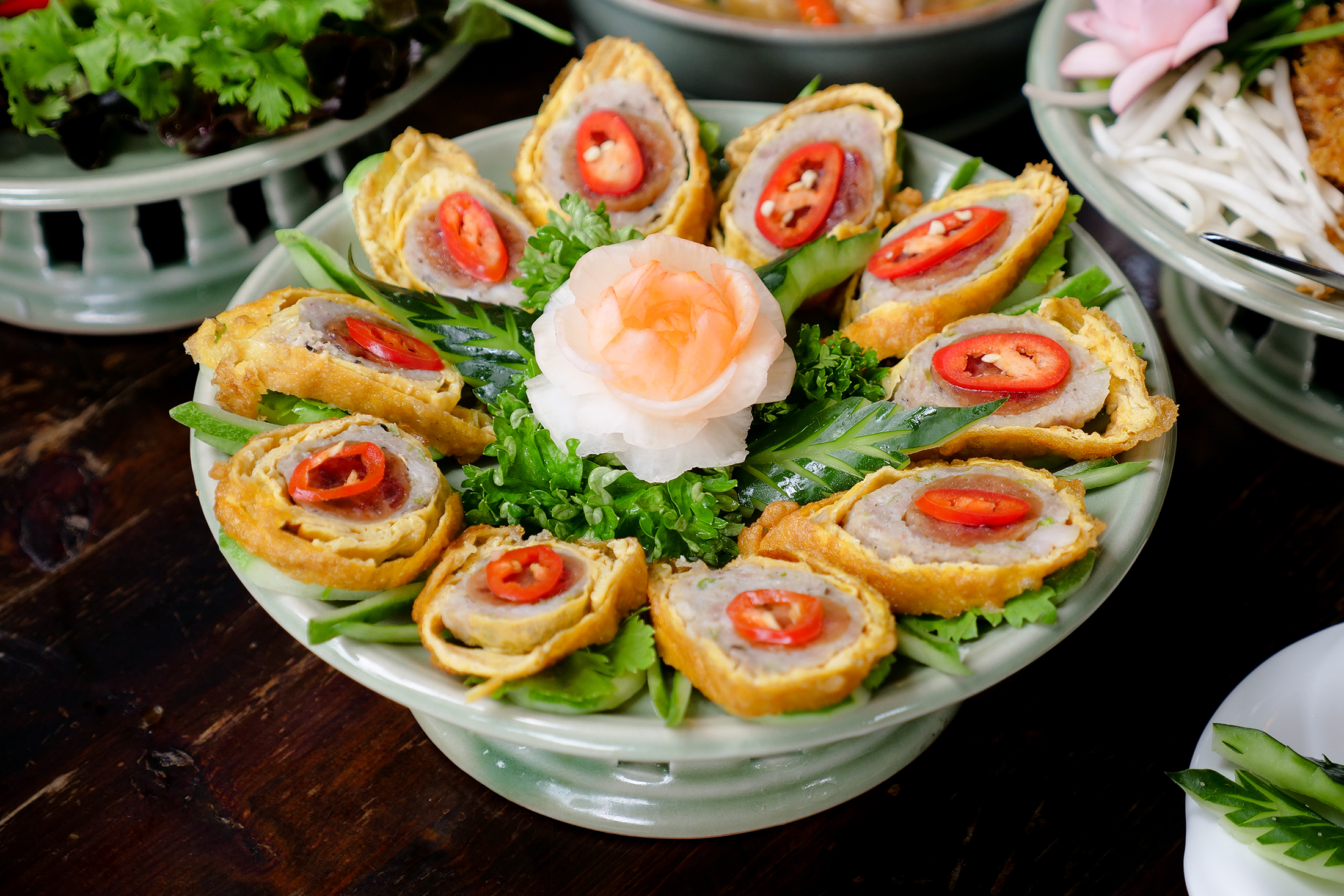 Saiyut and Doctor Sai Kitchen serves one of the more beautifully presented meals I think I've ever seen.
Their motto is "Food is Art of Life," but I won't recommend it just for the art aspect though, this food is also incredibly delicious as well.
With a menu full of amazing and traditional Thai food (think early 1900's), you should be making this restaurant (ครัวอาจารย์สายหยุดและหมอทราย) a part of your next food trip to Chiang Mai, Thailand.
Scroll down now for more details.
Your first view of the precision in every dish at Saiyut and Doctor Sai's Kitchen.
Food – The Art of Living
The location is also quietly set back a ways into a neighborhood, far from any of Chiang Mai's main city streets. There is a wonderful atmosphere of calm that surrounds you here,
Preferring to use bright, natural colors for decoration, I'm sure you'll enjoy how the arrangement and design of the restaurant make it unique – its beautiful, and soothing to the senses.
Our own first visit to this restaurant is exciting for another reason though, seeing several items on the 'specials menu' that are foods I'll be having for the very first time.
A wonderful place to find yourself for lunch (or dinner, they're open from 1030am-0830pm), now let's dig in to some of Saiyut and Doctor Sai Kitchen's best dishes.
Beginning the meal
Each meal here begins with a complimentary starter plate of "ma muang nam pla waan." Ornately cut fresh green aromatic mango, and you'll have it with a dip of sweet, salty tamarind, palm sugar, and fish sauce (มะม่วงน้ำปลาหวาน in Thai).
Not only a favorite dish of Thai TV stars on "Bup Pae Sannivat" (บุพเพสันนิวาส, a current hit show), you can eat this dish right here, along with recipes that represent almost every region of Thai cuisine.
Most recipes from Saiyut and Doctor Sai Kitchen follow traditions of royal Thai cuisine, many of these recipes popular during the time of Thailand's King Rama the 5th (approximately 120 years ago).
Shrimp Salad with Thai Herb Sauce (แสร้งว่ากุ้ง)
The first of many dishes you have to order here, one bite into the richness of this shrimp salad and it could easily be your new favorite Thai food.
In the South of Thailand, its common for recipes to use both dry shrimp and salty shrimp paste (กะปิ gapi) to achieve the amazing flavor that a great plate of 'Saeng Wa Goong' requires (แสร้งว่ากุ้ง). Some chefs may lightly fry the rice in lard as well, making the whole dish incredibly rich and warming.
I love how the shrimp and rice combo fry together just long enough to make individual rice grains stand out. The chef shows off their skills here, creating a texture which blends perfectly with crisp-smelling herbs (like shallots, culantro, and kaffir lime leaf) that accompany your serving of shrimp.
Mix each bite yourself to create subtle hints of nearly a dozen ingredients – you'll ignite flavor that lights up every tastebud possible.
Crab Egg Chili Dip (นำ้พริกไข่ปู)
An ultra-flavorful saucy paste for dipping fresh veggies, nam prik like this one is made with crab eggs (นำ้พริกไข่ปู nam prik kai boo), always hand-made using mortar and pestle.
A Thai feast just isn't complete without at least one bowl of chili dip and a plate of fresh vegetables.
Accompanying the dip are (clockwise from top) wing bean, yard bean, cabbage, bottle gourd, long eggplant, pumpkin, and cucumber. The second plate is full of purple eggplant and chayote (ฟักแม้ว fak maew), and both of these items come deep fried.
The crab eggs make this 'namprik' incredibly creamy, and if thats not rich enough, the chef follows the eggs with a second topping using long strips of crab meat. I love the non-oily, fatty goodness, and I'm sure you are going to want to order this dish today as well.
Stuffed Flower Shape Dumplings (ช่อม่วง)
This dish to me just shows off so remarkably how food can literally excite every sense at once.
Flavors of sweetness, aroma from the flour, and sourness and spiciness to raise goosebumps on your arms.
Inside each blue flower-shape dumpling (ช่อม่วง chaw muang) is a very special addition, possibly showing the influence that Japan historically has had on Thailand's food as well.
Special Ingredients in 'Chaw Muang'
The key ingredient here is Takuan, a daikon radish which dehydrates by either smoking or sun-drying.
Umami feelings overflow each bite, the sheer amount of flavor this final ingredient adds will just blow your tastebuds away.
The way they serve it is with simple fresh vegetables on the side, as a garnish, plus a final light dusting of crushed deep fried garlic. The taste is surprisingly rich, the texture warm and gooey, and it is wonderfully confusing whether to think of it as a main course, or as a savory dessert.
Crispy Golden Rafts (กระทงทอง)
These cute little star-shaped cups (กระทงทอง kratong tawng) are a big seller at Saiyut and Doctor Sai Kitchen, I'm sure its both for flavor, and for the cuteness-factor as well.
The chefs create each bite individually, including corn, mince meat, and carrots. The bite-size servings remind me of something you might find at a family-style restaurant in the USA, and yet they are so representative of South-East Asian flavor at the same time.
Honestly, they are a little sweet for my taste, and I think another dish may have been a better match with our specific order today. It really is a fun dish to eat though, and each bite is nicely crunchy.
I'm sure it will be a hit with any kids present at the table though, and you can choose with this dish (and with the karawaek as well (scroll down)) exactly how many you want, as they charge by the piece.
Karawaek Thai Appetizer (การะเวกสอดสี)
This is a house specialty (การะเวกสอดสี karawaek sawd see), and a dish that you can order as a set, or as piece by individual piece.
We got a plate of 10, and I have to say that the detail in each gorgeous bite is almost overwhelming.
Just try to pick apart how many ingredients there are in this dish!
Technique, and Recipe
Sitting first on a bed of cucumbers, each of which has been cut to size, there's a tiny dab of sweet fruity sauce, holding the next items together. A trifecta of smooth textures follows, starting with Chinese sweet sausage, then Thai steam-sausage, both of which the chef covers in a fine roll of egg omelette.
For color and for crunch, there's non-spicy red pepper slices adorning each bite, and finally you'll get a burst of smell with the addition of shaves of celery leaves.
In the center of the plate, you can again enjoy the artistic chef's skill, beautifying your food using only natural ingredients (can you tell what it is?). I think the orange "flower" is actually the just-barely ripening base of a papaya fruit, and I love imagining those knife skills!
Golden Egg Bites (ล่าเตียงหรือหรุ่ม)
As our good friend Hanuman says, "a chef must remember – people eat first with their eyes."
Hanuman is a master chef, and so I must believe then that its people like him who come up with dishes like these 'Golden Egg Bites' on the menu here today.
Wrapping ever so delicately, Saiyut and Doctor Sai's kitchen chefs make these bites with the assistance of palm sugar, and very high heat (ล่าเตียงหรือหรุ่ม la thiang rue room). The taste is quite sweet, and there is also some juicy ground pork inside for some fatty flavor.
The small bowl in the middle is a sour mix, its a side, but one that you can choose to dip, to dunk, or to pour over each bite – its totally up to you. Its a dip of vinegar, sugar, cucumbers, and red onions, almost like the side you will find that comes with murtabak, or biryani rice.
'Chiang Da' Leaves with Egg (เชียงดาผัดไข่)
At Saiyut and Doctor Sai's Kitchen, with dishes like this Chiang Da you can really feel like you're dining like an ancient Thai prince or princess.
Among the more eye-popping dishes, you also need to try some standard (delicious) Thai wok-fried dishes like this one.
At first I thought these were melinjo leaves, as they are so wonderfully slimy, with that recognizable nuttiness to them. Actually though, 'chiang da' is a local Chiang Mai herb, without really any name in English, and only assuming by the taste can I say that the two are relatives (and as melinjo leaves are commonly eaten in the South of Thailand as well).
The Recipe
Frying the leaves with all that garlic, just some fish sauce and a few chicken eggs, this was pure comfort food – literally heart-warmingly good.
I have a great memory of eating a dish like this at Noy Pochana (in Phuket, Southern Thailand), another place that shows royal-level cooking skills do not need to be for only those of truly royal blood.
Rice Salad (ข้าวยำ)
One of the more visually stunning plates of food you could ever dream of has to be the daily breakfast plate of rice salad (ข้าวยำ khao yam). Another dish they serve up here in Chiang Mai that is actually much more common in the deepest parts of Southern Thailand.
You mix all the ingredients together with a spoon before you eat, picking and mixing your own ideal bites, enjoying flavors from just about a million different angles with all the ingredients this dish contains.
Huge Freshness in 'KhaoYam'
The crispy freshness of carrot, bean sprout, yard bean, wing bean, red cabbage, and cucumber, are combined with roasted coconut shreds and crispy rice, lemongrass, kaffir lime leaf, lime juice, and even a scoop of Taan sugar. Two fruity additions in the shredded mango and pomelo pods create additional flavorful notes.
Last but not least, notice the striking blue (natural) color of the rice. All of these ingredients holding together by this wonderfully aromatic and soft Thai jasmine rice, which they color using the Butterfly Pea (อัญชัน anchan), a flower from Northern Thailand.
Deep-Fried Snakehead Fish (ปลาทอดสมุนไพร)
Moving back to a more Central Thai-style cuisine, some other things you might want to order today include the large variety of freshwater river fish, like a snakehead (ปลาชอน pla chawn).
After swimming not in water, but in vegetable oil, the fish will arrive at your table under a small mound of shreds of lemongrass, with lemon basil, and kaffir lime leaves to one side.
This dish is pure comfort food, I try to eat at least one fish every day that I'm in Thailand.
Eating Thai Style: Holding a piece of lettuce in your eating hand, grab a piece of fish meat, the easiest of which to grab are the ones along the spine. Use the crispy fish meat itself to dip out a healthy scoop of sour and spicy seafood sauce (น้ำจิ้มซีฟู้ด nam jim seafood) from the small tray beside. Then, sprinkle some herbs on top to garnish, enjoy your huge bite first, and finally chase it with a spoonful of white rice (which I like to cover in just a bit more of the nam jim seafood sauce).
Beef Curry with Fermented Shrimp (แกงรัญจวน)
In Thai, the name of this dish literally means, 'to yearn for' (how wonderful is that?).
A single taste, and you will probably fall in love with it too, from either its rich chunks of beef, or the intense salty fire of chilies resting in the broth full of with fragrant Thai shrimp paste (กะปิ gapi).
Seasoning for this dish is quite simple, but the flavor is powerful due to that shrimp paste. Gapi is an ingredient which undergoes processes of heavy fermentation in its creation, and is then dry roasted or grilled over hot coals before being used as an ingredient in dishes like this 'Gaeng Ran Juan.'
I have been fortunate to find this dish a few other times before, and I love it dearly. You can see an incredible recipe, and read up on Royal Thai cuisine as well, on this page right here, or just visit Saiyut and Doctor Sai of course.
Sweet Crispy Rice Noodles (หมี่กรอบชาววัง)
The crispy rice noodles (หมี่กรอบชาววัง mee grawp chao wang) are the final dish for our own feast today, another dish that is sweet, but still probably worth the order, food that's good if you are with a large group of friends.
The noodles are nicely crunchy, so delicate that they actually melt just a few seconds after chewing. They are so fine you might almost imagine this food as more of a snack, or even as a dessert.
Recipe for 'Mee Grawp'
The chef makes this dish with tiny strips of lime zest, red bell peppers, and mung bean sprouts, the rice noodles in this come with beautifully curling green onions as well (I like how the chef uses the entire onion).
It tastes great to eat an entire green onion, along with some crunchy bean sprouts, and a few spicy chili circles from the nearby dish of prik nam plaa.  This combo bite does well to cover up some of the sweetness, overall honestly the dish is quite gorgeous, despite it being just too sweet for my taste.
Final Notes:
Menu items here truly cover every region and every cuisine of Thailand. There are even a few things on the menu that I myself was able to learn about for the first time coming to eat here for lunch today.
For a family meal or special date destination, I put Saiyut and Doctor Sai restaurant at the top of my list for great Thai Food in Chiang Mai.
I wouldn't say this restaurant is exactly high-end either – we find the prices here are incredibly reasonable for the precision in each food's plating and arrangement (our order of exactly 13 dishes was just over 1,500B).
Its a gorgeous meal, extremely flavorful as well, and I can't wait for the next chance to visit Saiyut and Doctor Sai Kitchen in Chiang Mai.
Getting There:
Name: Saiyut and Doctor Sai Kitchen
Address: 32 Chang Moi Rd Soi 2, Pa Tan, Amphoe Mueang Chiang Mai, Chang Wat Chiang Mai 50300
Map: (Google Maps)
Hours: 1030AM – 830PM, closed Wednesday
Prices: Most stir-fry dishes range from 80-100B, specialty dishes from 120-180B, and the fish was 300B.
In Thai:
Saiyut and Doctor Sai
ที่อยู่: 32 ถนน ช้างม่อย ซอย 2 ตำบล ป่าตัน อำเภอเมืองเชียงใหม่ เชียงใหม่ 50300
โทร: 081 530 1172
เปิด-ปิด: 1030 – 2030