Spicy Southern Thai Food at Noy Pochana in Phuket Town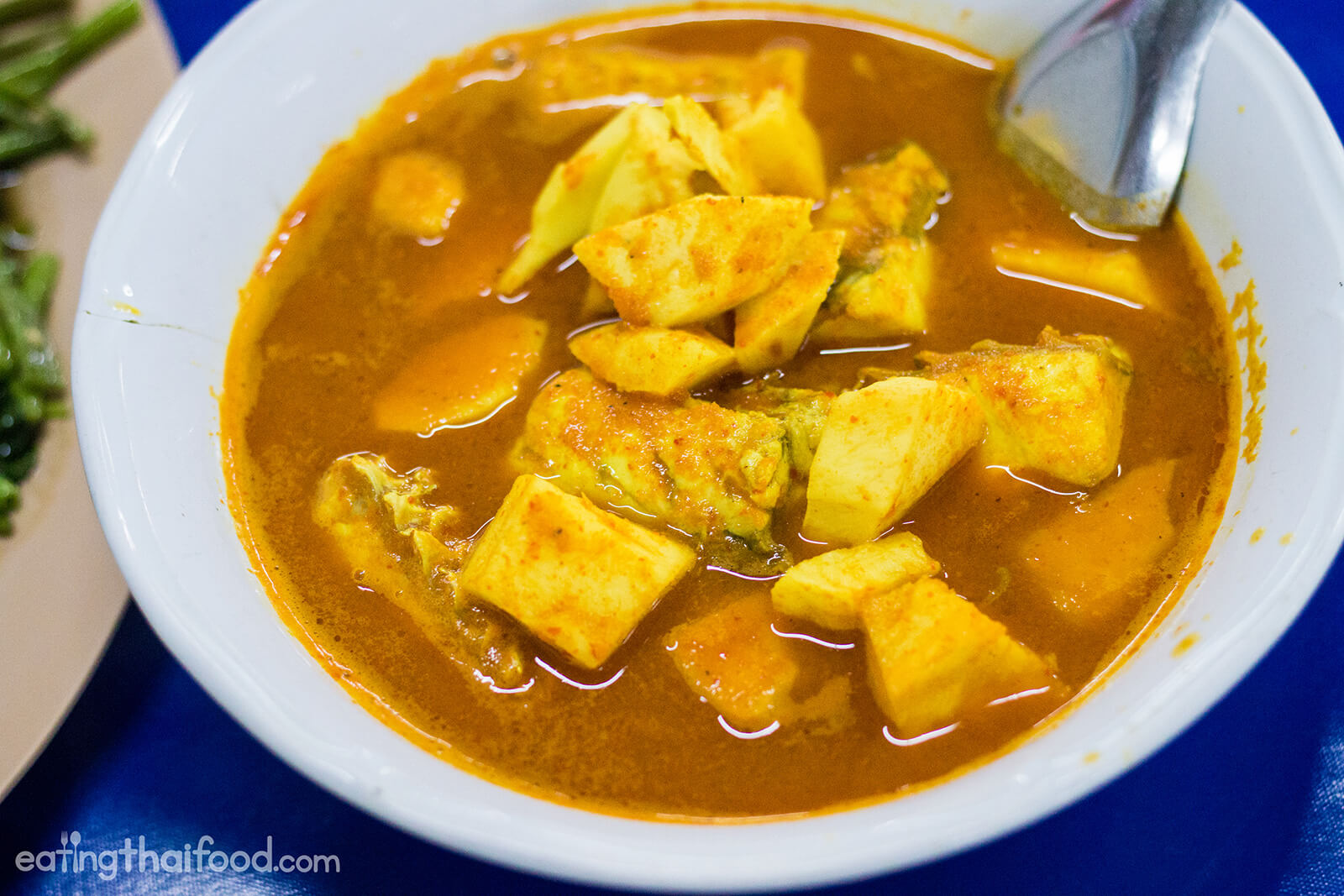 You may remember a restaurant I wrote about in Phuket called Yoy Pochana.
But this restaurant is called Noy Pochana (ร้านน้อยโภชนา), a similar name, but very different food in Phuket.
Noy Pochana (ร้านน้อยโภชนา) is really just a typical neighborhood style southern Thai food restaurant in Phuket Town, but the food was top-notch for all 3 meals in a row that I ate there.
The flavors were nothing short of proper southern Thai – vibrant, spicy, and full on flavor.
Usually when I travel anywhere, whether it be in Thailand or elsewhere, while I like to try as many new restaurants as I can, there's often a restaurant right near where I'm staying that I keep coming back to – for both convenience and good food.
For me, when my wife and I were in Phuket Town for a couple weeks, that restaurant, the one we just had to walk down the road to eat at, and where I came to know the food was going to be marvelous every-time we sat down, was Noy Pochana (ร้านน้อยโภชนา).
Note: When we were in Phuket Town last time we stayed at The Tint Hotel*
Part of the reason I kept coming back was for their gaeng som (แกงส้มยอดมะพร้าว), southern Thai sour curry:
This stuff was pure fire and flavor in a bowl.
Southern Thai gaeng som has been among my list of favorite Thai dishes ever since I had my first taste of it from my wife years ago, and it's a dish I eat frequently when I'm at home (check out the full recipe here if you're interested in making it).
Unlike central Thai gaeng som that's more of a sweet and sour soup, southern Thai gaeng som is sour, spicy, and teeming with fresh turmeric to give it its vibrantly orange color.
At Noy Pochana (ร้านน้อยโภชนา) I ordered gaeng som with yord ma prow, which are coconut shoots (kind of like bamboo shoots but coconut shoots), and it also came with barramundi fish.
The blend of spices included a lovely chili heat, thick turmeric, and it was salty and sour. The gaeng som (แกงส้มยอดมะพร้าว) was exactly the way I love it – full of powerful flavor.
Another dish I can't resist ordering in southern Thailand is bai liang pad kai (ผักเหลียงผัดไข่), melinjo leaves stir fried with egg.
While sometimes it can be a little moist when it's not cooked on a high enough heat, they made no mistake with it at Noy Pochana (ร้านน้อยโภชนา) – the egg was scorched, and the melinjo leaves were wilted but still crisp, and it was dry and flavorful – the way it's typically supposed to be.
Their pad pak bung (ผัดผักบุ้ง), stir fried water morning glory, was also good. And although you can't see the chilies in the photo, I can assure you, there were little green chilies packed within.
The pad pad boong (ผัดผักบุ้ง) had a nice garlic smoky flavor, and they used fermented soy bean sauce to give it flavor as well.
On another evening eating at Noy Pochana (ร้านน้อยโภชนา) I ordered just a plain plate of pad pak ruam (ผัดผักรวม), mixed vegetables, stir fried with garlic and soy sauce.
Cooking on a high pressure flame, the vegetables had the scorched flavor I always crave.
Another dish I tried was the pla meuk pad ped (ปลาหมึกผัดเผ็ด), squid stir fried in curry paste.
While sometimes throughout Thailand you order pad ped (stir fried curry) and they add some sugar to sweeten it up and balance the spices and chilies, in much of the south, and at Noy Pochana (ร้านน้อยโภชนา), it's all about the heavy spice without the sweetness.
The squid was spongy and bouncy and the curry sauce was spicy, salty, with a slight mustardy flavor from the turmeric, and a fresh touch of shaved kaffir lime leaves and basil for fragrance.
Just like the gaeng som (แกงส้ม), it was vibrantly flavorful.
Along with southern Thai food it's typical to have a plate of raw garnishing vegetables called pak naw in the south of Thailand.
At this restaurant, the raw vegetables included cucumber, white turmeric, long beans, Thai eggplant, and sprouts.
Conclusion
Noy Pochana (ร้านน้อยโภชนา) is a neighborhood southern Thai food restaurant in Phuket Town.
It happened to be located just a little ways down the road from where my wife and I were staying, and every night we passed, we saw the restaurant was always packed.
One night we stopped for dinner, and the food was superb.
There's nothing fancy about Noy Pochana (ร้านน้อยโภชนา), but the flavors of the dishes they serve, especially the southern Thai dishes, are packed full of vibrant flavor.
Their gaeng som was seriously addicting.
Noy Pochana (ร้านน้อยโภชนา)
Address: 21 Thanon Montri, Tambon Talad Yai, Amphoe Muang, Phuket 8300
Open hours: 5 pm – 2 am everyday
Prices: I failed to write down the price of each dish, because after I finished I was in a daze of chili and on an overdose of flavor. But if I remember correctly each dish was about 100 – 200 THB. The prices I thought were a little high until I saw the portion size – which is much bigger than normal Thai restaurants. So you do pay a little more than a typical local restaurant, but the quality and portion size more than makes up for it.
ที่อยู่ 21 ถนน มนตรี ตำบลตลาดใหญ่ อำเภอมือง จังหวัด ภูเก็ต 83000
เปิดบริการทุกวัน 17.00 – 02.00 น
For the map, scroll down to Phuket, and click on Noy Pochana (ร้านน้อยโภชนา) to get the location: