Roti Chaofa – Best Halal Roti + Goat Curry in Phuket, Thailand!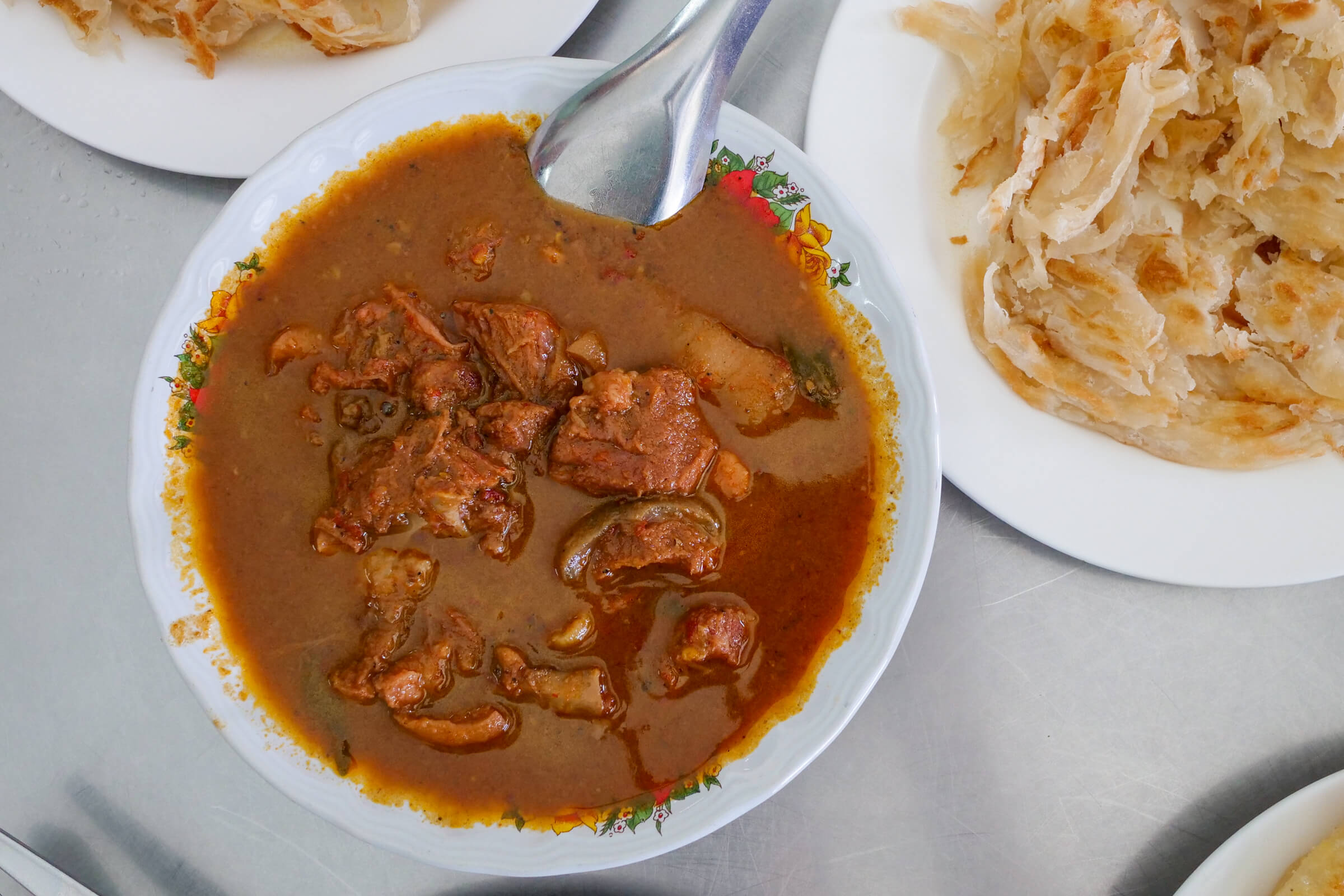 Crispy, gooey, flaky roti.
Thick, spice harmony, ultra tender chunks of goat.
Welcome to Roti Chaofa (โรตีเจ้าฟ้า), one of the best roti shops in Phuket, and quite honestly one of the best places to eat roti and curry in all of Thailand.
This is just going to be a really quick post, to share with you this outstanding, must eat, Halal restaurant when you're in Phuket, Thailand.
Roti Chaofa (โรตีเจ้าฟ้า)
The goat curry is outstanding!
Roti Chaofa (โรตีเจ้าฟ้า) – Phuket, Thailand
Located just on the outside of Phuket Town, Roti Chaofa (โรตีเจ้าฟ้า) is a Thai Muslim, Halal, restaurant that specializes in varieties of roti (Thai style similar to paratha, or roti canai in Malaysia).
It's a very popular local spot for breakfast or early lunch, and as soon as you taste their roti and curries, you'll know why. The food is outstanding.
They do have an extensive menu with soups, biryani, a variety of curries, and both sweet and savory roti.
But for me, every-time I eat at Roti Chaofa, I'm not messing around with too much, I'm just going straight for the roti and goat curry.
Roti (โรตี)
So first, the roti. It's flaky, crispy on the edges, and gooey in the center. It comes shredded, which enhances the crispiness.
It's both fantastic on its own, or perfect as a vessel for scooping.
Goat curry (แกงแพะ)
Again, the goat curry is superb.
It's not hugely spicy hot, but it's ultra soothing – an ultimate comforting breakfast curry, with just the right blend of curry powder, and spices. The goat itself is fall off the bone tender.
I also like that it's not an oily curry, but rather rich from the gravy. A bowl of goat curry and few plain, shredded rotis and I'm already happy.
Chicken curry (แกงไก่)
The chicken curry was ok, but not outstanding to me. It had a bit more of a sweet nutty taste. Definitely worth trying and good, but just not as good to me as the goat.
Sweet egg roti (โรตีนมใส่ไข่)
For a sweet change, you can get banana roti, or egg roti topped with condensed milk.
We tried the egg roti, which is folded into the roti, and drizzled in sweetened condensed milk. Again, no mistakes on the roti. It was gooey, moist, and delicious.
Beef soup (ซุปเนื้อ)
Another classic Thai Muslim dish is beef soup.
It's a dish I always enjoy and the broth here was wonderful. One of the reasons I love beef soup are the raw onions and crispy shallots, as well as the sourness from freshly squeezed lime juice.
The beef soup at Roti Chaofa was good, but quite typical, not really out of the ordinary.
Roti Chaofa (โรตีเจ้าฟ้า)
Serving up some of the best roti in Phuket!
Overall, Roti Chaofa (โรตีเจ้าฟ้า) serves excellent Thai Muslim Halal food, but the real stand out dish that makes me excited to wake up every morning in Phuket for breakfast, is the roti and goat curry combination.
My mouth is watering just thinking about it! Highly recommended for local Phuket style breakfast / early lunch.
For another breakfast option you can try Phuket dim sum.
Roti Chaofa (โรตีเจ้าฟ้า)
Address: 44 Chaofa E Rd, Tambon Talat Nuea, Mueang Phuket District, Phuket 83000 (Google maps)
Open hours: 6:30 am – 1:30 pm (although they may run out of dishes if you come too late, good time to go is 7 am – 11 am)
Prices: Typical Thai local shop prices, dishes range from 30 – 80 THB