Dim Sum Phuket Style at Boon Rad Dim Sum 1 (บุญรัตน์ติ่มซำ 1)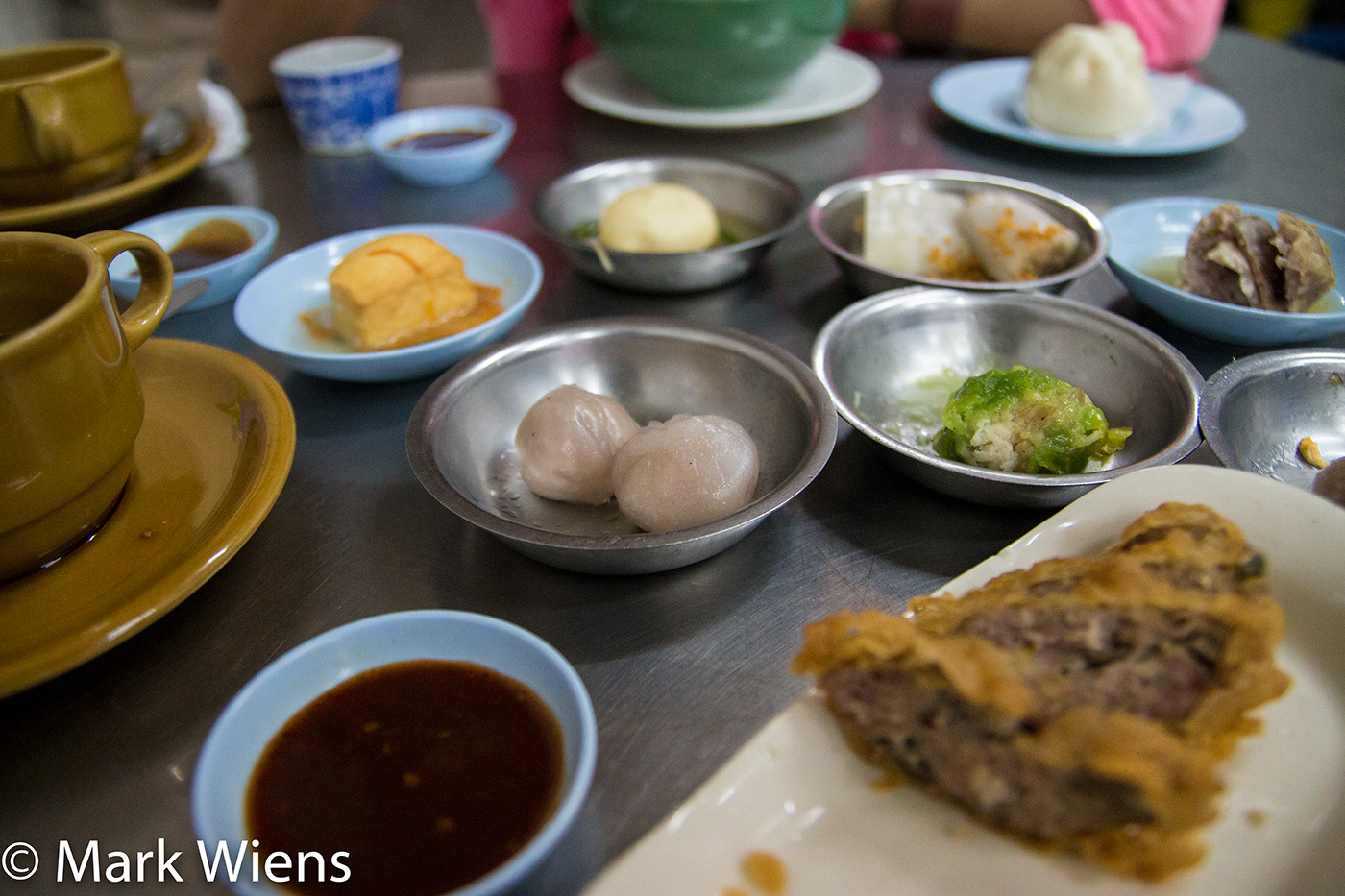 Are you ready to wake up for breakfast in Phuket?
Along with taking a trip to the morning market for some breakfast treats, another popular thing to eat in Phuket in the morning is dim sum.
There are many well known dim sum restaurants scattered throughout Phuket Town, but I decided to check out a place called Boon Rad Dim Sum 1 (บุญรัตน์ติ่มซำ 1).
Walking through the streets of Phuket Town at 7 am is beautiful. Apart from right around the local market, the streets are peaceful and quiet, the air is cool and fresh.
But as I continued walking, located just down an alley, and I saw the commotion of motorbikes and happy diners, and I knew I had arrived to Boon Rad Dim Sum 1 (บุญรัตน์ติ่มซำ 1).
When I arrived, just after 7 am one morning, the restaurant was already nearly completely full, with everyone from students chowing down on breakfast before going to school, to old Chinese men sipping on tea reading the newspaper.
Phuket style dim sum?
I grew up eating a lot of Cantonese style dim sum, and it's always been one of my comfort meals when I'm back in Hawaii visiting relatives.
Most of the dim sum I've had is Hong Kong and Cantonese style.
In Thailand, I've had dim sum a number of times over the years, from Bangkok to Krabi, and I've never been all that satisfied, perhaps because I'm used to Hong Kong style.
Still, with its strong population of Chinese in Phuket, and wanting to especially experience the morning breakfast culture in town, I wanted to eat at Boon Rad Dim Sum 1 (บุญรัตน์ติ่มซำ 1).
The dim sum was steaming at the front of the restaurant, packed into little bowls, and within layers of a giant steamer.
They had everything on a menu checklist, but it was also pretty easy to just go up to the front and see what looked good.
On a whole, the dim sum are much smaller and more dainty than dim sum in Hong Kong.
Some of the dim sum dishes were similar to the Hong Kong menu, others were different, and they also had quite a few little hot dog looking plates as well.
I tried to avoid most of the hot dog dim sum dishes, and mostly stuck with the real pork, and did try a few fish balling looking dishes as well.
The Thai Phuket style shumai, a pork dumpling wrapped in a noodle wrapper and steamed, was alright, but the meat to me was a little on the mushy side and was too smooth, whereas I would have preferred a little more texture.
Something I really liked, though I wasn't sure I'd really like it from the smooth appearance of the outside, was a mushroom fish ball.
The outside I think was fishball while the inside was filled with mushroom, and probably a little minced pork for flavor.
It was a very good dumpling.
Similar to the shumai, these little bites were minced pork wrapped in seaweed and steamed.
Again, the meat was a little on the mushy side for me, and I think it would have been better in my opinion with a little water chestnut crunch to it.
We tried a few other dim sum dumplings, some of which were pretty good, and others which weren't my favorite.
Overall, even though I like pork, the dumplings that were mostly minced pork, were not my favorite, while the others, like the fish tofu, the mushroom balls, and the taro puffs, were all pretty tasty and I liked them better.
One of my favorite dim sum pieces is wu gok, deep fried taro dumplings stuffed with pork, and it was probably my favorite plate for this breakfast.
The mashed taro was like starchy mashed potatoes, filled with just the right amount of salty minced pork, and crispy around the edges.
Another phrase used to describe a dim sum meal is yum cha, which in Cantonese means to drink tea, because tea is always a part of it.
At Boon Rad Dim Sum 1 (บุญรัตน์ติ่มซำ 1) the tea is served in little shot glasses, but it keeps on flowing, and always accompanies little bites of pork dumpling beautifully.
Joke
If you're not so much into the porky dim sum dishes for breakfast, you can still go to Boon Rad Dim Sum 1 (บุญรัตน์ติ่มซำ 1) and order a bowl of rice congee (joke).
We ordered a bowl of joke with an egg in the middle, and garnished with a handful of green onions, crispy shallots, and sliced ginger.
It was a great bowl of congee.
Conclusion
Boon Rad Dim Sum 1 (บุญรัตน์ติ่มซำ 1) is a well known and one of the top restaurants in Phuket that serves dim sum for breakfast.
To me it didn't compare to Hong Kong dims sum that I love so much, but it was alright and the experience of eating Thai Chinese Phuket style dim sum in the peaceful morning of Phuket Town was well worth it.
Don't go expecting Hong Kong style dim sum, but go to sample a few dishes, and enjoy the atmosphere and the culture.
Boon Rad Dim Sum 1 (บุญรัตน์ติ่มซำ 1)
Address: 26/41 Thanon Bangkawk, Phuket Town, Phuket
Open hours: 6 am – 10:30 pm daily
Phone: 076-212034
Prices: 13 THB per dish
ที่อยู่ : 26/41 ถนนบางกอก ตำบลตลาดเหนือ อำเภอเมืองภูเก็ต ภูเก็ต
เปิดบริการทุกวัน 6.00 – 10.30 น.
โทร. 076-212034
ติ่มซำถ้วยละ 13 บาท