Rice and Curry Lampang – Get Full on Delicious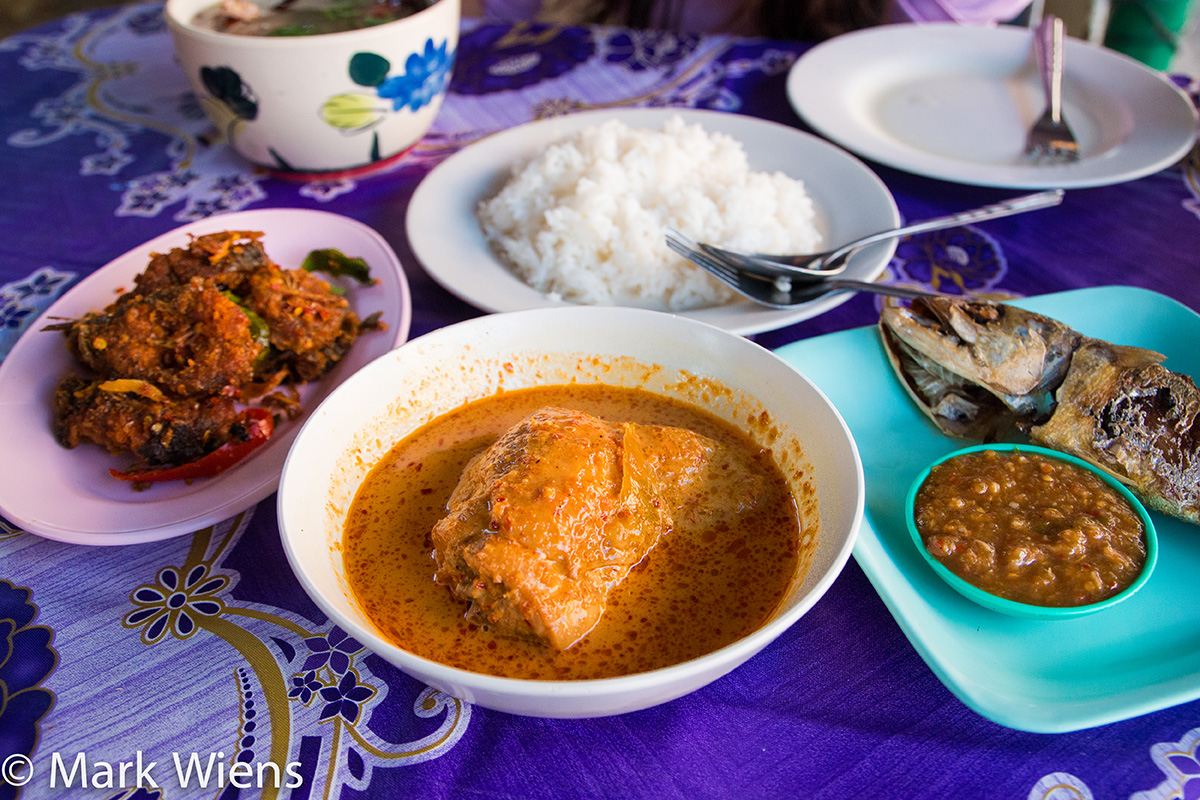 Wouldn't you love to get full on delicious?
Throughout Thailand a popular name for restaurants is Im Aroy (อิ่มอร่อย), which would directly translate to "full on delicious."
In Lampang, Khao Gaeng Im Aroy (ข้าวแกงอิ่มอร่อย) is a street food rice and curry stall that helps get many people full on delicious food everyday.
There are some wonderful places to eat in Lampang, and if you're looking for no-frills rice and curry, here's a place you should try.
Everyday (with the exception of some unknown off days), the owners of Khao Gaeng Im Aroy (ข้าวแกงอิ่มอร่อย) arrive with delicious food and set up their stall just outside the gates of Boonyawat Withaya School.
It's no surprise that one of their biggest sources of business are students, and families that come to pick up their kids from school.
I had walked past the stall a number of times when I was in Lampang, and one evening my wife Ying and I decided to eat there.
Most of the food they prepare would be considered central Thai dishes – nothing too spicy or strong in flavor, but all very good and well done.
Before we get started into the food at this Lampang street food stall, it's worth mentioning that the owners and all the servers were extremely kind and friendly.
They were the type of people that just make you feel at home and comfortable as soon as you come forward to order your food.
It was smiles all around. It's kindness like this that I really remember when I eat at street food stalls in Thailand.
Pad phed pla duk (ผัดเผ็ดปลาดุก)
One of Ying's favorite dishes from a khao gaeng (rice and curry) restaurant in Thailand is pad phed pla duk (ผัดเผ็ดปลาดุก), catfish fried with curry paste, and a few extra ingredients.
It's usually not my favorite as it's typically quite greasy, and a little on the sweet side, but I still do enjoy it in small portions, and I love it if it's a southern style that's less sweet, like my mother in-laws version.
Their pad phed pla duk (ผัดเผ็ดปลาดุก) was a little sweet, but it was extremely flavorful.
Price – 25 THB
In order to make pad phed pla duk (ผัดเผ็ดปลาดุก), the catfish is cut into steak pieces, and first deep fried to an ultimate crispiness, almost to the point of thick catfish chips.
The catfish is then stir fried with curry paste, peppers, kaffir lime leaves, and in this case some fingerroot.
It was a little sweet for me, but really good nonetheless.
Panang gai (พะแนงไก่)
I could see that the panang gai (พะแนงไก่), chicken panang curry, was one of their signature and top selling dishes at Khao Gaeng Im Aroy (ข้าวแกงอิ่มอร่อย), and so I had to get a piece of that.
Panang gai (พะแนงไก่) is often a little more red in color, but this version was a little more yellow orange in color.
The chicken was extremely tender, and it was a pretty good version of panang gai (พะแนงไก่), very nutty, creamy from coconut milk, and not overly sweet.
My favorite part of their panang gai (พะแนงไก่) was that it had a very nice peanut flavor, a creamy peanut sauce.
Price – 25 THB
Tom yum seekong moo (ต้มยำซี่โครงหมู)
Probably one of my favorite dishes of the evening was their version of tom yum seekong moo (ต้มยำซี่โครงหมู), the clear version of tom yum soup with pork ribs.
When I looked into the pot, it looked pretty plain, just a  milky broth and chunks of pork in it.
But after we ordered it, they scooped it into a bowl, added lots of lime juice, sprinkled in freshly roasted dry chilies, and garnished it with cilantro.
Keeping the broth separate from the fresh ingredients preserved all the flavor of the tom yum so it tasted extremely fresh and vibrant when it was served.
It was excellent, sour and spicy, the way I love it.
Price – 25 THB
Pla too sam rot (ปลาทูสามรส)
Finally, just to get a little extra protein for this meal, we ordered a dish called pla too sam rot (ปลาทูสามรส), a fried mackerel served with a side sauce.
At the time of ordering it, I just thought I was going to get a fried mackerel, one of my favorite things to eat, just with some prik nam pla (chilies and fish sauce).
But instead of just a fried mackerel, the fish came with a sauce called sam rot (สามรส), which in Thai means 3 tastes: sour, sweet, and salty.
The fried mackerel was excellent, the sauce was too sweet for me – it tasted almost like a fruity barbecue sauce. But I loved the fried mackerel with rice.
Price – 25 THB
Ying and I had an excellent meal at Khao Gaeng Im Aroy (ข้าวแกงอิ่มอร่อย), and not only enjoyed the food, but also the atmosphere.
Conclusion
When I was in Lampang, one evening for dinner, my wife and I ate at a restaurant called Khao Gaeng Im Aroy (ข้าวแกงอิ่มอร่อย).
They serve mainly a menu of central Thai dishes and curries.
A few of the dishes I ordered were a little on the sweet side, but for the price, atmosphere, and the friendliness of the owners, this street food restaurant is well worth a visit when you're in Lampang.
Khao Gaeng Im Aroy (ข้าวแกงอิ่มอร่อย)
Address: Boonyawat Withaya School, Sanambin Road (airport road), Tambon Hua Wiang, Lampang 5200
Phone: 3 pm – 11 pm daily, but they take days off whenever they want, so you just kind of have to stroll by to make sure they are open
Open hours: 084-177-6051
Prices: They make it easy, all dishes are sold in 25 THB portions, and rice is 10 THB – so my wife and I ate everything you see in this post for just 110 THB
ที่อยู่ ข้างโรงเรียนบุญวาทย์วิทยา ถนน สนามบิน ตำบล หัวเวียง อำเภอเมือง จังหวัด ลำปาง 52000
เปิดบริการทุกวัน 15.00 – 23.00
โทร. 084-177-6051
How to get there: The central part of old Lampang isn't all that big, so if you're staying in the central area*, you shouldn't be too far from this street food stall. The restaurant is located on Airport road (Sanambin road), directly outside the gate of Boonyawat Withaya School. For the map, scroll down to Lampang, and click on Khao Gaeng Im Aroy (ข้าวแกงอิ่มอร่อย).