Lampang Restaurants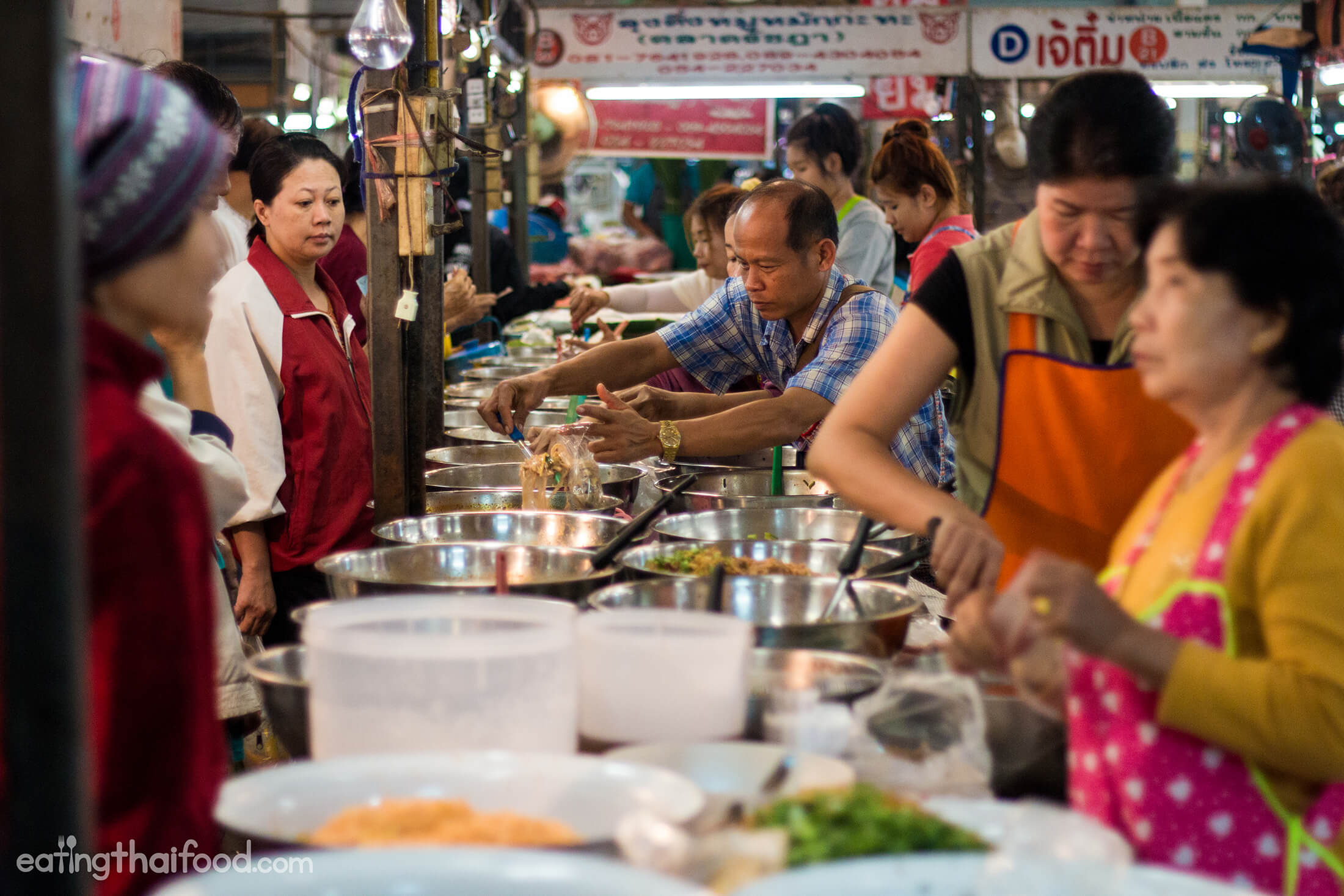 Lampang, home of the famous Wat Phra That Lampang Luang temple, horse drawn carriages, and little yellow and green pickup trucks, is located just an hour drive from Chiang Mai, yet in my opinion, it's quite a bit different.
While the city of Chiang Mai is a center of tourism and attracts nearly as many visitors as Bangkok, Lampang remains much less visited, and in my opinion, more traditional in general as well.
Lampang is one of my favorite large cities (by large I mean much bigger than a village) in Thailand, with a wonderful mixture of culture, friendly people, teeming markets, tradition, country, and plenty of delicious food to keep us all happy and busy.
Speaking of food, that's the reason I like to travel, and while Lampang offers all sorts of attractions, eating happens to be one of the best things to do.
Since Lampang is in northern Thailand, most of the local food you'll find is northern Thai, but just like any other city throughout Thailand, you'll also find Isaan food (green papaya salad and grilled chicken).
Here are some of the best restaurants in Lampang that I've eaten at and done reviews of:
Are you going to Lampang?
Khao Soi Islam (ข้าวซอยอิสลาม ลำปาง) – One of the most famous northern Thai dishes is khao soi (ข้าวซอย), egg noodles in a coconut milk curry gravy… but unfortunately I often don't like it too much because it's often too sweet and too oily. However, Khao Soi Islam (ข้าวซอยอิสลาม ลำปาง) in Lampang was a game changer to me – they serve by far the best bowl of khao soi I've ever had. The egg noodles are made fresh by hand everyday, and the curry is full of curry powder, rich from coconut milk, and overall just loaded with flavor. Additionally, the family that owns and operates the restaurant are all extremely friendly.
Mae Hae (ร้านแม่แห) – One of the most legendary restaurants in Lampang is Mae Hae (ร้านแม่แห), a motherly restaurant in the heart of the old part of the city, that specializes in preserving the traditional, unaltered, recipes of northern Thailand, and even regionally in Lampang. Everyone who is from Lampang knows about Mae Hae (ร้านแม่แห), and it's almost considered a restaurant that would be like going to Grandma's house – and that's exactly how I felt when I ate there. We ate a bunch of different dishes, including a selection of nam prik chili sauces, herb sausage (sai ua ไส้อั่ว), and probably the best gaeng hunglay (แกงฮังเล), a northern pork stew, that I've ever had in my life. The food at Mae Hae (ร้านแม่แห) is pretty greasy and porky, original Lanna cuisine, and it's absolutely marvelous.
Kuay Teow Boo Yong (ก๋วยเตี๋ยวปู่โย่ง) – In just about every city in Thailand there's one or a few restaurants that Thais say, you haven't been to the city, unless you've eaten there; For Lampang, Kuay Teow Boo Yong (ก๋วยเตี๋ยวปู่โย่ง) is one of them. The restaurant, which is located within an old neighborhood, in a wooden house like structure below a temple, is home to what is known to be some of the best beef meatballs (lookshin neua ลูกชิ้นเนื้อ) in Thailand. Apparently, the owner of the restaurant has been offered, on numerous occasions, to be bought out with his family recipe by big chains, but always refuses, no matter how much money is involved. I've never been a huge lookshin (ลูกชิ้น) eater, but when I was in Lampang, I had to eat at this restaurant. I'm happy to report, the beef meatballs were pretty good. I wouldn't say this is a restaurant you need to eat at in Lampang, but if you have time, or if you really love noodles and meatballs, give it a try.
Khao Gaeng Im Aroy (ข้าวแกงอิ่มอร่อย) – The name of Khao Gaeng Im Aroy (ข้าวแกงอิ่มอร่อย) roughly translates from Thai to mean something like "get full on delicious." The restaurant is actually just a street food stall that sets up on the outside of a school in Lampang in the evening, and everyday plenty of students (and their parents) stop by for a bite to eat, or some bags of food to go. I had walked past this street food stall in Lampang a number of times, and finally Ying and I stopped to eat. The food was overall quite good and at just 25 THB per dish, extremely affordable.
Jay Noy (ร้านเจ้น้อย) – If you're looking for more homestyle northern Thai food, that has a real home style cooking feel to it, Jay Noy (ร้านเจ้น้อย) is a fantastic restaurant to eat at in Lampang. They specialize in two main types of food, things on the grill like grilled pork and grilled packets in banana leaves, and freshly prepared northern Thai curries and soup. I tried a number of foods when I ate at Jay Noy (ร้านเจ้น้อย) and probably my favorite thing was the kaw moo yang (คอหมูย่าง), grilled pork neck.
Lampang is sort of what I would call lesser developed from cities like Bangkok or Chiang Mai, and there aren't as many official restaurants. Many locals, rather than going out to eat, often go to the market in the evening or morning to buy prepared foods. So one of the best ways to sample authentic northern Lampang food is actually not in a restaurant at all, but by purchasing takeaway from markets.
Again, Lampang is one of my favorite cities in Thailand, for its friendly and laid back culture, fantastic markets, and delicious food. I would highly recommend Lampang as an alternative to Chiang Mai.
I hope this page has been helpful, and as I continue to eat at more Lampang restaurants, I will continue to update this page with more restaurants and food tips.
– Mark Wiens
Get e-mail updates (for free)!
Enter your name and e-mail and join over 18,000 other Thai food lovers who receive exclusive tips and updates about the best Thai food: