Excellent Isaan Food at Wang Lang Market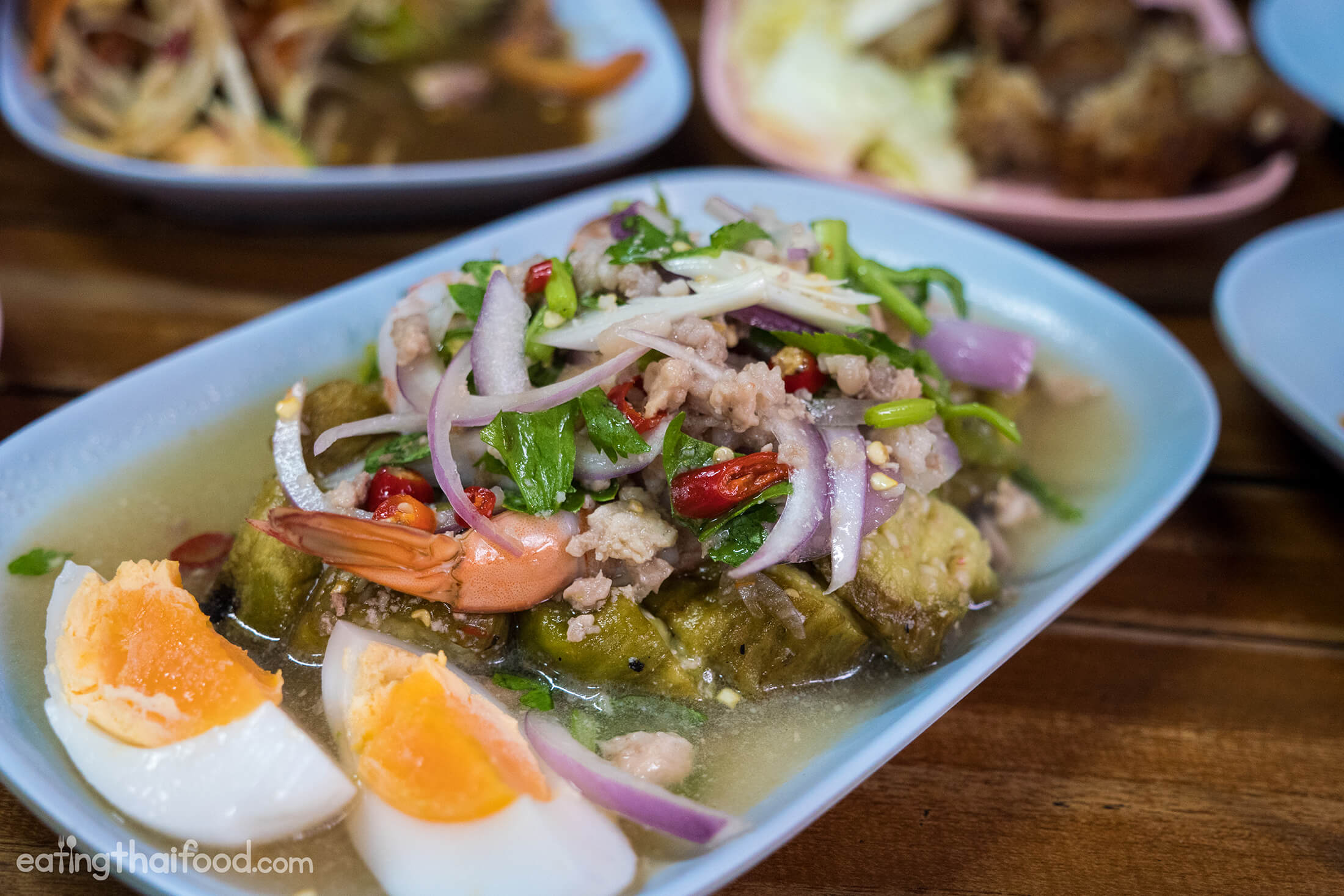 UPDATE 5 March 2017: Unfortunately this restaurant has closed indefinitely, I am very sad about it too. I have chosen to keep this blog post online to remember such a legendary Thai restaurant in Bangkok.
One of my favorite markets for food in Central Bangkok is Wang Lang Market (วังหลัง).
There's such a good variety of both street food snacks, and sit down local places serving southern Thai food to sizzling oyster omelet restaurants crammed into tight alleys.
Wang Lang Market is a full Bangkok eating paradise.
One of the restaurants I've been going to for years, but have just now gotten around to writing about, is Som Tam Sida (ส้มตำสีดา) – an excellent Isaan restaurant.
Som Tam Sida (ส้มตำสีดา)
Open for over 50 years within the walking street of Wang Lang Market, Som Tam Sida (ส้มตำสีดา), is a famous restaurant where you can grab a seat and take a break from the crazy shopping alleys of Wang Lang Market.
I don't think they have an English menu, but they have the full spectrum of Isaan dishes including all types of green papaya salad and grilled meats.
Grandmother at the front of the restaurant is in charge of pounding the green papaya salad, and she does it with expertise. Her son and other family members take care of the rest of the dishes.
Something funny the son told me:
"Grandma is friendly, just don't talk to her while she's making som tam… she'll forget to add an ingredient!"
That was awesome.
So I made sure not to ask her any questions while she was expertly tossing the ingredients into the mortar.
What I love about Som Tam Sida (ส้มตำสีดา), just like many other Thai restaurants, is that it's still family run.
Ok, let's proceed on with this meal…
Som tam boo pla ra (ส้มตำปูปลาร้า)
Having an Isaan meal without green papaya salad wouldn't be complete.
And I ordered my typical favorite version, som tam boo pla ra (ส้มตำปูปลาร้า), with fermented fish and crab. The owner, made sure to tell me that they really take health and hygiene seriously, and they boil and make sure the fermented fish sauce is safe to consume.
The Grandma at Som Tam Sida (ส้มตำสีดา) made no mistakes on the green papaya salad. The papaya was fresh and crisp, and the taste was pungent and spicy, with just a tiny sweet tinge.
Additionally, they used good quality dry shrimp in the som tam as well.
Tom saeb neua (ต้มแซ่บเนื้อ)
We also ordered a bowl of tom saeb neua (ต้มแซ่บเนื้อ), a common Isaan soup.
It was one of those bowls of soup that when you take your first spoonful, it makes you kind of shrivel and close your eyes, because it's so sour and spicy and flavorful.
Excellent green papaya salad
Sour and spicy soup
It was my kind of a tom saeb neua (ต้มแซ่บเนื้อ), and in addition to being perfectly sour, I loved how they tossed in a good handful of both green onions and cilantro to top it off – and they were still half raw so they were crunchy and full of earthy flavor to go with the beef broth.
The soup also had a lovely dry chili flake flavor to it.
Laab pla duk (ลาบปลาดุก)
If there's just one dish I can't miss at Som Tam Sida (ส้มตำสีดา) it's laab pla duk (ลาบปลาดุก) – it's been a favorite Thai dish of mine for a long time, and they do it incredibly well here.
It all begins with a smoked / grilled catfish, that is deboned and minced, and then mixed with all the typical ingredients used to make laaab meat salad.
What I love most about the laab pla duk (ลาบปลาดุก) here is that it's prepared dry. Some versions can be too moist, but here it's dry and has a marvelous smoky fish flavor.
If you come to Wang Lang Market, this is one of my favorite dishes.
Soop nawmai (ซุปหน่อไม้)
Soop nawmai (ซุปหน่อไม้), a bamboo shoot salad, is yet another dish they do excellently well at Som Tam Sida (ส้มตำสีดา).
The bamboo shoots were crisp and tangly, and the salad included a hint of pla ra (fermented fish sauce), and a bunch of raw garlic and green onions.
It had a bit of a pungent and fishy flavor, so you have to like that kind of thing. And if you do, you'll love this dish.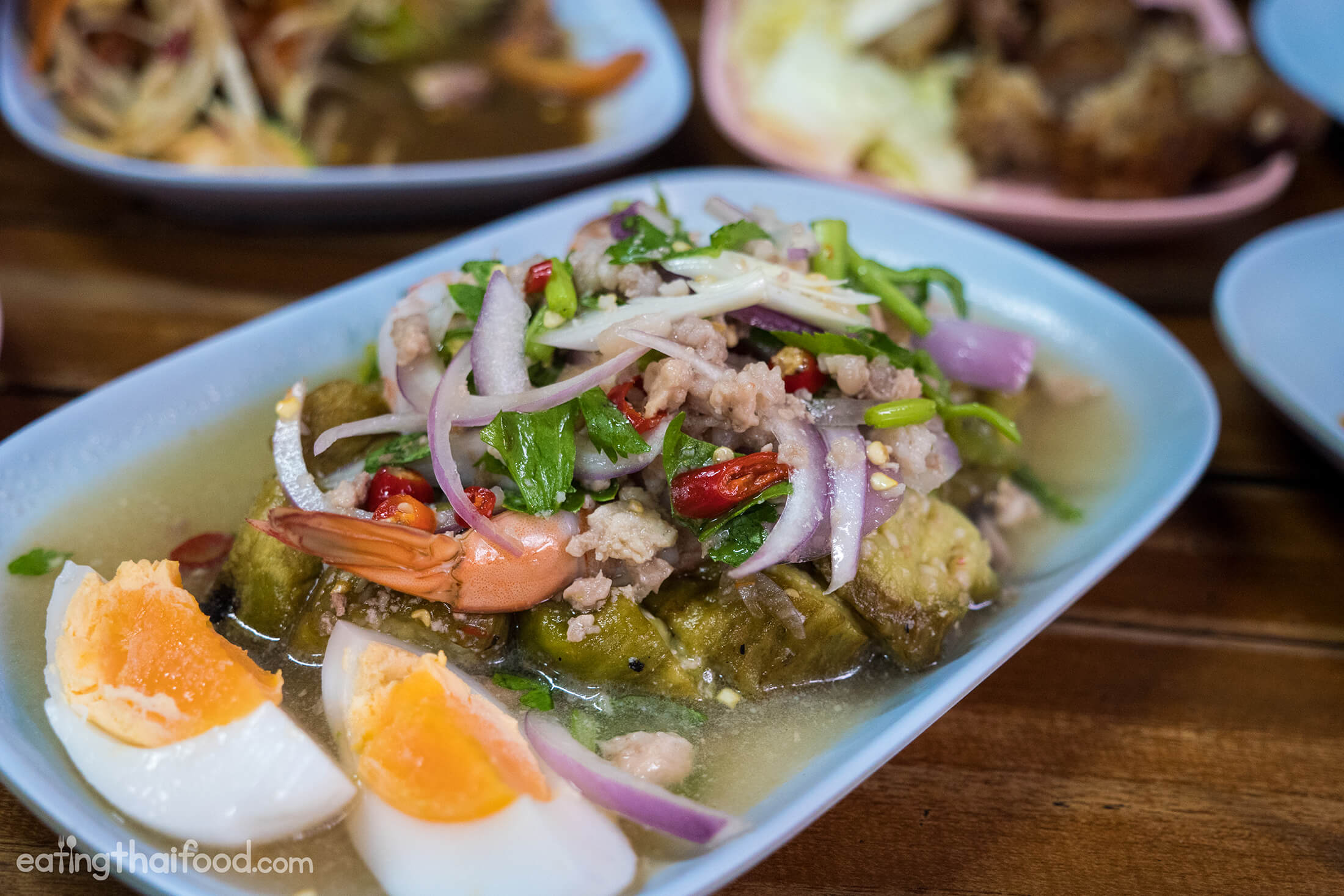 Yam makua (ยำมะเขือยาว)
Yet another winner off their menu at Som Tam Sida (ส้มตำสีดา) was the tam makua (ยำมะเขือยาว), their roasted eggplant salad.
Their version included roasted eggplant cut into bite sized pieces, then mixed with a bit of minced pork, some shrimp, and a good amount of crushed chilies, shallots, celery, and then a half of a hard boiled egg on the side.
Smoky eggplant salad
Pungent bamboo shoot salad
The dressing was nice and tangy, not too sweet, but well balanced. Good ingredients, and a great taste.
And additionally, it had an almost unbelievably smoky flavor from the eggplant that came a couple seconds after taking a bite.
Yam tua pu (ยำถั่วพู)
For another salad we ordered yam tua pu (ยำถั่วพู), winged bean salad, and it was my first time to have this dish at this restaurant.
It was unique here, different from many other typical versions found in Bangkok. Most of the time Thai winged bean salad has kind of a sweet and sour sauce to it, but this one was really peanuty – the sauce actually tasted like satay sauce.
Also included in the yam tua pu (ยำถั่วพู) were big shrimps and a couple slices of hard boiled eggs. Overall, it was quite good, and I enjoyed it.
Seua rong hai (เสื้อร้องไห)
The only dish that didn't really do it for me in this meal was the seua rong hai (เสื้อร้องไห), grilled beef.
It could have been the piece I was given, or because I took so many photos and the beef got cold – but it was dried out, a little tough, and not the best.
However, the nam jim jaew (dipping sauce) was excellent, with a great dry chili flavor, salty, and not sweet at all, and with a good fresh khao khua taste and crunch.
Sai krok Isaan moo (ไส้กรอกอีสานหมู)
Another dish Ying and I order every-time we eat at Som Tam Sida (ส้มตำสีดา) at Wang Lang Market is the sai krok Isaan moo (ไส้กรอกอีสานหมู) – Isaan style sausage.
Addmittedly, it's a little on the oily and fatty side (ok, very much so), but it tastes so good.
The sausage contains rice and pork, and what I love about it most is that it's nice and sour, and goes so well together with pieces of raw young ginger, chilies, and cabbage.
Conclusion
Som Tam Sida (ส้มตำสีดา) is a long-standing Isaan restaurant tucked into the walking alley of Bangkok's Wang Lang Market.
The restaurant serves up just about every type of Isaan dish you can imagine, and nearly all the dishes I've tried here over the years have been delicious. I especially love the Grandma at the front who handles all the som tam (green papaya salad) pounding. One of my favorite dishes at the restaurant is laab pla duk (ลาบปลาดุก), grilled catfish salad.
If you're exploring Wang Lang Market, and need to take a seat and a break from all the snacking (and by break I mean sitting and eating instead of standing and eating), Som Tam Sida (ส้มตำสีดา) is an excellent restaurant for an Isaan feast.
Som Tam Sida (ส้มตำสีดา) – Wang Lang Market
Address: 112/6 Soi Wang Lang, Thanon Arunamarin, Bangkok 10700 (right in the middle of Wang Lang Market on the walking alley)
Open hours: 9:30 am – 6:30 pm daily
Prices: Most dishes are about 40 – 50 THB, and our total bill was 300 THB ($8.33), but they
ที่อยู่ 112/6 ซอยวังหลัง ถนนอรุณอมรินทร์ (ซอยวังหลัง) ศิริราช  บางกอกน้อย  กรุงเทพมหานคร 10700
เปิดบริการทุกวัน 9.30-18.30 น.
How to get there: Som Tam Sida (ส้มตำสีดา) is located right in the middle of Wang Lang Market, and it's a walking street. The easiest way to get there is to take the Chao Phraya River boat to Wang Lang Pier, navigate your way to the alley that is parallel to the road, walk about half way down the alley, and it's on your left hand-side.