Prachak Pet Yang (ร้านประจักษ์เป็ดย่าง) – Another Legendary Duck Restaurant in Bangrak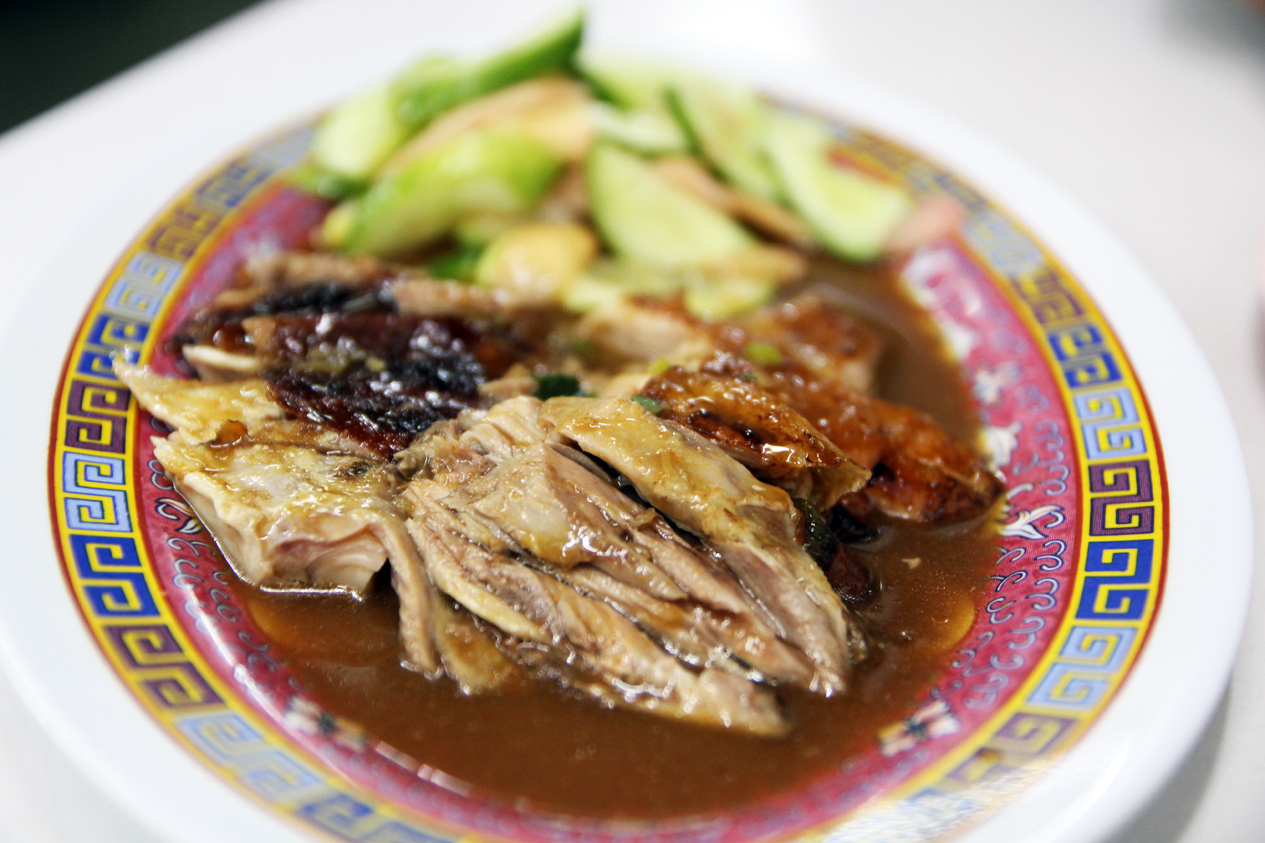 Roast duck is commonly found throughout Bangkok, especially in the heavily Chinese influenced areas of town like Yaowarat (video) and Bangrak.
Prachak Pet Yang (ร้านประจักษ์เป็ดย่าง) is one of the most famous of the selection, a legendary Cantonese style duck restaurant located right along Charoen Krung road, opposite Robinson's department store.
I've walked past this restaurant countless times, but somehow I never stepped foot inside, until I met up with fellow Thai food lover and photography David Salmanowitz.
It didn't take long for us to know exactly what we needed to eat…
…duck of course, being THE reason you go to eat at Prachak Pet Yang (ร้านประจักษ์เป็ดย่าง).
We got the pet yang (เป็ดย่าง large duck plate), which came as a decent portion sliced into bite sizes pieces and overflowing with duck juices.
The sauce was on the sweeter side, but it really went well with the salty duck and that slightly crispy melt-in-your-mouth duck skin. Along with nibbles of pink pickled ginger, their pet yang (เป็ดย่าง) was quite marvelous.
Price – 100 THB
Dave, a long time eater at Prachak Pet Yang (ร้านประจักษ์เป็ดย่าง), suggested we have bowls of his favorite ba mee boo (บะหมี่ปู), which I was happy to eat.
The egg noodles were fresh and tossed, so each noodle was separated without any clumpage. The portion of shell-less crab on top added a wonderful touch. A splash of soy vinegar and a scoop full of chili flakes brought the noodles together in a sweet symphony and spicy noodle collage.
Overall, great bowl of noodles for a light meal. And paired with alternating bites of sweet succulent duck, I was quite happy.
Price – 45 THB
Prachak Pet Yang (ร้านประจักษ์เป็ดย่าง), along with Charoen Wiang Pochana, are two of the most well known duck restaurants in the Bangrak area of Bangkok.
From the outside you'll just see the hanging beauties with a door to the right hand side.
The front of the restaurant doesn't look too big, but go inside and you'll find seats and even a couple floors of available tables – so it's bigger than it looks from the outside.
For a quick and tasty meal of duck and noodles, head over to Prachak.
The Bottom Line
Eat duck, it's good!
Prachak Pet Yang (ร้านประจักษ์เป็ดย่าง)
Address: 1415 Thanon Charoen Krung, Silom, Bangrak, Bangkok, Thailand
Open hours: 7 am – 10:30 pm daily (only closed during Chinese New Year and Songkran)
Prices: About 50 – 100 THB per person
ที่อยู่ : 1415 อาคาร ตรงข้ามห้างโรบินสันบางรัก ถนนเจริญกรุง แขวงสีลม เขตบางรัก กรุงเทพฯ
โทร. 08-3910-1444 , 02-234-3755 , 02-235-6324
เปิดทุกวัน เวลา 07.00 – 20.30 น. (หยุดเทศกาลตรุษจีน,สงกรานต์ )
How to get there:
It's located right along Charoen Krung road, just opposite Robinson's department store. You can take the BTS skytrain to Saphan Taksin, exit #3 (pass the Saphan Taksin boat noodles), head down Charoen Krung to your left, cross the road, and you'll find the restaurant.

View Bangkok Eating Thai Food Map in a larger map