P'Luang Coffee Shop: Bangkok's Source of REAL Coffee!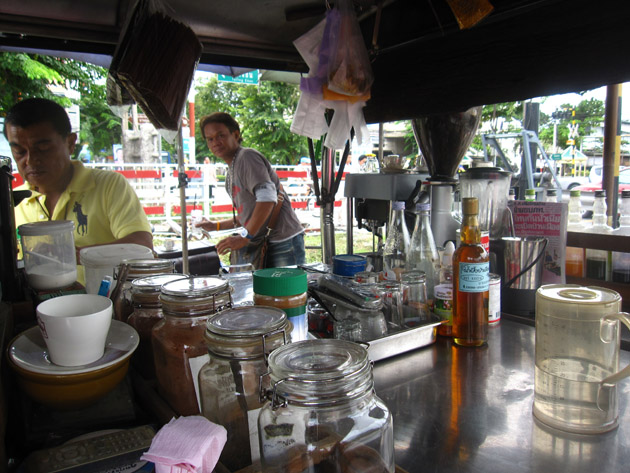 It's not easy to find a quality cup of coffee at a non-chain coffee shop in Bangkok, or in Thailand for that matter. I'm not blaming anyone for this, the perfecting of Thai street food was well worth the trade-off – and I can make a cup at home easily.
I am indeed a voracious coffee lover, but I despise that Thai brew where the vendor attempts to cover up the natural flavor of coffee with condensed milk until it turns into a saturated solution.
I make my coffee at home.
Meet P'Luang (พี่หลวงคนกาแฟ), a Thai coffee connoisseur that made it his mission to deliver quality coffee (he still has to make that sweet stuff to abide by the market as well).
P'Luang retired from working with the government 6 years ago and decided to pursue his dream: coffee!  The doors to his truck (street coffee shop) have been open everyday since, parked on a street corner in Bangkok.
The majority of his clients swing by, ordering take away drinks. I normally sit there, enjoy the company and watch as traffic and trains go by. He serves his drinks in an assortment of random cups and saucers, a selection that looks like it came from grannies ancient cupboard.
Price: Espresso – 30 THB
The coffee is made stout, using local Thai coffee beans grown in the North of the country.
P'Luang also concocts other drinks like chocolate milk, syrupy fruit shakes, and Thai teas.
The full-bodies coffee and ambiance of sitting on the street are what makes P'Luang Khon Gafe coffee shop what I would call, the best coffee in Bangkok!
Prices
Espresso – 30 THB
Hot coffee- 25 THB
Cocoa – 20 THB
Here's the Address
P'Luang Khon Gafe
On the corner of Charan Sanitwong and the Train tracks at Suthawat
Open: Everyday from 7:00 – 19:00
พี่หลวงคนกาแฟ
ตั้งอยู่บนถนนจรัญสนิทวงศ์ เส้นทางรถไฟสุทธาวาส
เปิด-ปิด 7.00-19.00 น.
How to Get There
Bangkok's best coffee is parked everyday on Charan Sanitwong, about 2 km from Siriraj Hospital. I've walked a number of time, or it's possible to catch a cab, bus, or motorcycle to get to the coffee shop in a hurry.

View P'Luang Khon Gafe พี่หลวงคนกาแฟ in a larger map