Authentic Thai Pad See Ew Recipe (ผัดซีอิ๊ว) – Street Food Style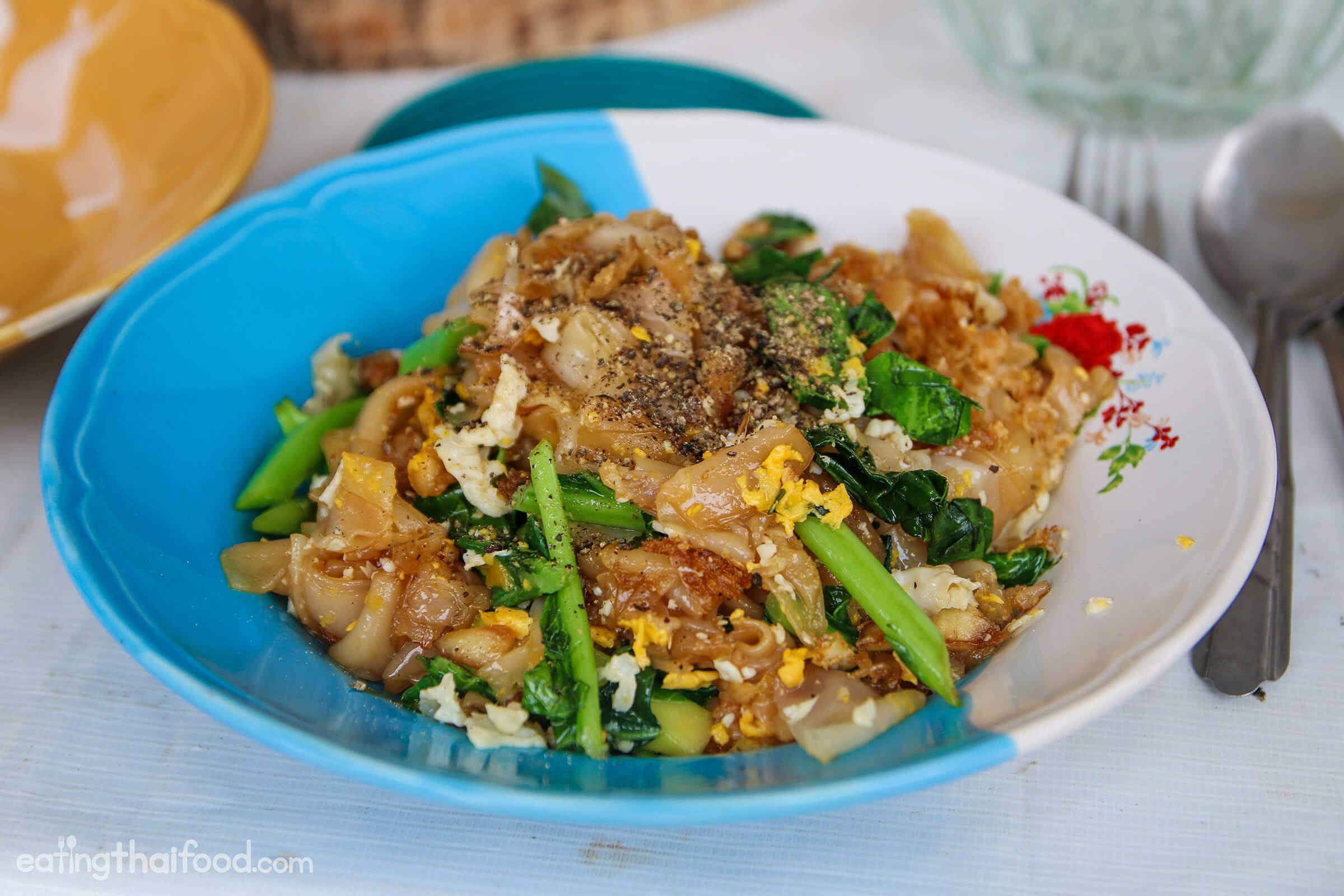 Pad see ew (ผัดซีอิ๊ว) Thai fried noodle dish that's extremely popular as a quick street food meal in Thailand.
In this pad see ew recipe, you're going to learn how to make an authentic version of pad see ew (ผัดซีอิ๊ว).
Let's start cooking!
Ingredients you'll need
2 TB oil for frying
3 cloves garlic
300 grams wide flat rice noodles (in Thai they are known as: sen yai, but you could also use Chinese chow fun)
200 grams chicken (or pork or beef)
1 handful of chopped Chinese broccoli (kailan)
1 egg
1 tablespoon light soy sauce
½ tablespoon dark sweet soy sauce (or Indonesian kecap manis)
½ teaspoon sugar
Garnish you pad see ew with dry chili flakes, black or white pepper, and vinegar for sourness if you like
Note: If you want to get straight to the steps and directions, scroll down to the recipe box below. Or keep reading for more of an in-depth explanation of the ingredients used for this pad see ew recipe.
The noodles
The main ingredient in every plate of pad see ew (ผัดซีอิ๊ว) is sen yai, wide thin rice noodles.
In Thailand you can purchase sen yai for this recipe at any local market, and they are available fresh and sold by weight.
In other parts of the world, you can probably find fresh wide rice noodles at most Asian supermarkets in major cities. The Thai sen yai noodles might not specifically be available, but you can substitute the Chinese or Vietnamese versions of thin wide rice noodles.
Dry noodles could work making this pad see ew recipe, but really try to find fresh noodles, as your pad see ew will taste much better.
Chinese broccoli
Another key ingredient in any pad see ew recipe is a green leafy vegetable, called pak kana in Thai, which is almost the same as Chinese kailan or Chinese broccoli.
Additionally, pad see ew is usually made with chicken or pork, but you can really choose whatever meat you'd like to go with this recipe.
Seasonings
There are a couple of main seasonings you'll need for this pad see ew recipe.
You'll need both light soy sauce and dark soy sauce. The light soy sauce gives a saltiness to the noodles, while the dark sweet soy sauce will give your pad see ew a darker color and a little bit of sweetness.
For this recipe, I usually use Golden Mountain soy sauce, and for the dark sweet sauce I use a Thai brand called Yan Wal Yun. However, I haven't seen that brand outside of Thailand, but you can substitute for an Indonesian sweet soy sauce.
Method of cooking
Overall, this is a pretty easy pad see ew recipe (ผัดซีอิ๊ว), but the hardest part of making it is working with the heat of the wok – too low and you won't get a good smokey taste, and too high and you'll burn the noodles (I've done it many times!).
I explain more about the method of cooking pad see ew in the video instructions below and through, but I normally begin on a medium heat, and then when I add the noodles I change to a low fire for a little bit, and finally at the end of cooking, just before adding the egg, I crank up the fire to a high heat to get some wok hei (at least try to).
As with so many Thai stir fry recipes, being in control of the ingredients with varying levels of heat is so important.
Note: It's also worth noting that it's very difficult to use an electric stove to make good pad see ew. If you don't have gas, another option is an outdoor grill, or you can use this chimney starter hack.
(If you can't see the video, watch it on YouTube here: http://youtu.be/fNzPwUreLCc)
Thai pad see ew recipe (ผัดซีอิ๊ว)
Time: About 30 minutes or less
Recipe size: This recipe is for 1 good sized plate of pad see ew
Utensils: Wok, spatula
Flavors: Salty, smokey
Eat it with:  Pad see ew is a one plate meal, fried noodles that includes meat, egg, and a green vegetables. It especially makes for a great lunchtime dish.

Pad see ew recipe (ผัดซีอิ๊ว)
Pad see ew (ผัดซีอิ๊ว) is a widely popular fried noodle dish in Thailand. The wide rice noodles are combined with Chinese broccoli, chicken (or other meat), and egg, and seasoned with soy sauce.
Ingredients
2 tablespoons oil for frying
3 cloves garlic
300 grams fresh wide rice noodles (sen yai)
200 grams chicken (alternatively you could really use any meat of your choice)
1 handful of chopped Chinese broccoli (kailan) - I used about 2 stalks for this recipe.
1 egg
1 tablespoon light soy sauce
½ tablespoon dark soy sauce
½ teaspoon sugar
Garnish with chili flakes, pepper, and vinegar if you like
Instructions
Comb through the fresh wide rice noodles, making sure any clumps are separated.
Peel then mince 3 cloves of garlic, slice the chicken into small bite sized pieces, and slice the Chinese broccoli into 1.5 centimeter strips.
Heat the wok (or frying pan) on a medium heat and add about 2 tablespoons of oil.
Wait until the oil is hot, and then fry the garlic for about 10 seconds or so, making sure it sizzles in the hot oil.
Add the chopped chicken to the wok and stir fry for it about a minute until the chicken is nearly all the way white in color and cooked pretty well though and through.
Now, turn down your heat (or if you're using an electric stove you can even move your pan off the burner for a moment).
Toss in the rice noodles, the Chinese broccoli, 1 tablespoon of light soy sauce, ½ tablespoon of dark soy sauce, and a ½ teaspoon of sugar.
Still on low heat, start to fold the noodles gently by picking them up with the spatula from the bottom, and folding them over (If you stir fry too hard, the stickiness from the noodles can make them turn into a big noodle blob - believe me, I've done this too many times and it's not pretty!).
Cook the noodles for about 1 -2 minutes. If it gets a little dry, you can drizzle in a tiny bit of oil.
After the noodles are well mixed, scoot the noodles to one side of the wok, and proceed to crack an egg into the empty side.
Now it's time to crank up the heat on your stove - for the final step we want a little char on the noodles and egg for great flavor.
Scramble the egg, and then fold the noodles onto the egg, sort of when it's half cooked. Let the heat sear the egg for a few seconds and then start folding the noodles and egg together. With a hot flaming fire, you should get a little char to both the noodles and the egg.
Fry for about 30 more seconds, making sure to be gentle with the noodles, and then turn off the heat and dish it out.
Sprinkle a little freshly ground pepper on the top of the noodles. You can also eat pad see ew with a bit of chili flakes on top and some vinegar for taste.
Conclusion
This pad see ew recipe (ผัดซีอิ๊ว) doesn't take a lot of ingredients, nor is it too challenging to make.
The hardest part is controlling the sticky noodles, and stir frying them from the bottom of the pan gently so they don't clump together.
The soft, slightly gooey wide rice noodles, the seared egg, the crisp kailan, and the slight char from the high heat stir frying, all combine together to make pad see ew (ผัดซีอิ๊ว) a wonderfully tasty Thai dish.
Let me know what you think of pad see ew (ผัดซีอิ๊ว) in the comments below.
Want to cook more Thai food? Click here to see all my Thai recipes.