Nong Stamp (ร้านอาหาร น้องแสตมป์) – Street Dining at Bangkok's Phlap Phla Chai Intersection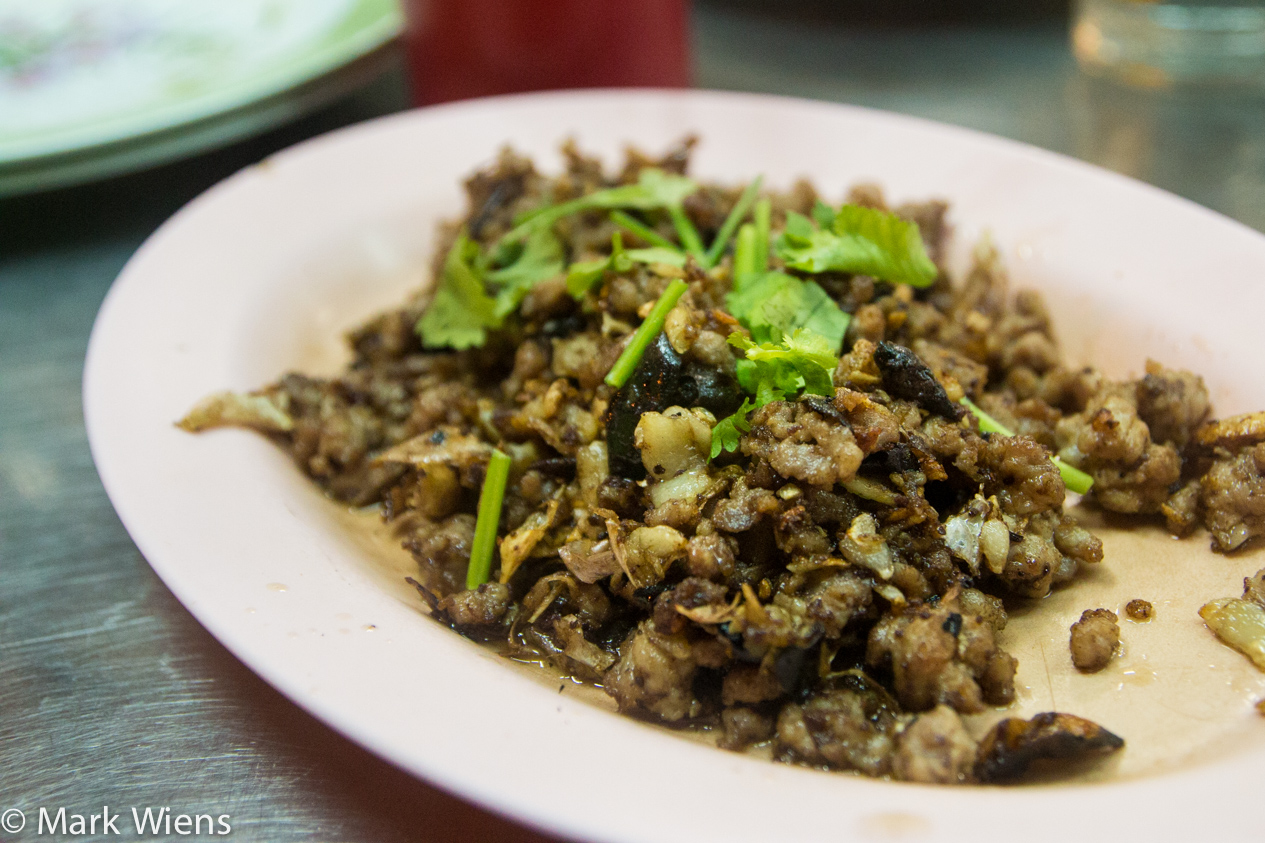 I've recently been eating around the Phlap Phla Chai intersection of Bangkok.
When Bangkok residents think of Phlap Phla Chai, they think of kuay teow kua gai (ก๋วยเตี๋ยวคั่วไก่), the smokey wide rice noodle dish, as there are a number of famous restaurants in the are serving the dish.
Kuay Teow Kua Gai Nai Hong (ก๋วยเตี๋ยวคั่วไก่นายฮ้ง) is the most famous street food stall in the area, but another restaurant just down the road, known as Nong Stamp Restaurant (ร้านอาหาร น้องแสตมป์), serves not only the famous kua gai, but also a full menu of stir fried Thai Chinese dishes.
Nong Stamp Restaurant (ร้านอาหาร น้องแสตมป์) is a shop house Thai Chinese restaurant, and in the evenings when they open, they expand onto the sidewalk, and most people choose to sit outdoors to enjoy the fresh air (or smog).
But anyway, if you choose to sit at one of the tables outside you'll be a lot cooler.
I love the tables, they're not those flimsy plastic kind, but they are the nice stainless steel ones.
And with those fantastic red plastic chairs you can't go wrong.
This entire area Bangkok is extremely famous for the dish known as khua gai (คั่วไก่), which is similar to pad see ew, but the recipe is even simpler.
It's just wide rice noodles stir fried with chicken, and squid, and an egg.
For appetizer we decided to get two bowls of their khua gai (คั่วไก่), one was just the normal version and the other was the seafood version, known as khua gai ruam talay (คั่วไก่รวมทะเล), which Nong Stamp Restaurant (ร้านอาหาร น้องแสตมป์) is well known for.
The regular version included just the normal recipe of wide rice noodles, chicken, pickled squid, and an egg. It had some good crusty fried edges, and a pretty decent flavor.
Price – 40 THB (normal kuay teow khua gai)
The seafood version, khua gai ruam talay (คั่วไก่รวมทะเล), was nearly the same mixture, just with extra squid, and a nice big prawn in the middle.
Price – 60 THB
It also had a nice smoky flavor, and being a lover of seafood I did enjoy the giant prawn.
After polishing off a couple bowls of khua gai, that were pretty decent, but not as good in my opinion as the spot next door, they brought out our main dishes.
First came the tom yum neua pla nam sai (ต้มยำเนื้อปลาน้ำใส) – tom yum with fish in the clear soup version of the dish.
I did enjoy the mixture of ingredients, including fish (which was a little rubbery), straw mushrooms, and especially the slivers of coconut shoots. Overall the tom yum was good and sour, but it had a tinge of sweet flavor to it, which I didn't like.
Price – 100 THB
We also ordered a Thai dish that I can't say I had ever eaten before, known as Nahm Liab Moo Sab (หนำเลี๊ยบหมูสับ).
At the time of eating it I actually didn't even know what it was, until I got back home and researched it. It was a dish of minced pork stir fried with Thai salted olives and a generous portion of fried garlic.
Price – 80 THB
To me it kind of tasted like stir fried sausage, and it had an incredible garlicky flavor to it. It was definitely a very flavorful dish, extremely salty, and very porky as well.
I really enjoyed it, but it was very greasy.
We also ordered kanaeng moo krob (แขนงหมูกรอบ) brussels sprouts stir fry with crispy pork belly.
This was my favorite dish of the meal at Nong Stamp (ร้านอาหาร น้องแสตมป์).
The brussels sprouts were wok fried, just slightly on a high heat, so it still remained crisp and fresh, but slightly cooked at the same time.
Price – 70 THB
Along with the little bits of crispy pork belly, and a light seasoning of soy sauce and chilies, I absolutely loved it.
I don't normally eat khao tom (ข้าวต้ม rice soup), simply because I prefer a plate of regular steamed rice most of the time.
But for some reason I was feeling like eating khao tom the night I went to Nong Stamp (ร้านอาหาร น้องแสตมป์) and it was actually really good.
The dishes we ordered, including the minced pork with olives and brussels sprouts were all quite salty, so they went well with the plain taste of the khao tom (ข้าวต้ม).
The Bottom Line
It's a nice laid back shophouse, yet street food dining restaurant. They offer a good range of Thai Chinese stir fried dishes, plus famous khua gai noodles, wich are decent.
Many local men come here to hang out, have some drinks, and some really tasty salty food. It's great.
I thought the food was a little on the salty side, but very good.
Nong Stamp Restaurant (ร้านอาหาร น้องแสตมป์)
Address: 435 Thanon Luang Wat Thapsirin Bamprap Sathupai (on the corner of Phlap Phla Chai intersection)
Prices: 100 – 200 THB per person, but a single bowl of khua gai will cost 40 – 60 THB
Open hours: 4 pm – 2 am daily
Phone: 02-621-5599
ที่อยู่ 435 อาคาร ใกล้กับสถานีตำรวจพลับพลาไชย ถนนหลวง แขวงวัดเทพศิรินทร์ เขตป้อมปราบศัตรูพ่าย กรุงเทพฯ 10100
เปิดทุกวัน เวลา 16.00 – 02.00 น.
โทร. 02-621-5599
How to get there:
The restaurant is not far from Chinatown, or Hua Lamphong, but it is sort of in between public transportation systems, so it's easiest to get there by taxi.
Another option is to walk from Hua Lamphong MRT station, which takes about 20 minutes or so.

View Bangkok Eating Thai Food Map in a larger map