Naj Exquisite Thai Cuisine – Luxury Thai Dining in Bangkok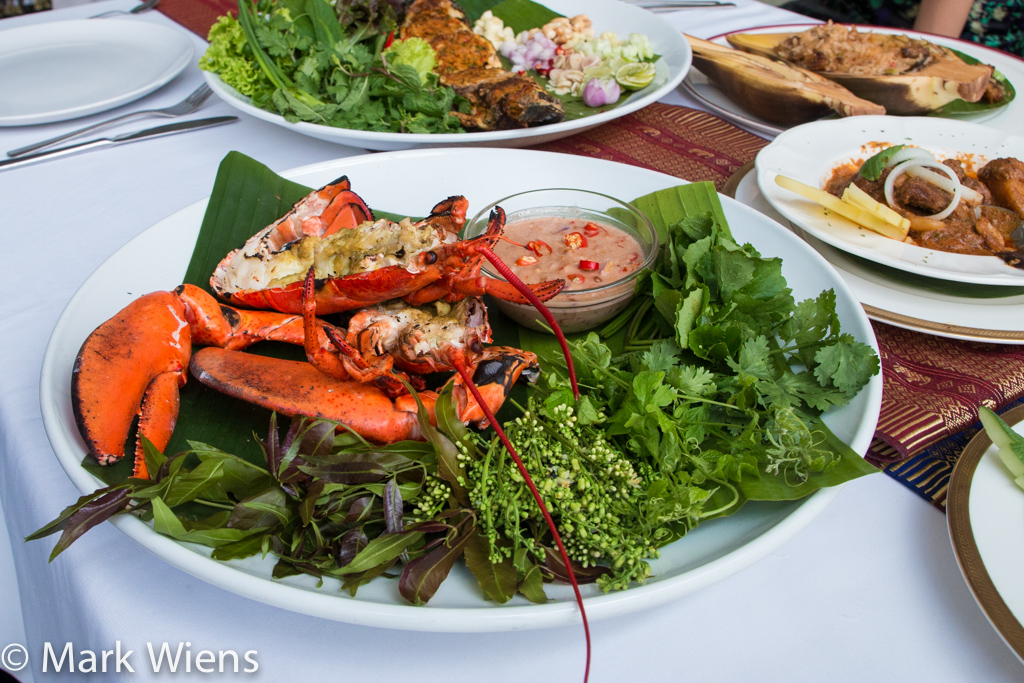 I first met Chef Kan, the chef and owner of The Local in Bangkok, along with Dwight Turner, years ago, and both of us loved the strong flavors of the food and the traditional, southern influenced Thai dishes on the menu.
Naj Exquisite Thai Cuisine is the original restaurant of The Local. Chef Kan's mother started the restaurant years before The Local ever existed.
Understanding the cuisine of Naj
Naj specializes in serving exquisite Thai cuisine, which, after eating there, to me translates to something between traditional and uniquely creative Thai dishes, many of which use time-tested recipes, prepared with high quality ingredients.
Along with some unique recipes that Kan's mother has developed over years of Thai traditional culinary experience, many of the recipes she serves at Naj are authentic Royal Thai dishes.
Chef Kan and his mother invited Ying and myself to Naj one day, and since I had never been there, and since The Local is one of my favorite nicer-end restaurants in Bangkok, I was excited to go.
Chef Kan, along with his mother, have been developing a series of new recipes for their menu at Naj, and he was extremely excited to prepare a few dishes that he's getting ready to add to their menu, for us to try.
The restaurant is housed in a one hundred year old wooden home, right in the heart of Silom. While sky rise buildings surround it, Naj still remains traditional, both inside and out.
Part of the beauty of eating at Naj is just admiring the old house and atmosphere of the restaurant. They even have a wine cellar in the basement – you've got to check it out if you eat there.
Ok, let's move into the delicious food…
Kapi khua (กะปิคั่ว)
We started with a dish called kapi khua (กะปิคั่ว).
You might know about nam prik kapi (นำ้พริกกะปิ), which is one of the most popular forms of Thai chili sauce, made with fermented shrimp paste, lime juice, and lots of garlic and chilies.
Kapi khua (กะปิคั่ว) is a little different – the shrimp paste was dry roasted, then thickened with coconut cream, and just like any nam prik, it was served with a selection of vegetables.
Price – 220 THB
The kapi khua (กะปิคั่ว) was incredible, rich and smoky flavored, and though Chef Kan told me there were no peanuts in the recipe, it had a nutty flavor to me.
The consistency was almost like peanut butter, sticky and thick, and extremely rich and marvelous.
Along with the kapi khua (กะปิคั่ว), the selection of raw vegetables served were incredibly well carved and detailed.
I know first hand how tedious and how much skill is required to carve fruits and vegetables like that (mine didn't turn out so well). It's a beautiful Thai tradition.
Pla chon yad sai ua (ปลาช่อนยัดไส้อั่ว)
With a smile on his face, Chef Kan emerged from the kitchen with a huge platter, filled with a dish himself and his mother named, pla chon yad sai ua (ปลาช่อนยัดไส้อั่ว).
A pla chon is a snakehead fish, common in Thai cuisine, and sai ua is the famous northern Thai spiced sausage.
But this could be the first time the two have ever been combined.
The pla chon was hollowed out, and the meat of the fish was mixed with ground sai ua sausage, then refilled back into the skin and body of the snakehead fish, and baked until crisp.
It was a genius idea of a dish and the flavor was equally genius.
Normal pork sai ua is quite awesome, although it can be a little heavy and greasy.
What I really loved about the pla chon yad sai ua (ปลาช่อนยัดไส้อั่ว), was not only how cool it looked, but also that it had the same glorious flavor of any sai ua – the lemongrass, kaffir lime leaves, and chilies – but it was much more lean, and smooth from the flesh of the fish.
Massaman leen wooah (มัสมั่นลิ้นวัว)
Massaman is one of the more well known Thai dishes outside of Thailand, although I'm usually not a huge fan of ordinary massaman curries – normally because it's usually sweet and not spice heavy enough for me.
At Naj Exquisite Thai Cuisine, we had massaman leen wooah (มัสมั่นลิ้นวัว), Thai massaman curry made with ox tongue, which had been stewed for hours until fall apart tender.
Price – 450 THB
The tongue was indeed unbelievably tender, and the flavor of the massaman curry sauce was very complex, not too sweet, and had a wonderful nutty flavor, as well as hints of cumin and Siamese cardamom.
I also really loved the zest of som sa (ส้มซ่า), which is similar to a bitter orange, sprinkled on top – a Thai citrus that was commonly used in Royal Thai cuisine, but rarely found in Thai cooking anymore.
This massaman was marvelous.
Khao kluk pad nam prik pla duk yang nai hua pli (ข้าวคลุกผัดน้ำพริกปลาดุกย่างในหัวปลี)
The khao kluk pad nam prik pla duk yang nai hua pli (ข้าวคลุกผัดน้ำพริกปลาดุกย่างในหัวปลี) was a little different from the normal street food style Thai fried rice.
It was a dish of Thai jasmine rice, fried with separately fried deboned catfish, which was then filled into a banana flower, sealed, and roasted until blackened over a hot fire.
For this Royal Thai dish, the banana flower wasn't actually for eating, but it was rather used to keep the rice moist, and give it a unique earthy aroma.
Price – 250 THB
The rice was nice and fluffy and it indeed took on a wonderful fresh fragrance. The rice was served with thin slices of starfruit, chilies and cucumbers to give it an extra fresh touch.
Lobster yang nam pla wan baeb dai (ล๊อปเสตอร์ย่างน้ำปลาหวานแบบใต้)
I honestly thought we were done eating, Ying and I were wiping our lips with our napkins…
…and that's when Chef Kan came out of the kitchen one more time, this time with the biggest smile I had seen on his face yet.
And soon, I think I had the biggest smile on my face I've had for a very long time as well…. lobster does that to me.
There's a fairly common Thai dish called pla duk yang sadao nam pla wan (ปลาดุกย่างสะเดาน้ำปลาหวาน), a roasted catfish served with sweet sauce and sadao (สะเดา), the bitter buds of the neem tree.
The salty catfish is eaten with bites of the bitter buds and the sweet sauce, to create a contrast of flavors in the mouth.
The inspiration for this dish came from the grilled catfish, but instead of a catfish, chef used a lobster.
The lobster was a bit smaller, yet better quality than the one I ate in Hua Hin, and I can say I was like a little kid ready to dig in.
The lobster was roasted to perfection, moist and juicy, the sauce was slightly sweet, creamy, and lightly salted with a hint of shrimp paste… it was like shrimp whipped cream, but not too sweet.
A bite of the fleshy sweet lobster, the sauce, and some of the countering bitter herbs, was spectacular – I could hardly have been more happy.
It was quite an honor to be invited to Naj Exquisite Thai Cuisine restaurant to sample a few of Royal and traditionally inspired dishes, and the meal we had was fantastic.
Conclusion
Naj Exquisite Thai Cuisine is a fine dining Thai restaurant in Bangkok that serves a selection of authentic Royal Thai dishes, as well as unique dishes that the owner has developed.
I thought the food was delicious, with great quality ingredients, and I was also impressed with the traditional recipes, methods of cooking, and the gorgeous food presentation – a practice associated with Royal Thai cuisine.
Naj is a wonderful restaurant in Bangkok for a high-end Thai dining experience, with a menu of traditional and Royal inspired Thai dishes.
Naj Exquisite Thai Cuisine
Address: 42 Convent Road, Silom, Bangkok, Thailand 10500
Phone: (662) 632-2811-3, (662) 632-1004-6
Open hours: Lunch from 11:30 am – 2:30 pm and Dinner from 5:30 pm – 11:30 pm daily
Prices: About 500 – 1,000 THB per person
Website: http://www.najcuisine.com/webnaj/home.html
How to get there: Naj Exquisite Thai Cuisine is located in the Silom are of Bangkok, directly across the street from BNH Hospital. It's about a 5 minute walk from Sala Daeng BTS station, just down Convent Road, and on the right hand side of the road.
Disclaimer: I've been a friend of the owner of Naj Exquisite Thai Cuisine restaurant for many years now, so I didn't pay for this meal, but I wasn't paid to write this post either. Chef Kan has been a friend of mine for years, and I'm huge fan of his cooking and restaurants.