Nadimos, incredibly satisfying Lebanese restaurant in Bangkok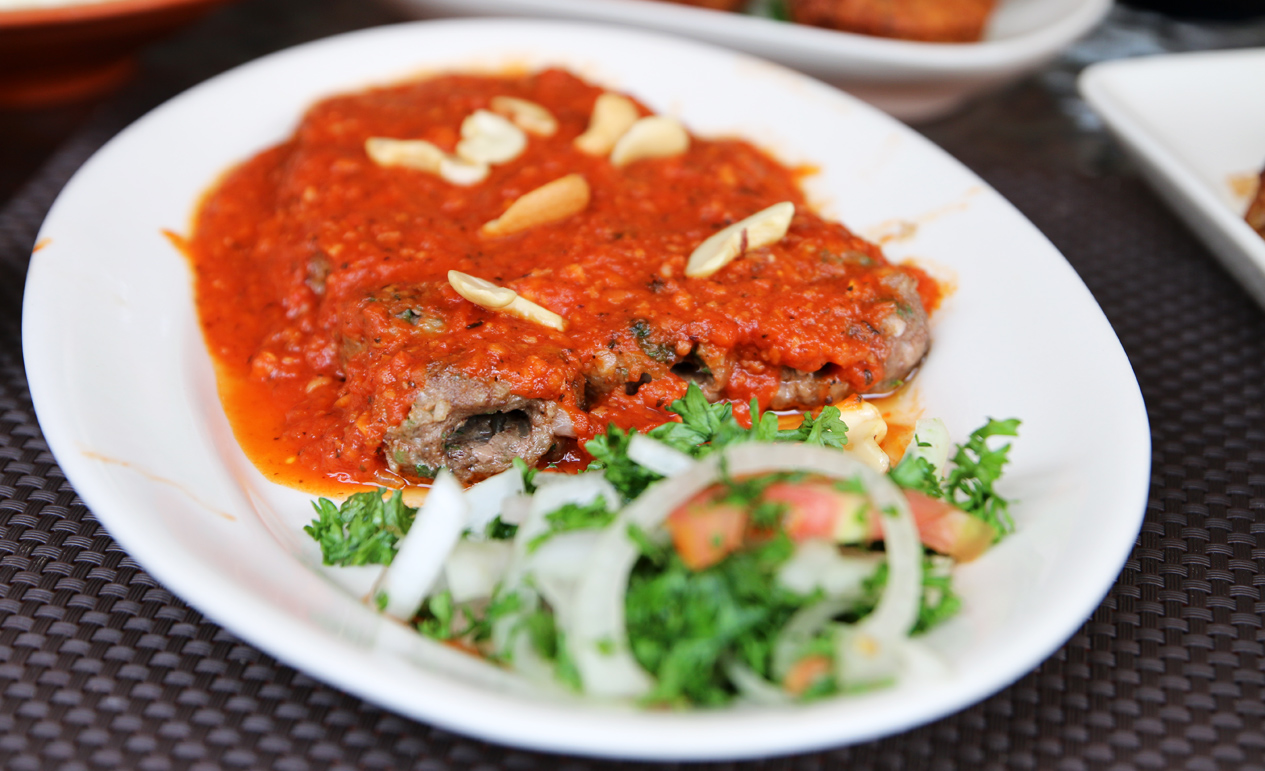 Along with Thai food, Bangkok has plenty of wonderful international restaurant options.
There's a restaurant in Bangkok that will satisfy just about anybody's craving from around the world (apart from Mexican..I think).
When it comes to Lebanese food, there's actually quite a few different choices in Bangkok, and one of the best is Nadimos.
Most of the time, I'm a pretty hardcore Asian food eater, mostly sticking to Thai, Chinese, Japanese and Indian. But if I veer from the Asian palette, Lebanese food is something I'm always excited about.
One thing I really like about Nadimos is that the menu is quite exclusively Lebanese food.
Some international restaurants in Bangkok feel the need to include Thai dishes (such as Pad Thai) in the back of their menu, I guess just because it's in Thailand… but I'm much happier when I go to an authentic Lebanese restaurant, and don't find any traces of Thai cuisine on their menu.
After ordering, not just a garnish plate of vegetables came to the table, but literally an entire bowl, filled with whole tomatoes, cucumbers, cabbage, carrots, lettuce, spring onions, and a steak knife.
I was thrilled from the very first moment! Dipped in the variety of garlicky cream sauces, the vegetables were fantastic.
If you like drinks, the mint shake, was beautiful, packed full of fresh mint and lime juice, and with a nice smoothie texture.
Price – 110 THB
One of my all-time favorite Levantine dishes is baba ghanoush, a paste made from roasted eggplant, tahini paste, and olive oil. Years ago, its what got me really into eggplant, a vegetable I'm still obsessed with now.
Pictured above is not actually baba ghanoush, but mutabbal which is quite similar. Nadimos did an amazing job, it was so fresh and creamy, with notes of pungent garlic, and sweet pomegranate seeds on top, plus just the right amount of olive oil.
Price – 150 THB
Tabbouleh is another classic, a refreshing salad made from parsley, bulgar wheat, tomatoes, and plenty of lemon juice.
Price – 130 THB
As a side note, along with the marvelous Lebanese food served at Nadimos, the staff (I ate at the Silom branch) were all really nice and friendly and helpful as well.
I've eaten plenty of Middle Eastern style kebabs, and my initial thought was that I was going to order kebabs again, as I know how much I love them.
But browsing through the Nadimos menu, my eye got stuck on kebab khashkhash, and it was a must.
Triplet lamb kebabs were roasted over fire, then smothered in a light yet flavorful tomato and garlic puree. It was absolutely sensational, my first time to eat this Lebanese dish, and I'd highly recommend it.
My mouth is watering just thinking about it right now.
Price – 210 THB
Falafel, is yet another classic when it comes to cuisine from this part of the world.
The falafel at Nadimos was quite good, nicely flavorful, but a little drier perhaps then I would have liked them. Nevertheless, the flavor was excellent, and along with some of that  kebab khashkhash, I was happy.
Price – 140 THB
Finally, to round off a winner of a meal at Nadimos, we ordered the half a barbecue chicken.
The meat was nice and charred, and had some excellent smokiness to it. The marinade was light, but just enough to give the chicken a good tinge of flavor.
Price – 180 THB
The staff and manager at the Silom branch of Nadimos restaurant were so nice, they actually served me a complimentary dessert and coffee.
I had never eaten namoura before, a traditional Lebanese sweet. I'm not that big of a desserts fan, but I have to say, this namoura, made with semolina flour, was excellent, with sort of a honey flavor.
The Bottom Line
The bottom line is this, Nadimos restaurant serves outstanding Lebanese food. Being served an entire bowl of fresh vegetables to begin with is a wonderful idea, and the food is just extremely satisfying.
For great Lebanese food in Bangkok, head to Nadimos restaurant.
Nadimos Lebanese Restaurant – Bangkok
Location: Baan Silom soi 19 Bangrak Bangkok 10500 (ที่อยู่ บ้านสีลม ซอย 19 บางรัก กรุงเทพ 10500) – There are two branches, one on Silom Soi 19, the other on Sukhumvit Soi 24.
Tel: 02-266-9081
Open hours: 11:30 am – 11:30 pm daily
Website: http://www.nadimos.com/
How to get there:
The closest BTS station is Surasak, and you can cut across from Sathorn road to Silom road and then into Baan Silom (a little plaza), walking takes about 10 minutes or so. Otherwise grab a taxi or motorbike from either Chong Nonsi, Surasak, or even Saphan Taksin.

View Bangkok Eating Thai Food Map in a larger map