Lek and Rut Seafood Restaurant in Bangkok's Chinatown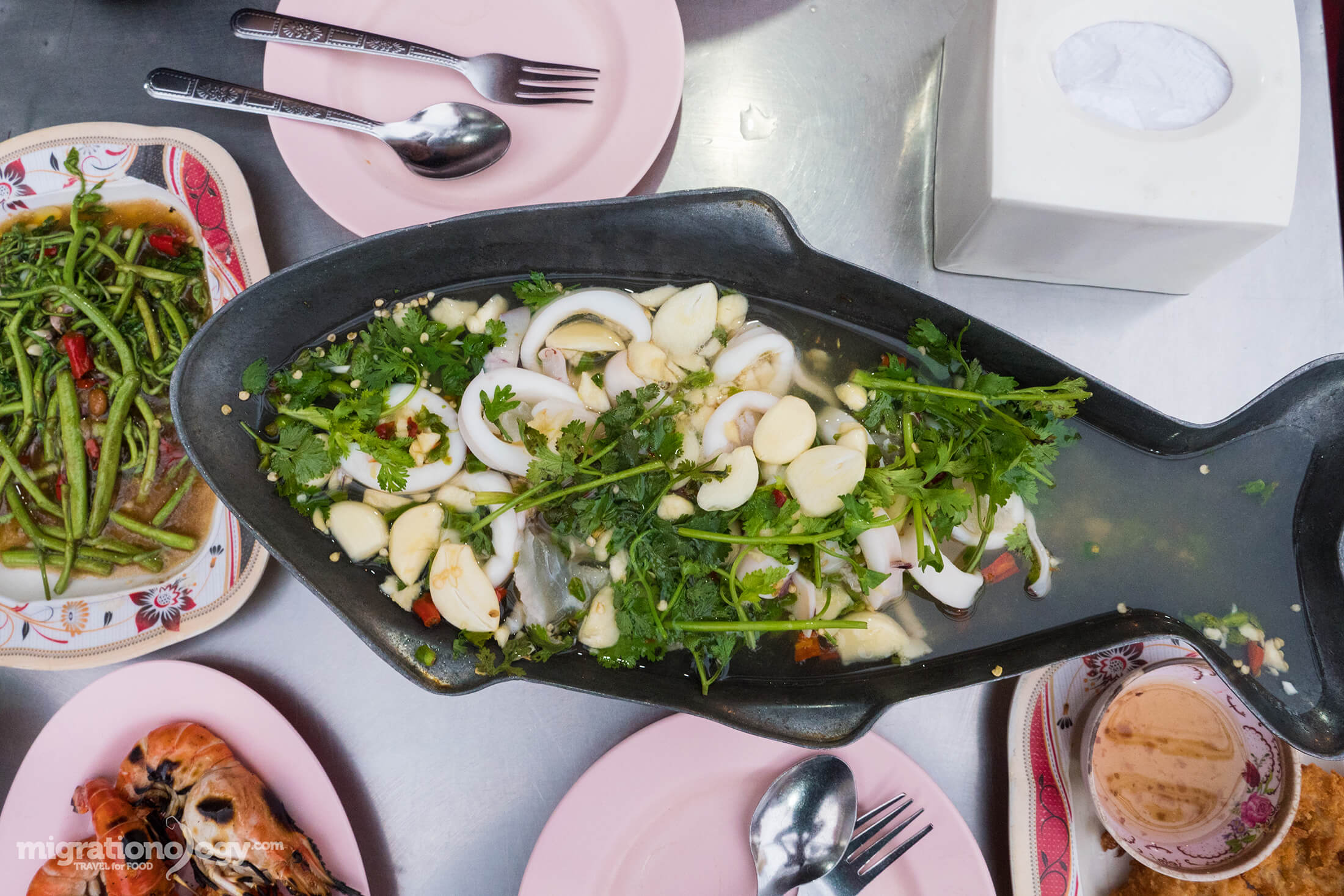 Bangkok's Chinatown (known as Yaowarat) is known for its incredible street food and seafood.
Located along the corner of the always bustling Yaowarat Road and Phadung Dao (also known as Soi Texas), is Lek and Rut Seafood (ล็กกับรัตน์ซีฟู้ด), one of the legendary street food seafood restaurants in Chinatown.
On the menu you'll find an extensive list of mostly Thai Chinese dishes, mainly based on seafood, though other meats and plenty of vegetables are available as well.
While the food is overall quite good, one of the main reasons to eat at Lek and Rut when you're in Bangkok is to experience Bangkok street food atmosphere at its best.
Keep reading to see what I ordered…
Lek & Rut Seafood Restaurant (ล็กกับรัตน์ซีฟู้ด)
I'm not really going to focus this post on the rivalry between Lek and Rut Seafood (ล็กกับรัตน์ซีฟู้ด) and T & K Seafood restaurant located right across the alley.
But just so we're all on the same page, T & K Seafood restaurant (when facing them from the main road) is on the right side, characterized by green, and Lek and Rut Seafood is on the left side, with all red. Serving just about the same exact menu, they are pretty intense rivals.
Starting at about 5:30 pm each evening, the street food scene in Yaowarat shifts from the daytime stalls to the stalls that will occupy the side of the streets for the evening and throughout the night.
Lek and Rut Seafood (ล็กกับรัตน์ซีฟู้ด) has both an indoor AC room, and they also set up tables on the corner of the road, and do some outdoor cooking on the corner as well. You'll notice all the red shirted staff, plus red tables and chairs on the corner.
If you take a peak at the grilling station on the corner, you'll see a mound of different types of seafood, including a heap of freshwater shrimp, which are one of their specialties.
Tod man goong (ทอดมันกุ้ง)
To get our meal at Lek & Rut Seafood (ล็กกับรัตน์ซีฟู้ด) restaurant started, we ordered a plate of tod man goong (ทอดมันกุ้ง), deep fried shrimp patties.
In Bangkok there's another very popular type of tod man, made with pureed fish paste, mixed with red curry paste, and deep fried in spongy flavor filled fish cakes.
And although these are similar, they are quite different in taste, consisting of just pure shrimp, ground up, without the curry paste, slightly battered I think, then deep fried until golden.
Apart from a thin crispy batter on the outside, I think they were just solidly ground shrimp, and because they served them hot and fresh, still piping with steam and crispy on the edges, they were incredibly delicious.
The tod man goong (ทอดมันกุ้ง) was also served with a sweet sticky plum sauce for dipping, that I think tasted similar to a honey sauce. It was nice to balance the salty shrimp patties with the sweet plum sauce, but honestly I just preferred them plain all on their own.
Meuk kai neung manao (หมึกไข่นึ่งมะนาว)
At Thai seafood restaurants in Bangkok my wife and I often order pla kapong neung manao (ปลากะพงนึ่งมะนาว), a barramundi fish steamed, then topped with heaps of garlic, chilies, and a soup dressing of lime juice and sugar.
It's one of the Thai seafood classics, and is available at just about all Thai seafood restaurants including Lek and Rut.
However, for this particular meal, we decided to order meuk kai neung manao (หมึกไข่นึ่งมะนาว), pretty much exactly the same thing, except instead of a fish, it was squid including squid eggs.
Really though, I would typically like the fish more, but by chance we had been eating lots and lots of fish lately when we ate here, and so went for the squid – which didn't let us down.
The squid, which I'm assuming were mostly female, and all packed full of creamy eggs, were sliced into rings, then submerged in the lime juice soup, topped with a decently good amount of sliced raw garlic, crushed chilies, and a few handfuls of whole cilantro pieces.
The entire assembly was then served on a fish shaped, coal heated, fire pan, typically for this dish in Thailand.
For meuk kai neung manao (หมึกไข่นึ่งมะนาว) and the fish version, it's somewhere halfway between a soup and a sauce. Typically you take bites of the squid, and then follow it by a spoonful of the sour soup.
The squid was nice and tender, just slightly rubbery in a good kind of way, and the lime juice was sour and puckery, with a sweetness to balance it out. And even though the squid was good, my favorite part of the meuk kai neung manao (หมึกไข่นึ่งมะนาว) at Lek and Rut were all the fresh raw slices of garlic – that alone bumped up the excitement.
Goong pao (กุ้งเผา)
Although these are freshwater shrimp, goong pao (กุ้งเผา), roasted shrimp are one of the best foods to eat at any Thai seafood restaurant on the street.
The shrimp are not quite the freshness or the size of the jaw-droppers of Ayutthaya, but nevertheless, if you're a shrimp lover, they are well worth ordering – and some people eat here just to get an entire plate full of grilled shrimp.
Lek and Rut Seafood Restaurant
Goong pao (กุ้งเผา)
In order to prepare the goong pao (กุ้งเผา) all they do is grill them over hot charcoal until the shell starts to blister, leaving the meat inside juicy and creamy with a smoky touch.
The grilled shrimp are served on a plate along with a side of Thai seafood dipping sauce that includes chilies and garlic, lime juice, fish sauce, and sugar.
The shrimp shell made the freshwater shrimps look a bit bigger than they actually are, but still, they were pretty good sized.
When I peeled them, I could immediately feel and see the juicy and creaminess of them. The body of the shrimp was firm and custardy, and with a quick dip into the seafood sauce, it enhanced them even more.
Also, don't forget to suck out all that shrimp head oil, one of the best parts of eating freshwater shrimp. It has a shrimpy and slighty bitter taste to it.
Pad pak krached (ผัดผักกระเฉด)
One of my favorite vegetable side dishes to order at Thai seafood restaurants is pad pak krached (ผัดผักกระเฉด), stir fried water mimosa.
Unlike water morning glory, a more popular option, water mimosa is more tangy and a little more chewy in texture – that's one of the things I love so much about it – the texture.
The water mimosa was stir fried on a high heat fire so you could taste the breath of the wok in it, and it included lots of garlic, chilies, and a nice ratio of oyster sauce, soy sauce, and some fermented soy bean sauce for extra flavor.
It was a very good plate of pad pak krached (ผัดผักกระเฉด), I'd highly recommend it as a side dish when you eat at Lek and Rut Seafood (ร้านเล็กกับรัตน์ซีฟู้ด).
Prices
When it comes to eating seafood in Bangkok, and especially for a restaurant right in the middle of Yaowarat Chinatown, where both many tourists and locals eat, I think the prices are pretty low, and the overall value of the food is very good.
The total price for everything shown in this review, a meal that just my wife and I ate, but could have probably been for more, came to a total price of 690 THB ($19.14).
Conclusion
Lek & Rut (ร้านเล็กกับรัตน์ซีฟู้ด) is a popular seafood street food restaurant in Bangkok's Yaowarat Chinatown.
They serve a huge range of different Thai and Chinese seafood dishes. On my previous meal there, I had squid steamed in lime and garlic sauce, deep fried shrimp patties, roasted freshwater shrimp, and water mimosa.
If you love seafood and if you're wandering around Chinatown in Bangkok, Lek & Rut (ร้านเล็กกับรัตน์ซีฟู้ด) is a great restaurant to sit for a while, enjoy some delicious seafood, and especially enjoy the action packed atmosphere.
You might also be interested in: My Favorite Restaurants in Bangkok
Lek & Rut Seafood Restaurant (ร้านเล็กกับรัตน์ซีฟู้ด)
Address: Corner of Yaowarat Road and Phadung Dao Road, Samphanthawong, Bangkok 10100
Open hours: 5:30 pm – 2 am daily
Phone: 02-224-8587
Prices: Pretty decent Thai seafood restaurant prices, dishes range from 50 – 200 THB or so, more for whole fish
ที่อยู่ หัวมุมถนนผดุงด้าว แขวงสัมพันธวงศ์ เขตสัมพันธวงศ์ กรุงเทพฯ, 10100
เปิดบริการทุกวัน 17.30 – 02.00 น.
โทร. 02-224-8587
How to get there: The closest transit station is Hua Lamphong MRT, which is about a 10 minute walk from Yaowarat Road. Or you can alternatively take a taxi or tuk tuk directly there. The restaurant is on the corner of Yaowarat Road and Phadung Dao Road only at night.