Outstanding Fish Laab (ลาบปลา) in Udon Thani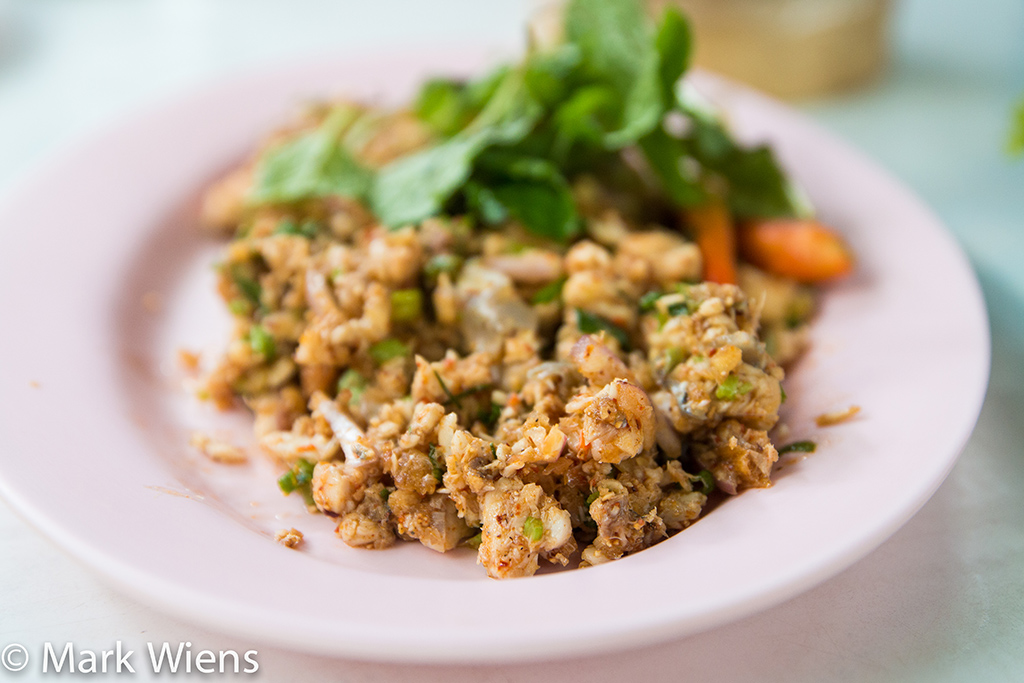 In Udon Thani, freshwater tilapia is one of the most popular things to eat.
One of the most well known restaurants in the city, often considered the top restaurant for eating pla nin (ปลานิล), tilapia, is Taw Baw Pla Pao (ท่อบ่อปลาเผา).
Udon Thani has its share of fantastic local restaurants, including an amazing beef restaurant, and when it comes to fish, Taw Baw Pla Pao (ท่อบ่อปลาเผา) does it extremely well.
Taw Baw Pla Pao (ท่อบ่อปลาเผา) is located very close to the Udon Thani airport, and every now and then, a flight will fly overhead, and it's pretty loud at the restaurant.
Luckily, since Udon Thani doesn't have the busiest airport in Thailand, that only happened about twice during our meal.
Other than the loud airplanes, the setting of the restaurant is superb – they offer private little covered bungalows, or sit down tables if you prefer.
We chose to sit in one of the bungalows, as I always enjoy the extra relaxation it provides… after finishing your meal you can just sit back and recline.
The Menu
The menu at Taw Baw Pla Pao (ท่อบ่อปลาเผา), I believe is only in Thai, at least I didn't notice an English version.
Everything they serve and do revolves around tilapia (ปลานิล pla nin). One of the things they are most well known for is just pla pao (ปลาเผา, a whole salt crusted roasted fish).
However, the reason I didn't order it, was because I had literally been eating a whole grilled fish everyday in Udon Thani, and since they had many more fish options on their menu, I decided to try some of their other specialities.
So just to let you know, you could order a whole roasted fish here if you go.
Pla luak jim (ปลาลวกจิ้ม)
The first dish Ying and I had was pla luak jim (ปลาลวกจิ้ม), an Isaan dish of boiled slices of fish with the herb trio of galangal, lemongrass, and kaffir lime leaves.
The fish was served on a plate, sitting on a bed of cabbage, and topped with a handful of toasted garlic, and chopped Chinese celery.
The fish was flaky and firm, extremely fresh, and just lightly flavored with the herbs it was boiled with.
It was also served with a Thai seafood dipping sauce, that was nicely garlicky and spicy, without being too sweet.
It's the sauce, and the freshness of the fish, that really made it delicious.
Price – 70 THB
Som tam Laos (ส้มตำลาว)
Easily my favorite version of green papaya salad is som tam Laos (ส้มตำลาว), named after the country of Laos, and flavored with plenty of chilies, fermented fish sauce, and typically no sugar.
Just about any local meal you eat in Isaan would not be complete without a plate of som tam. Their som tam Laos (ส้มตำลาว) was excellent, pungent and spicy, and went extraordinarily well with the fish dishes.
Price – 30 THB
Laab pla (ลาบปลา)
If you eat at Taw Baw Pla Pao (ท่อบ่อปลาเผา), you absolutely must try their laab pla (ลาบปลา), it was truly one of the best plates of laab I've ever had in Thailand – at least with fish.
Again, just like the other fish dishes, it all began with extremely fresh fish, and I could tell it was fresh by its texture, and its naturally sweet and non-fishy flavor.
The fish was lightly minced, then mixed with a perfect combination of laab spices.
Their ratio of ingredients could not have been better, it was spicy, just sour enough, and salty, with a gorgeous herb flavor.
Taking my first bite, the fish and spices melted in my mouth, and I honestly came close to shedding a tear due to how perfect the flavor was.
After analyzing the ingredients, I also noticed that they added finely shaved kaffir lime leaves to their recipe, not an ingredient that's normally added to laab (ลาบ), but a welcome addition.
The laab pla (ลาบปลา), was in my opinion the absolute ultimate dish I ate at Taw Baw Pla Pao (ท่อบ่อปลาเผา).
It was so good, at the end of our meal, I ordered two bags of laab pla (ลาบปลา) for takeaway, and that's what I had for dinner that night.
Price – 60 THB
Bon pla (ป่นปลา)
Since it was just Ying and I eating, we couldn't order the whole menu, unfortunately.
So for our last dish, we were talking with the waitress, who was part of the owner's family, and we asked her if they had any other specialities we should try.
She suggested we try bon pla (ป่นปลา), a dish I had never heard of previously, and at her recommendation we got it.
The bon pla (ป่นปลา) was served in a bowl, and looked kind of like a super chunky version of a nam prik (a Thai chili dipping sauce), and just like nam prik, it was served with a plate of boiled and raw vegetables for dipping.
The bon pla (ป่นปลา) included minced fish, mixed with all sorts of herbs and spices, diced green chilies, shallots, cilantro, galangal, and a soupy broth with I think was made from fish soup stock with a touch of pla ra (fermented fish sauce).
It was extremely flavorful, and went well with the vegetables.
Along with the laab pla (ลาบปลา), the bon pla (ป่นปลา) was my second favorite dish of our meal.
Price – 60 THB
Here's the full video of the restaurant:
(If you can't see the video, watch it here)
Conclusion
Taw Baw Pla Pao (ท่อบ่อปลาเผา), located near the airport in Udon Thani, is one of the most locally famous restaurants in the city for serving all forms of tilapia.
Since I had been eating lots of whole roasted fish in Udon Thani, I decided to explore some of their other dishes, like their laab pla (ลาบปลา), a minced fish salad, and their bon pla (ป่นปลา), a fish dipping sauce, both of which were insanely delicious.
The atmosphere and the food at Taw Baw Pla Pao (ท่อบ่อปลาเผา) make it one of the must-eat at restaurants in Udon Thani.
Honestly, the next time I fly to Udon Thani, I'll be going straight from the airport to have lunch here.
Taw Baw Pla Pao (ท่อบ่อปลาเผา) – Udon Thani
Address: Moo Ban Sinchaithani, Thanon Asawamit Banluam, Amphoe Muang, Udon Thani 41000
Phone: 042-327-119 ,081-974-3641
Open hours: 9:30 am – 6 pm daily (if you're planning to eat here for dinner, keep their closing hour in mind, you'll need to eat more of an afternoon dinner)
Prices: Plate dishes are in the 50 – 70 THB range, and a whole fish will run about 150 – 200 THB
ที่อยู่ หมู่บ้านสินชัยธานี ถนนอัศวมิตร บ้านเลื่อม เมืองอุดรธานี จังหวัด อุดรธานี 41000
โทร. 042-327-119 ,081-974-3641
เปิดบริการ ทุกวัน 9.30-18.00 น.
How to get there: If you don't have your own transportation, the easiest way to get here is by taking a 3 wheeler motorcycle taxi direct to the restaurant.
For the map, scroll down to "Isaan (Northeastern Thailand)" and click on "Taw Baw Pla Pao (ท่อบ่อปลาเผา)."