Kuang Sea Foods Restaurant: Amazing Thai Seafood in Bangkok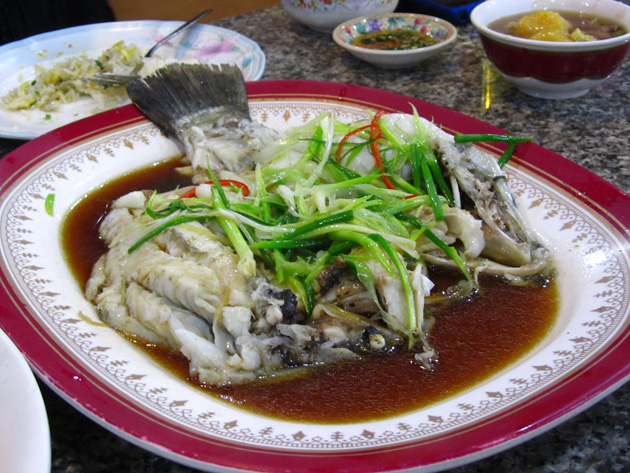 WARNING (Feb 2016): I haven't eaten here in a few years, and many people have said the food isn't good anymore. This place used to be good, but I think it's gone downhill. So might be best to avoid this restaurant, or eat here at your own risk.
Kuang Sea Foods (กวางทะเลเผา หูฉลาม) has been at the top of my list for Thai seafood for a long time now. The restaurant provides an extensive, easy-to-order menu, packing in the finest seafood dishes Thailand has to offer – at very reasonable prices.
The restaurant picks up most of it's business during evening hours and by 7 – 8 pm Kuang Sea Foods is hoppin with customers every night of the week.
A spread of food like the one pictured below cost 250 THB per person, split by 4. It was an all out feasting session.
Their boo pad pongali (crab yellow curry ปูผัดผงกะหรี่) is delectable, a thick egg sauce that will have you licking your lips for days.
Another dish that I religiously order is the pla kahpung neung see ew (steamed fish in soy sauce ปลากะพงนึ่งซีอิ๊ว). The fish is steamed and doused in a light, not overpowering soy based sauce with shredded green onions and ginger arranged on top.
It's always a beautiful sight to hear and smell something coming out of the kitchen to a sizzling applause. The Or suan (sizzling oyster omelet ออส่วน) at Kuang Sea Foods is a showstopper, an intricate combo of oysters, beansprouts, half cooked eggs, and garnish of cilantro!
This particular time I went with the squid version known as Pla Meuk Kai Neung Manao (female squid in lime sauce หมึกไขน่ึ่งมะนาว), though I often order this same dish with fish. The female squid was still stuffed with it's eggs and swimming in a tangy lime sauce, robustly infused with garlic and Thai chilies.
The thick tofu soup is a great way to easy the stomach and palate during a full meal spread. The soup's mild flavor goes well with the sourness, saltiness and spiciness of the other dishes.
Not a meal has gone by at Kuang Sea Foods that I didn't feel the want need to order the crab fried rice; it's an immaculate fry, loaded with pre-peeled sweet crab!
Address of Kuang Sea Foods
Kuang Sea Foods
107/13 Soi Rangnam, Samsen Nai, Phaya Thai, Bangkok 10400
Open Everyday 10 am – 2 am
Tel. 0-2642-5591
กวางทะเลเผา หูฉลาม
107/13 ซอย รางน้ำ สามเสนใน พญาไท กรุงเทพฯ 10400
เปิด-ปิด10.00-02.00 น.
โทร. 0-2642-5591
How to Get to Kuang Sea Foods
Located just a 10 minute walk from Victory Monument BTS station in central Bangkok. Get off the BTS and head down Soi Rangnam, pass King Power shopping complex and you will see Kuang Sea Foods on the left hand side, just before reaching the main road and opposite a petrol station.

View Eating Thai Food Map in a larger map