Khun Churn – All You Can Eat Vegetarian Buffet in Bangkok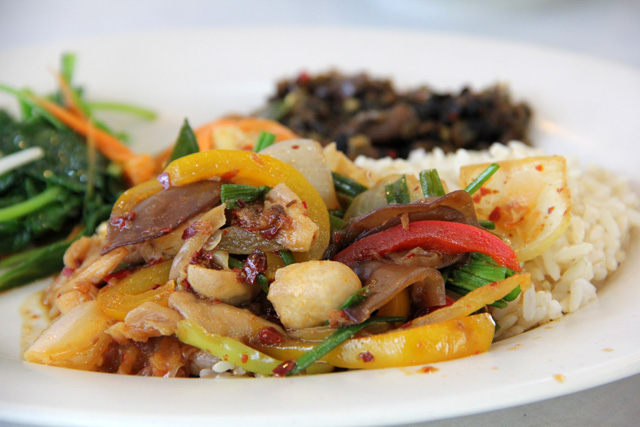 It's a vegetarian's dream come true.
If you are a vegetarian foodie, you just might want to make the day pilgrimage to Ngam Wong Wan for the all you can eat Thai vegetarian buffet!
Upon entering the premises you'll immediately be surrounded by a busy atmosphere of hungry all-veg consumers scurrying around the buffet line.
Everyone seemed to have so much energy, jumping around and plucking their choices off the assembly line.
You'll be greeted by the rather goofy sign that reads, "May Your Salads Bring Good Health and Happiness To You."
With little hesitation, I too jumped into the buffet line and went a little crazy filling up plate after plate of the never ending vegetarian Thai food.
One of my favorite dishes was the mixed mushrooms and colored bell peppers stir fried in a light chili based prik pao. Along with a scoop of authentic brown rice – it was awesome!
On my next plate I dove a little into the raw food section of the buffet, but couldn't help myself returning to the cooked food section.
Another dish that hit the spot with overwhelming satisfaction was the kanom jeen gaeng het, or soft rice noodles covered in mushroom curry. Everything was self service, so I was able to drown my noodles in the luscious curry sauce and add roasted chilies and other toppings to my linking.
The mushroom curry was a righteous purée of rich mushroom pulp and cream, slow boiled into something truly spectacular.
As a connoisseur of all thing nam prik (chili sauce), I was thrilled to see a version prepared all-veg at Khun Churn's. I arranged a neat selection of steamed vegetables and herbs onto a plate before placing a smidgen of the nam prik in the middle.
The Bottom Line
One of the things I really loved about Khun Churn Restaurant is that they didn't try to serve those fake protein meats, but instead cooked vegetables and really highlighted their flavors. I'm by no means a vegetarian, but I do enjoy all forms of vegetables and I don't think they need to be supplemented by meat for them to be delicious. Khun Churn has done a spectacular job of cooking vegetarian food.
It's a long ways out there, but if you happen to be in the area, it's well worth the cost of 150 THB! I would particularly highly recommend the kanom jeen gaeng het (soft rice noodles with mushroom curry).
Khun Churn – Thai Vegetarian Buffet
Address: 88/31 Moo 2 Tim Land, Ngam Wong Wan Road., Bang Kaen, Nonthaburi, Thailand 11000 | 88/31 หมู่ที่2 ซ.ทิมแลนด์ ถ.งามวงศ์วาน ต.บางเขน, 11000
Phone Number: 02-951-9529 , 082-581-4456
Open Hours: Vegetarian buffet is daily from 11:00 – 14:30. Get there by noon to get the freshest picks.
Price: 150 THB per person, all you can eat
How to Get There
It's a bit out there, located very near The Mall Ngam Wong Wan. You can take the #522 bus from Victory Monument or take a taxi.

View Khung Churn Vegetarian Buffet in a larger map