Lan Thung Khao Tom Hua Pla Restaurant in Bangkok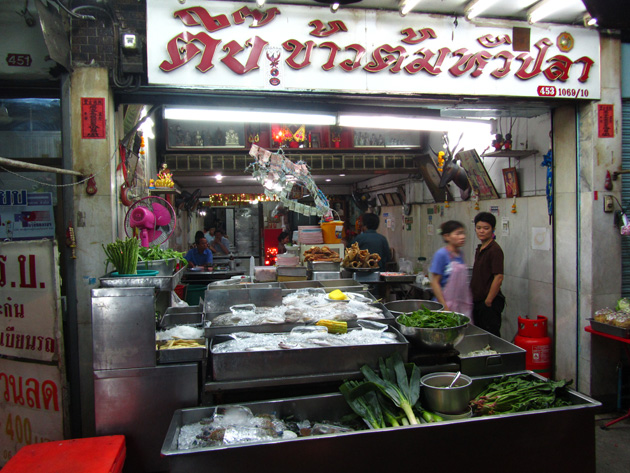 Whatever they touch at this restaurant, they make well. There's a small army of workers running around this neighborhood hot-spot, taking care of the large amounts of hungry folks that wander through.
The restaurant, located right in the Talat Phlu are of Bangkok, Thailand is easy to spot as the food is displayed pouring over onto the sidewalk. Laan Thung Khao Tom Hua Pla Restaurant is only open for dinner at night.

Their steamed sea bass in lime and garlic (pla kahpung neung manao ปลากะพงนึ่งมะนาว)(250 THB) was extravagant, something I could eat everyday for the rest of my life. The fish was steamed perfectly before being dressed in a tart lime sauce. A copious amount of toasted garlic, red chilies and cilantro are what gave it it's succulence.
My single discrepancy was that it was served on a plate, not the normal Thai metal dish with a candle burning underneath to keep it steaming hot.
My personal favorite vegetable, water mimosa (pad pak gachet ผัดผักกะเฉด)(50 THB) was prepared unblemished. It was flash stir fried with a load of spicy Thai chilies and a thick oyster sauce.
Another personal favorite Thai dish is stir fried fish with celery leaves (pad pla keun chai ผัดปลาคึ่นฉ่าย)(120 THB). It was quite good, with a generous portion of fish, but it was slightly too sweet.
I was very excited with their mixed tofu soup (tao hoo song kreung  เต้าหู้ทรงเครื่อง)(150 THB), a blend that included mushrooms, shrimp, squid, oysters, and even a large amount of shell-less crab!
We ordered spicy Thai soup with fish (tom yum pla ต้มยำปลา)(120 THB), an amazing soup. It had a different twist from other tom yum's in Thailand, it was characterized by a wonderful flavor of roasted chilies (prik pao) and dried whole chilies. The concoction was richly full of flavor.
The vegetables were fresh and this plate of stir fried bitter melon leaves (pad pak yot mala ผัดยอดมะระ) was perfect.
It goes down as one of my favorite stir fried with rice (aa hăan dtaam sàng อาหารตามสั่ง) restaurants in Bangkok.
Price
It's a little more expensive than Thai street food, especially with the generous potions of seafood served. A normal meal should fall in the range of 150 – 250 THB per person.
Address
Laan Thung Khao Tom Hua Pla
1119 Thoet Thai, Talat Phlu, Thonburi, Bangkok 10600
Tel. 0-2466-0948
Open: 16:30 – 00:30
ร้านตี้งข้าวต้มหัวปลา (ตลาดพลู)
453 ถ.เทอดไทย บางยี่เรือ ธนบุรี กทม. 10600
โทร. 0-2466-0948
เปิด-ปิด 16.30-00.30 น.
How to Get There
The restaurant is located in Talat Phlu, Bangkok, Thailnad. The closest BTS station is Wang Wian Yai, though it's still about 2-3 km from there. The easiest way is to take a short cab from Wang Wian Yai to arrive at the doorstep or the restaurant. It's also possible to take a bus to The Mall Tahpra or Thonburi Plaza and then walk from there.

View Eating Thai Food Map in a larger map