Khao Moo Daeng (Thai Red Pork and Rice) Hot-Spot in Southern Bangkok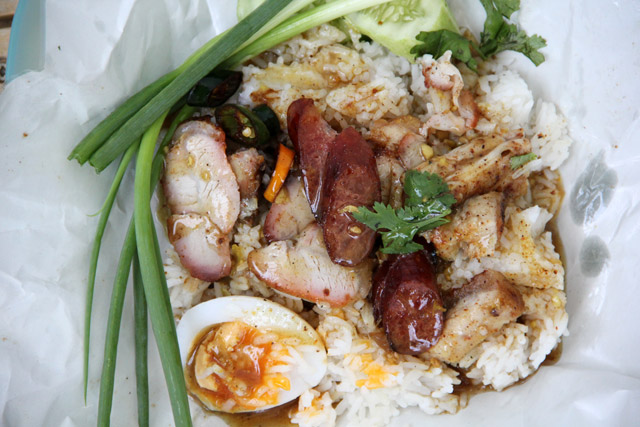 Khao Moo Daeng (ข้าวหมูแดง) is a Thai dish I barely even think about eating.
Why?
I almost always prefer a plate of rice covered in stir fried vegetables or something along the lines of Pad Gra Pao (ผัดกะเพาหมูไข่ดาว).
For months near my apartment I had walked past a small Khao Moo Daeng restaurant that opened from about 8 am and sold out by around 11 am everyday.
Every single morning there was a crowd of people lined up waiting for food.
I kept telling myself I'd eat there one day, but failed to ever make the stop.
Sitting on my computer one morning, I decided it was time.
What is Khao Moo Daeng (ข้าวหมูแดง)?
Just real briefly in case you aren't familiar. Khao Moo Daeng is a widely available and popular Thai $1 dish. It starts with a scoop of rice and usually includes a few slices of red barbecued pork, some crispy pork belly, a few slices of Chinese sausage, half a boiled egg, and a few sprigs of cilantro and shoots of green onions.
What really makes or breaks the dish is the sweet tangy pork exploding sauce that the rice is drenched in.
The restaurant is a small family run Khao Moo Daeng (ข้าวหมูแดง) establishment.
Every morning there's a line of hungry customers that eagerly anticipate their meal.
Their assembly line was down to an art form. The old grandmother would scoop white rice onto a piece of paper. The daughter was in charge of chopping up all the meat and dividing and placing it on the each pile of rice.
The husband or son would fill baggies of sweet porky sauce into to-go sachets or generously ladle it on top of an eat-there plate. Another brother worked the back kitchen, replenishing ingredients as they got purchased.
The final agglomeration of Khao Moo Daeng (ข้าวหมูแดง) should messy and depending upon the recipe of the sauce, it may be either transparent and brown or very red. This particular version was the brown stuff.
The sausage and the pork belly remained crispy and lightly caramelized on the outside. The hard boiled egg was lightly undercooked so it stayed moist and perfectly runny. The sauce, though quite sweet, was a surge of amazing concentrated pork flavor that made me want to drink it.
The Bottom Line
I haven't eaten too many plates of Khao Moo Daeng (ข้าวหมูแดง) in my life in Thailand (as stated above), but this restaurant takes the crown so far.
Hours: Daily from about 8 am – 11 am
Price: Khao Moo Daeng – 35 THB
How to Get There
I'm afraid this restaurant is a little distance from central Bangkok. It's located very close to Suksawat 25/1 and close to Bangpakok Market. You either need to take a taxi, or you can take bus number 141 from Siam or 140 from Victory Monument to Thalad Bangpakok.
Do you remember Tho Po Channa Restaurant? This Khao Moo Daeng restaurnat is located just a stones throw from there – so you could make it a mealtime double!

View Khao Moo Daeng (ข้าวหมูแดง) in a larger map