Thai street food snacks – khao kriap pak maw (ข้าวเกรียบปากหม้อ) and sakoo sai moo (สาคูใส้หมู)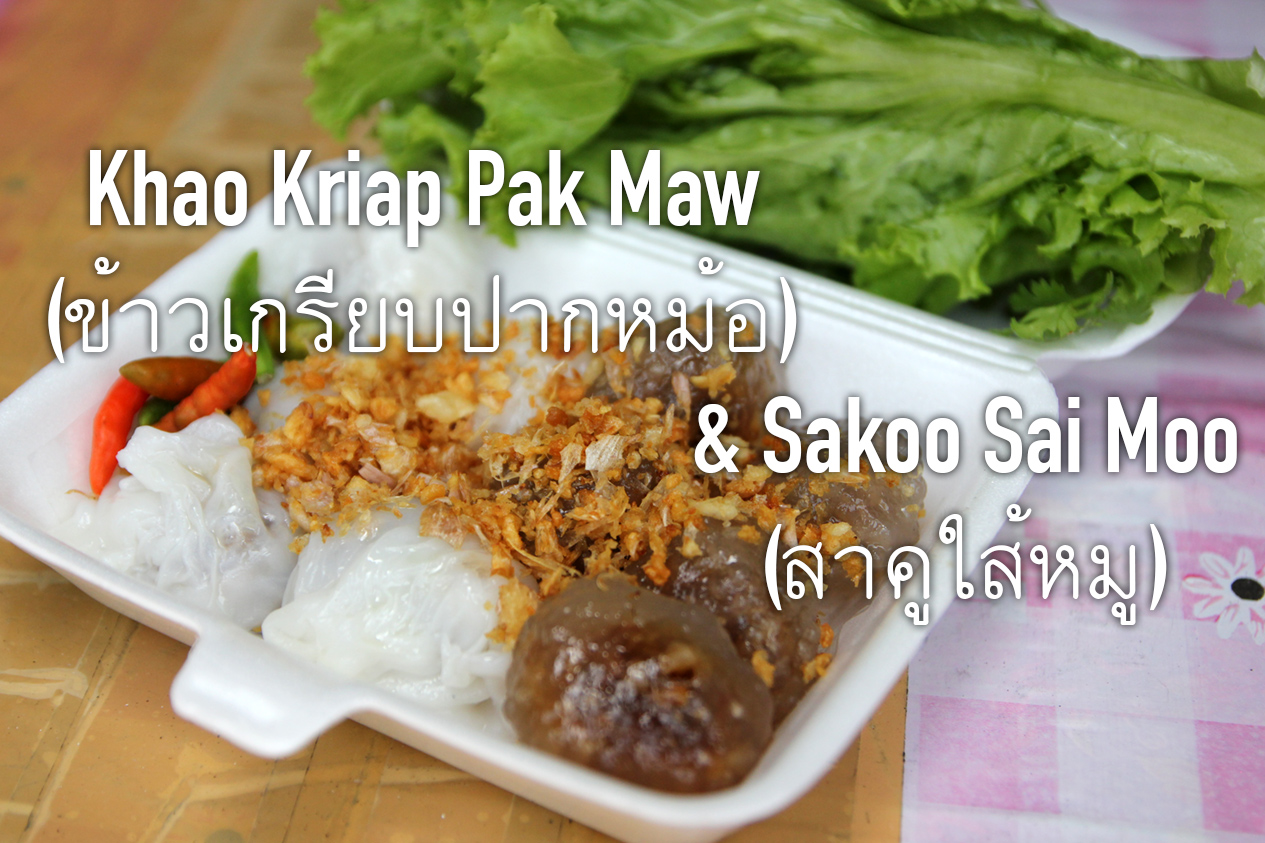 Khao kriap pak maw (ข้าวเกรียบปากหม้อ) and sakoo sai moo (สาคูใส้หมู), are two common Thai street food snacks.
You'll often see them being prepared at the same stall, mainly because they use the same filling but just have different wrappings.
Both fall into that category of Thai snacks, somewhere between a dessert and a salty snack – you really can't tell, it's one of those extreme mixes of sweet and salty, and even spicy – ingredients that shouldn't seem to go together.
Hugging the side of the wall and slotted into a small motorbike alley, just off Thanon Tanao (not far from Khao San Road), is a friendly lady who sells both khao kriap pak maw (ข้าวเกรียบปากหม้อ) and sakoo sai moo (สาคูใส้หมู).
However, you'll find this same snack all over Bangkok, and I can't say it tastes much different no matter where you try it. So if you see it on the street, just stop off and give it a try.
The two snacks are filled with a combination of minced pork, coriander roots, garlic, black pepper, peanuts, palm sugar, salt, oil, soy sauce, radish, and maybe some extra hints of spices, and each are wrapped in slightly different wrappings.
That blob mountain of brown sticky ooky stuff is the filling!
No, it's not the most attractive thing you've ever seen, but it tastes a lot better once it's steamed within a wrapper.
For khao kriap pak maw (ข้าวเกรียบปากหม้อ) (not to be confused with khao kriap wow) the wrapper is made from a batter prepared from a mixture of tapioca starch and rice flour.
Thin crepe like pancakes are steamed, and then some of the filling mixture is plopped on top before they are messily rolled up into a dumpling.
As for the sakoo sai moo (สาคูใส้หมู), the outer wrapping is made from tapioca pearls which are boiled down until sticky, formed into a wrapping, filled with the pork mixture, and then steamed in ball shape.
You'll often seen sakoo sai moo (สาคูใส้หมู) sitting on a greasy banana leaf (like above) waiting to be ordered, looking like little meat balls.
You can either order a mixture of both, if available, or you just get one or the other.
I chose a mixed box, which comes with all the toppings and side goodies, known in Thai as a "chud (ชุด)" – a complete pack.
When you make your order, the dumplings will be filled into a to-go container, topped with some freshly deep fried garlic, and served alongside fresh chilies, lettuce leaves, and often some extra herbs like cilantro.
It's sort of up to you how you want to eat your khao kriap pak maw (ข้าวเกรียบปากหม้อ) and sakoo sai moo (สาคูใส้หมู), but the common method usually involves grabbing a piece of lettuce, and sort of wrapping up one of the dumplings and chasing it down with a bite of chili.
Khao kriap pak maw (the white ones, ข้าวเกรียบปากหม้อ), the outer wrapper kind of tastes like noodles, while the sakoo sai moo (transparent ones สาคูใส้หมู) taste more like sticky rice mochi.
The filling is sweet porky and nutty, and then you get a hint of fried garlic, some freshness from the lettuce, and a hit of spice from the chili.
I'm personally, not the biggest fan of both of these Thai street food snacks, they are a little on the sweet side for my liking.
But that being said, they are unique and flavorful, such a diverse and contrasting flavor to them. Plus they look pretty cool being made!
Within that little alley, you'll find a vendor making khao kriap pak maw (ข้าวเกรียบปากหม้อ) and sakoo sai moo (สาคูใส้หมู), but really, you'll find it all over Bangkok.
สาคูใส้หมู ชุดละ 25 บาท
ข้าวเกรียบปากหม้อ ชุดละ 25 บาท
โทร. 086-514-3380
ที่อยู่ ตรงข้ามวัดมหรรณพารามวรวิหาร

View Bangkok Eating Thai Food Map in a larger map