Eat Your Pork Leg from Cowgirl's Khao Kha Moo Chang Phueak (ข้าวขาหมูช้างเผือก)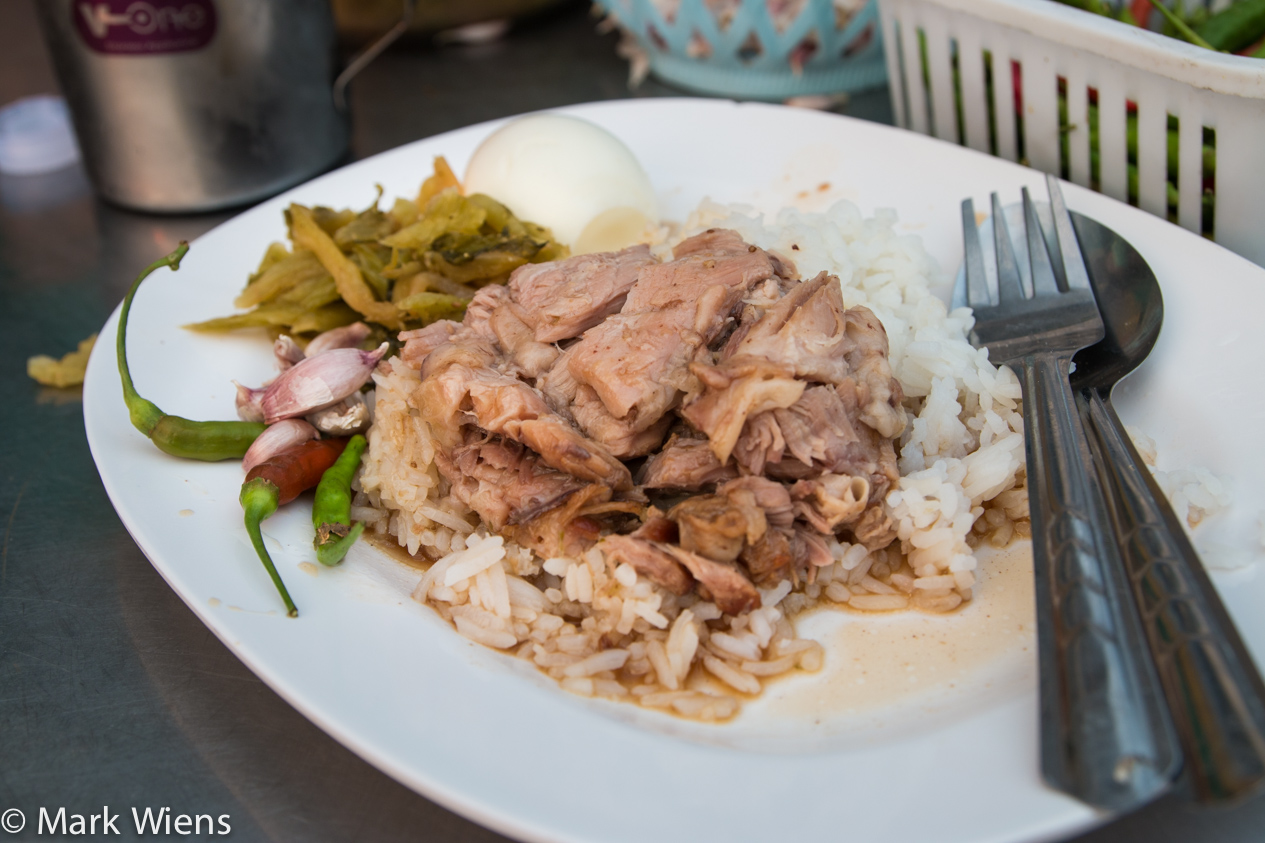 You'll know that you're in the exact right place as soon as you see the lady in the cowboy hat – standing next to a mountain of golden pig legs – which have been slow stewed into tender perfection.
If you ask me, it's really quite an intelligent street food move, standing out with that signature cowboy hat!
The stall is named Khao Kha Moo Chang Phueak (ข้าวขาหมูช้างเผือก) – the name of the dish served, khao kha moo, plus the location at Chang Phueak, the north gate in Chiang Mai.
Every evening, starting at about 5 pm or so, you'll find the lady in the cowboy hat happily pulling delicious pig legs (and some other pig parts, as seen in the photo above).
Anyways, Khao Kha Moo Chang Phueak (ข้าวขาหมูช้างเผือก) is a really famous street food stall in Chiang Mai, and one evening I headed over to try it out.
I was there by about 5:30 pm and already most of the tables were filled and there were about 8 or so people ordering takeaway.
She quite an impressive pot of kha moo (pork legs) and what's on display, and there are even bigger pots of pork sitting on the side waiting for later.
I ordered just a single plate of khao kha moo (ข้าวขาหมู), pork leg over a plate of rice.
While some plates of this Thai dish come with a little bit of stewed kana (Chinese broccoli) on the side, this came pretty bare bones – just rice topped with pork and a hard boiled egg on the side – straight to the good stuff.
Price – 30 THB
On the table though, you could add your own chilies, cloves of raw garlic, and pickled mustard greens (known in Thai as pad gat dong ผักกาดดอง).
Normally when you order khao kha moo (ข้าวขาหมู) it will come with a little extra fat on the meat.
But for myself since I'm not a huge fan of chunks of blatant fat, I order mine "mai ow nang" (ไม่เอาหนัง) so that I didn't get any skin, but just more of the pure meat – a lot less fatty and hopefully a bit more healthy.
I enjoyed the self service chilies and raw garlic, actually the raw garlic, for me, is what really complements a plate of khao kha moo (ข้าวขาหมู).
The pork was just fall apart tender and the texture was smooth and beautiful.
It was really tasty, packed with accents of cinnamon and star anise, and I liked that it wasn't  as sweet as other versions I've had occasionally in Thailand.
The hard boiled egg on the side, with bits of pork, is always a good idea, and the raw garlic and chilies also added that extra kick of flavor.
I would say this was a fine plate of khao kha moo (ข้าวขาหมู).
The Bottom Line
Khao Kha Moo Chang Phueak (ข้าวขาหมูช้างเผือก) is so famous in Chiang Mai for a reason… it's really good.
The pork itself was extremely tender and very flavorful and I especially liked that it wasn't as sweet as it is sometimes. The chili vinegar also tasted wonderful on the pork.
If you like khao kha moo (ข้าวขาหมู) and you're in Chiang Mai, you've really got to eat here.
Khao Kha Moo Chang Phueak (ข้าวขาหมูช้างเผือก) – Chiang Mai
Address: Thanon Manee Nop Parat, Amphoe Mueang, Chiang Mai, Thailand
Open hours: 5 pm – 2 am daily
Price: 30 THB for a plate
ที่อยู่ ตลาดโต้รุ่งประตูช้างเผือก ถนนมณีนพรัตน์ ติดคูเมือง  อำเภอ เมือง จังหวัด เชียงใหม่
เปิดบริการ 17.00 – 02.00 น.
โทร. 08 -1366- 2969
How to get there:
Khao Kha Moo Chang Phueak (ข้าวขาหมูช้างเผือก) is located across the street from Chang Phueak, which is the north gate of the old city of Chiang Mai. There's a cluster of street food stalls that opens in the area each evening, and you can't miss it.